Kane, Smith join TSN Hockey's Trade Bait board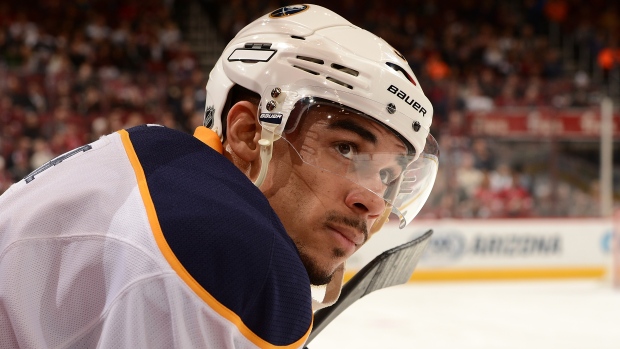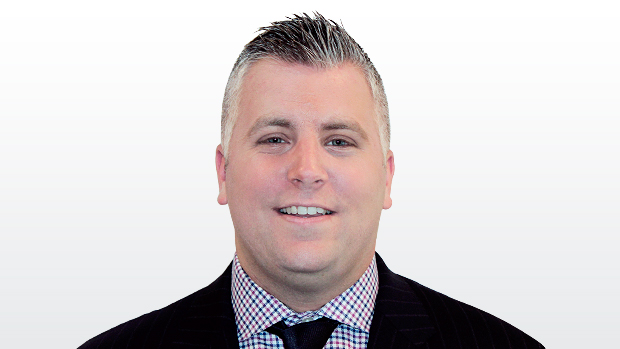 NASHVILLE, Tenn. - Six new names have joined TSN Hockey's Trade Bait board as the Vegas Golden Knights' June 21 expansion draft draws nearer.
Both Buffalo winger Evander Kane and Coyotes goaltender Mike Smith debut on the list inside the Top 10.
Kane, 25, is no stranger to trade rumours – and a Sabres regime change with new GM Jason Botterill at the helm may spur movement. It's believed Botterill is listening to offers on the mercurial Vancouver native, who is coming off his second-most productive season with 28 goals. Kane has previously been linked to his hometown Canucks and the Los Angeles Kings, who are seeking scoring help up front.
Add Smith, 35, to the bevy of starting netminders now available – even though Calgary, Winnipeg, Philadelphia and Vegas have the only obvious vacancies. It's clear 24-year-old Louis Domingue is where the Coyotes, who appear to be in full tear-it-down mode, are heading in net.
The Dallas Stars have reportedly expressed interest in acquiring defenceman Chris Tanev from the Canucks. Tanev's modified no-trade clause kicks in on July 1 and moving him now would allow the Canucks to protect defenceman Luca Sbisa instead.
The two other newcomers - Chicago centre Marcus Kruger and Los Angeles winger Dustin Brown - will come as no surprise, as their clubs attempt to move on from their prohibitive contracts.
Vegas GM George McPhee has repeatedly said he's willing to eat damaging contracts in exchange for assets and both remain possibilities for the Golden Knights.
The Blackhawks and Golden Knights have had multiple discussions involving Kruger, in which Chicago would agree to allow Vegas to select defenceman Trevor van Riemsdyk in exchange for their agreement to also take Kruger in a trade.
To date, no such transaction has been completed, but remains on the table.
Here is TSN Hockey's Top 35 Trade Bait board for June 9. For additional updates to the list as the off-season draws closer, go to tsn.ca/tradebait on TSN.ca and TSN's mobile site:
1. Sami Vatanen, ANA
Pos. D Age: 25 2017-18 Cap Hit: $4.875M
GP: 71 G: 3 PTS: 24 Past 2016-17: 3 years Clause: None
2. Jonas Brodin, MIN
Pos. D Age: 23 2017-18 Cap Hit: $4.167M
GP: 68 G: 3 PTS: 25 Past 2016-17: 4 years Clause: None
3. Matt Dumba, MIN
Pos. D Age: 22 2017-18 Cap Hit: $2.55M
GP: 76 G: 11 PTS: 34 Past 2016-17: 1 year Clause: None
4. Matt Duchene, COL
Pos. C Age: 26 2017-18 Cap Hit: $6M
GP: 77 G: 18 PTS: 41 Past 2016-17: 2 years Clause: None
5. Jordan Eberle, EDM
Pos. RW Age: 27 2017-18 Cap Hit: $6M
GP: 82 G: 20 PTS: 51 Past 2016-17: 2 years Clause: None
6. Travis Hamonic, NYI
Pos. D Age: 26 2017-18 Cap Hit: $3.857M
GP: 49 G: 3 PTS: 14 Past 2016-17: 3 years Clause: None
7. Tyson Barrie, COL
Pos. D Age: 25 2017-18 Cap Hit: $5.5M
GP: 74 G: 7 PTS: 38 Past 2016-17: 3 years Clause: None
8. Evander Kane, BUF
Pos. LW Age: 25 2017-18 Cap Hit: $5.25M
GP: 70 G: 28 PTS: 43 Past 2016-17: 1 year Clause: None
9. Marc-Andre Fleury, PIT
Pos. G Age: 32 2017-18 Cap Hit: $5.75M
GP: 38 GAA: 3.02 SV%: .909 Past 2016-17: 2 years Clause: NTC
10. Mike Smith, ARI
Pos. G Age: 35 2017-18 Cap Hit: $5.667M
GP: 55 GAA: 2.92 SV%: .914 Past 2016-17: 2 years Clause: NTC
11. Marcus Kruger, CHI
Pos. C Age: 27 2017-18 Cap Hit: $3.083M
GP: 70 G: 5 PTS: 17 Past 2016-17: 2 years Clause: None
12. Ilya Kovalchuk, NJD
Pos. LW Age: 34 2017-18 Cap Hit: N/A
GP (KHL): 60 G: 32 PTS: 78 Past 2016-17: N/A Clause: N/A
13. Boone Jenner, CBJ
Pos. C Age: 23 2017-18 Cap Hit: $2.9M
GP: 82 G: 18 PTS: 34 Past 2016-17: 1 year Clause: None
14. Chris Tanev, VAN
Pos. D Age: 27 2017-18 Cap Hit: $4.45M
GP: 53 G: 2 PTS: 10 Past 2016-17: 3 years Clause: None
15. Alex Killorn, TBL
Pos. LW Age: 27 2017-18 Cap Hit: $4.45M
GP: 81 G: 19 PTS: 36 Past 2016-17: 6 years Clause: NTC
16. Calvin de Haan, NYI
Pos. D Age: 26 2017-18 Cap Hit: N/A
GP: 82 G: 5 PTS: 25 Past 2016-17: RFA Clause: N/A
17. Calle Jarnkrok, NSH
Pos. C Age: 25 2017-18 Cap Hit: $2M
GP: 81 G: 15 PTS: 31 Past 2016-17: 5 years Clause: None
18. Philipp Grubauer, WSH
Pos. G: Age: 25 2017-18 Cap Hit: N/A
GP: 24 GAA: 2.04 SV%: .926 Past 2016-17: RFA Clause: N/A
19. Antti Raanta, NYR
Pos. G: Age: 28 2017-18 Cap Hit: $1M
GP: 30 GAA: 2.26 SV%: .922 Past 2016-17: 1 year Clause: None
20. Andrew Copp, WPG
Pos. C Age: 22 2017-18 Cap Hit: N/A
GP: 64 G: 9 PTS: 17 Past 2016-17: RFA Clause: N/A
21. Joel Armia, WPG
Pos. RW Age: 24 2017-18 Cap Hit: $925K
GP: 57 G: 10 PTS: 19 Past 2016-17: 1 year Clause: None
22. Robin Lehner, BUF
Pos. G: Age: 25 2017-18 Cap Hit: N/A
GP: 59 GAA: 2.68 SV%: .920 Past 2016-17: RFA Clause: N/A
23. Andrej Sustr, TBL
Pos. D Age: 26 2017-18 Cap Hit: N/A
GP: 80 G: 3 PTS: 14 Past 2016-17: RFA Clause: N/A
24. William Karlsson, CBJ
Pos. C Age: 24 2017-18 Cap Hit: $1M
GP: 81 G: 6 PTS: 25 Past 2016-17: 1 year Clause: None
25. Jonathan Drouin, TBL
Pos. LW Age: 22 2017-18 Cap Hit: N/A
GP: 73 G: 21 PTS: 53 Past 2016-17: RFA Clause: N/A
26. Brenden Dillon, SJS
Pos. D Age: 26 2017-18 Cap Hit: $3.27M
GP: 81 G: 2 PTS: 10 Past 2016-17: 3 years Clause: None
27. Ryan Pulock, NYI
Pos. D Age: 22 2017-18 Cap Hit: $863K
GP: 1 G: 0 PTS: 0 Past 2016-17: 1 year Clause: None
28. Dustin Brown, LAK
Pos. RW Age: 32 2017-18 Cap Hit: $5.875M
GP: 80 G: 14 PTS: 36 Past 2016-17: 5 years Clause: NTC
29. Tyler Johnson, TBL
Pos. C Age: 26 2017-18 Cap Hit: N/A
GP: 66 G: 19 PTS: 45 Past 2016-17: RFA Clause: N/A
30. Colton Sissons, NSH
Pos. C Age: 23 2017-18 Cap Hit: $625K
GP: 58 G: 8 PTS: 10 Past 2016-17: 2 years Clause: None
31. Nathan Beaulieu, MTL
Pos. D Age: 24 2017-18 Cap Hit: N/A
GP: 74 G: 4 PTS: 28 Past 2016-17: RFA Clause: N/A
32. Brayden Schenn, PHI
Pos. C Age: 25 2017-18 Cap Hit: $5.125M
GP: 79 G: 25 PTS: 55 Past 2016-17: 3 years Clause: None
33. Jimmy Hayes, BOS
Pos. RW Age: 27 2017-18 Cap Hit: $2.3M
GP: 58 G: 2 PTS: 5 Past 2016-17: 1 year Clause: None
34. Jori Lehtera, STL
Pos. C Age: 29 2017-18 Cap Hit: $4.7M
GP: 64 G: 7 PTS: 22 Past 2016-17: 2 years Clause: None
35. Nathan MacKinnon, COL
Pos. C Age: 21 2017-18 Cap Hit: $6.3M
GP: 82 G: 16 PTS: 53 Past 2016-17: 6 years Clause: None