Karlsson doesn't expect foot to be an issue
The Ottawa captain says he's healthy and ready for whatever the New York Rangers try to throw at him in Round 2, TSN's Ian Mendes writes.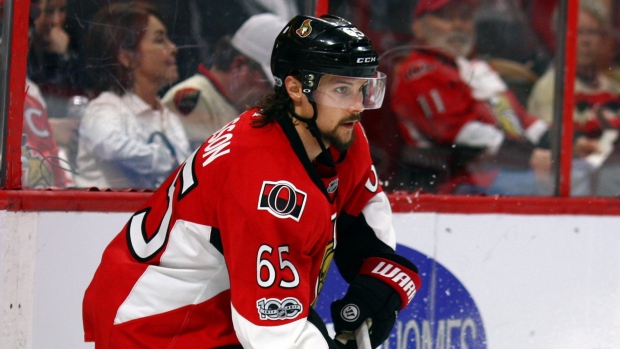 Erik Karlsson became a true National Hockey League star during the 2011-12 season, turning in a dazzling 78-point year that would earn him the first Norris Trophy of his career.
But it was a completely different story in the Stanley Cup playoffs against the New York Rangers that spring. Karlsson was neutralized in a tight-checking, low-scoring series, registering only one point in the seven-game series loss – and that came via a terrible angle goal on Henrik Lundqvist in Game 2.
"I think that was earlier in my career where I didn't have as big a role and I didn't really understand a lot of things and the impact on things," Karlsson said Tuesday. "I feel like now I've been in this situation before and that's probably the most important thing."
The most memorable moment involving Karlsson from that series is the abuse he took from Brian Boyle in Game 1, when the Rangers forward repeatedly punched the young Sens defenceman in the head.
That incident led to a nasty start to Game 2, where Sens head coach Paul MacLean started a lineup that featured all of his heavyweights. Matt Carkner was ejected less than a minute into the contest for retaliating on Boyle.
"Hopefully I won't need that sort of protection anymore," Karlsson said with a laugh as he was asked if he would like to have Carkner as a bodyguard for the rematch five years later.
But the Karlsson taking to the ice in Thursday's series opener against the Rangers is a far cry from the young and cautious defenceman of 2012. In the five years since, he's assumed the captaincy of the team and matured into arguably the best all-around defenceman in the game.
He appears so unbothered by the potential physical abuse he could face from the Rangers that he publicly disclosed at the end of the Boston Bruins series that he played with two hairline fractures in his left foot.
Karlsson was asked Tuesday why he eschewed NHL tradition by publicly confirming his injury at a time of year when most players go silent.
"I was tired of talking about it," he said. "It was something that is probably not going to affect me at all moving forward. It's something that's done with. I felt like getting it out of the way, instead of having it linger on. I'm not much for secrets."
Karlsson may have tired of talking about his injury, but perhaps he was even more exhausted from logging an average of 30:24 of ice time per game against the Bruins – the most of any player in the opening round. The nagging injury and the extra ice time did not hamper Karlsson, as he was dominant against the Bruins. He registered six assists in the series – including several of the highlight-reel variety.
Karlsson said he was slightly frustrated at the fact he didn't have his full mobility during the first round, but he seemed to dismiss any worries about the injury bothering him in the upcoming series.
"It should be a non-issue here moving forward," he said.
His head coach echoed those statements Tuesday, with Guy Boucher saying it should be taken as a positive sign that Karlsson was willing to be open and share details about his injury.
"It's over. That's why he said it," Boucher said. "He's perfectly healthy now."
Still there is always the concern that the Rangers – who obviously keyed on Karlsson five years ago – could target the Ottawa superstar's ailing foot. Karlsson's defence partner, Marc Methot, who is dealing with a pinky finger ailment of his own, believes the injury talk around the playoffs gets too much attention.
"It's hard to hide an injury in hockey. For the most part, teams are aware of exactly what you're dealing with," said Methot. "[Erik] is a straightforward guy and he's got nothing to hide. In my opinion, it doesn't make a huge difference. People don't target that stuff."
For his part, Karlsson said it's "harder to play in the playoffs than the regular season" and that he's fully expecting the Rangers to get physical with him throughout the course of the series.
"That's what it's all about. Everybody deals with the same issues. This is the time of year where everybody finishes their checks and everybody plays really hard," Karlsson said. "It comes with the territory. It's not something that's new."