​Karlsson leaps to top of TSN Trade Bait board
The Ottawa Senators captain is in play. That fact alone makes the two-time Norris Trophy winner the new No. 1 on TSN's Trade Bait board, TSN Senior Hockey Reporter Frank Seravalli writes.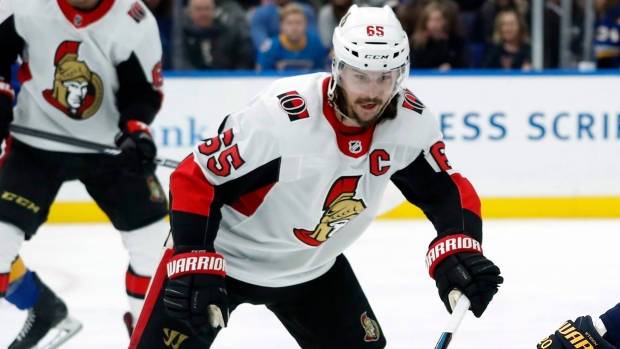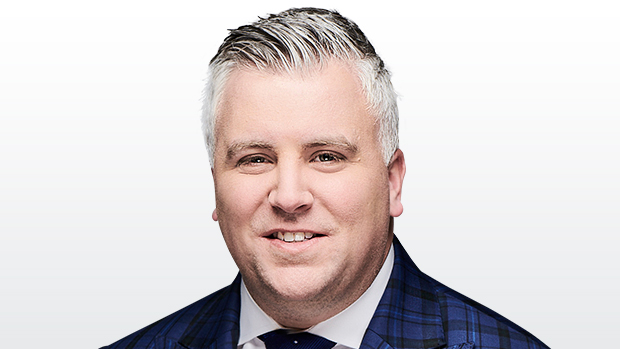 Erik Karlsson is in play.
That fact alone makes Karlsson the new No. 1 on TSN's Trade Bait board, based on sheer prominence. A two-time Norris Trophy winner in his prime almost never hits the market, let alone one under a bargain contract for another full season.
In fact, if Karlsson were to be traded between now and Monday's 3 p.m. trade deadline, it would become the NHL's most seismic swap since P.K. Subban for Shea Weber in 2016.
Except this would be bigger.

As a four-time Norris Trophy finalist who has averaged 74 points over each of his last five full seasons, the argument could be made that Karlsson would be hockey's most important player traded since Jaromir Jagr in 2001.
For now, though, those bold proclamations require a big "if" as a qualifier.
Ottawa Senators GM Pierre Dorion continues to receive a significant level of interest in Karlsson. According to TSN Hockey Insider Bob McKenzie, Dorion has engaged in some level of dialogue with teams about Karlsson over the past few days, which is why the 27-year-old defenceman has rocketed to No. 1 on the board.
Karlsson has one more year remaining on his contract at $6.5 million. His trade value may never be higher than it is now, with the potential of two extended playoff runs in a new city for a Cup contender, plus the fact that the Senators may lose some semblance of control once Karlsson can sign a new contract extension on July 1.
The Senators are believed to be seeking a package of five-to-seven assets in return for Karlsson, a combination of impact roster players, draft picks and prospects.
The inclusion of forward Bobby Ryan – who has four seasons left at $7.25 million – would reportedly lessen the package required to obtain Karlsson.
A franchise defenceman is potentially on the move, but only for a package that Dorion feels adequately reflects that.
The Top 45
| Trend | Player | Pos | Age | Cap Hit | GP | G | PTS | Years | Clause |
| --- | --- | --- | --- | --- | --- | --- | --- | --- | --- |
| | 1. Erik Karlsson, OTT | RD | 27 | $6.5M | 53 | 5 | 41 | 1 | M-NTC |
| | 2. Rick Nash, NYR | LW | 33 | $7.8M | 60 | 18 | 28 | UFA | M-NTC |
| | 3. Mike Green, DET | RD | 32 | $6M | 57 | 6 | 29 | UFA | NTC |
| | 4. Derick Brassard, OTT | C | 30 | $5M | 56 | 17 | 35 | 1 | M-NTC |
| | 5. Patrick Maroon, EDM | LW | 29 | $1.5M | 57 | 14 | 30 | UFA | |
| | 6. Evander Kane, BUF | LW | 26 | $5.25M | 60 | 19 | 39 | UFA | |
| | 7. Michael Grabner, NYR | LW | 30 | $1.65M | 59 | 25 | 31 | UFA | |
| | 8. Mark Letestu, EDM | C | 32 | $1.8M | 57 | 8 | 18 | UFA | |
| | 9. Mike Hoffman, OTT | LW | 28 | $5.19M | 58 | 16 | 39 | 2 | M-NTC |
| | 10. Jack Johnson, CBJ | LD | 31 | $4.35M | 59 | 3 | 8 | UFA | |
| | 11. Max Domi, ARI | C/LW | 22 | $1.36M | 59 | 4 | 26 | RFA | |
| | 12. Thomas Vanek, VAN | LW | 33 | $2M | 60 | 16 | 40 | UFA | |
| | 13. Zack Smith, OTT | C/LW | 29 | $3.25M | 44 | 4 | 16 | 3 | M-NTC |
| | 14. Ryan McDonagh, NYR | LD | 28 | $4.7M | 49 | 2 | 26 | 1 | M-NTC |
| | 15. Tomas Plekanec, MTL | C | 35 | $6M | 59 | 5 | 22 | UFA | |
| | 16. Derek Ryan, CAR | C | 31 | $1.45M | 58 | 11 | 26 | UFA | |
| | 17. Max Pacioretty, MTL | LW | 29 | $4.5M | 59 | 16 | 35 | 1 | |
| | 18. Jeff Skinner, CAR | LW | 25 | $5.73M | 60 | 20 | 37 | 1 | NMC |
| | 19. Alex Galchenyuk, MTL | LW | 23 | $4.9M | 59 | 12 | 34 | 2 | |
| | 20. J-G Pageau, OTT | C | 25 | $3.1M | 54 | 8 | 20 | 4 | |
| | 21. Luke Glendening, DET | C | 28 | $1.8M | 47 | 8 | 14 | 3 | |
| | 22. Boone Jenner, CBJ | C | 24 | $2.9M | 52 | 5 | 17 | RFA | |
| | 23. Andrew Shaw, MTL | C/RW | 26 | $3.9M | 43 | 10 | 19 | 4 | |
| | 24. Jordan Kyrou, STL | C/RW | 19 | $894K | 0 | 0 | 0 | 3 | Slide |
| | 25. Robby Fabbri, STL | LW | 22 | $1.1M | 0 | 0 | 0 | RFA | |
| | 26. Johnny Oduya, OTT | LD | 36 | $2M | 49 | 4 | 8 | UFA | M-NTC |
| | 27. Gustav Nyquist, DET | RW | 28 | $4.75M | 59 | 16 | 28 | 1 | NTC |
| | 28. Aaron Dell, SJS | G | 28 | $625K | 24 | 2.51 | .917 | UFA | |
| | 29. Jon Gillies, CGY | G | 24 | $725K | 2 | 4.35 | .815 | RFA | |
| | 30. Bobby Ryan, OTT | LW | 30 | $7.25M | 39 | 7 | 20 | 4 | M-NTC |
| | 31. Matt Hunwick, PIT | LD | 32 | $2.25M | 35 | 3 | 7 | 2 | |
| | 32. Benoit Pouliot, BUF | LW | 31 | $1.15M | 55 | 11 | 15 | UFA | |
| | 33. Josh Leivo, TOR | LW | 24 | $613K | 12 | 1 | 3 | 1 | |
| | 34. Tommy Wingels, CHI | RW | 29 | $750K | 53 | 7 | 12 | UFA | |
| | 35. Tomas Tatar, DET | LW | 27 | $5.3M | 58 | 16 | 27 | 3 | |
| | 36. Blake Comeau, COL | RW | 31 | $2.4M | 55 | 10 | 22 | UFA | |
| | 37. Ben Hutton, VAN | LD | 24 | $2.8M | 50 | 0 | 6 | 1 | |
| | 38. Matt Cullen, MIN | C | 41 | $1.7M | 57 | 6 | 15 | UFA | |
| | 39. Nic Petan, WPG | C | 22 | $863K | 12 | 1 | 1 | RFA | |
| | 40. Robin Lehner, BUF | G | 26 | $4M | 44 | 2.95 | .910 | RFA | |
| | 41. Antoine Vermette, ANA | C | 35 | $1.75M | 59 | 8 | 16 | UFA | M-NTC |
| | 42. Frank Vatrano, BOS | LW | 23 | $925K | 25 | 2 | 2 | RFA | |
| | 43. Xavier Ouellet, DET | LD | 24 | $1.25M | 35 | 0 | 4 | 1 | |
| | 44. Danny DeKeyser, DET | LD | 27 | $5M | 42 | 4 | 7 | 4 | NTC |
| | 45. Tyson Barrie, COL | RD | 26 | $5.5M | 45 | 6 | 36 | 2 | |