Kazee ejected for hit on Panthers QB Newton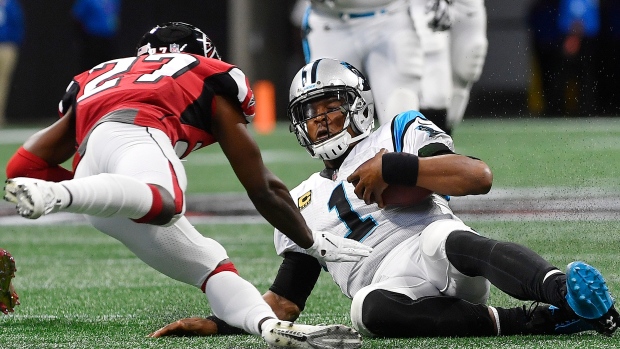 Atlanta Falcons safety Damontae Kazee has been ejected from the game against Carolina for a vicious hit to the head of Panthers quarterback Cam Newton.
Newton was struck after running for 10 yards on a fourth-and-4 play in Falcons territory.
The quarterback was sliding to the turf at the end of the play when Kazee dove low to deliver a helmet-to-helmet hit that snapped back Newton's head. Teammate Torrey Smith raced in to deliver a hit that sent Kazee to the turf, also drawing a personal foul penalty but not an ejection.
Several skirmishes broke out. Newton was finally able to get up and head to the medical tent. As he walked off the field, he took off his helmet and let out a defiant scream.
While officials sorted out the penalties, Newton was quickly examined and returned to the field without missing a play.
Six plays later, Newton threw a 5-yard touchdown pass to Jarius Wright, giving the Panthers a 10-3 lead.
Kazee was making his second career start. He is the first player ejected for the league's new helmet rule this season.