Kings' Brown fined 10K for cross-checking Schultz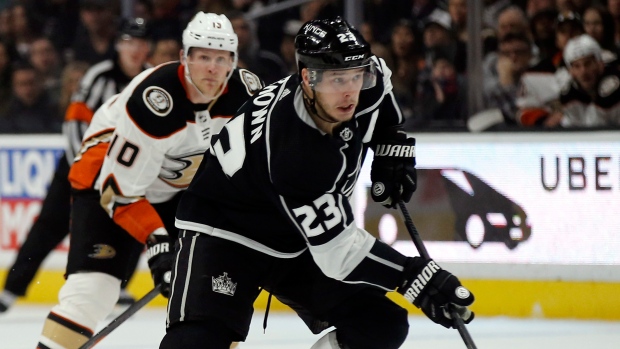 Los Angeles Kings forward Dustin Brown has been fined $10,000 for his cross-check on Pittsburgh Penguins defenceman Justin Schultz.
Pittsburgh forward Evgeni Malkin was also fined $5,000 for spearing Brown.
Brown received a five-minute major and a game misconduct in the third-period of his team's 3-1 loss to the Penguins for boarding Schultz. Brown cross-checked Schultz from behind, sending Schultz who had fallen to his knees face-first into the boards.
Schultz the ice after the hit, but said later he cleared the concussion protocol and was not injured.
"I can't believe he hit me like that," Schultz said after the game ."I'm on my knees. You saw it. Unreal."
"I fell, I'm facing the wall and then all of a sudden my face gets driven into the dasher there," Schultz added, per the Pittsburgh Post-Gazette. "I don't know why. There was plenty of time to not do that."
Brown has 15 goals and 32 points in 45 games this season. He said after the game he thought he deserved no more than a minor penalty for the hit.
"I'm going to close on him and he stumbles, toe picks," Brown said. "I don't drive him through the wall or anything, but I also close in on the play. At the most it's probably a two [-minute penalty], I think."
Brown, who was suspended two games for elbowing in 2013, will not be considered a repeat offender.