Kingsbury picks up 50th World Cup win
Canadian freestyle skier Mikael Kingsbury earned his 50th career World Cup victory on Friday with a gold medal in moguls at the season-opening stop on the circuit. Kingsbury, from Deux-Montagnes, Que., won with a final-run score of 88.14.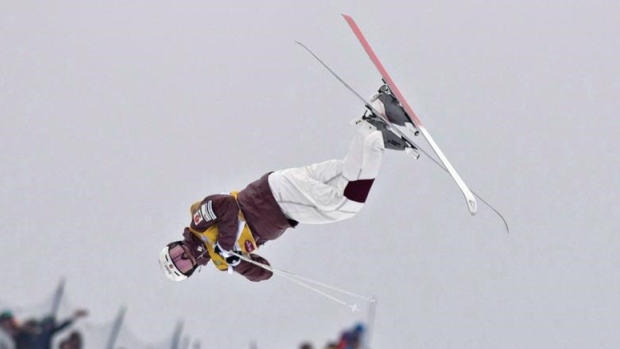 RUKA, Finland — The season-opening World Cup moguls event in Ruka has been the site of some of the biggest moments of Mikael Kingsbury's accomplished career.
It's where the Canadian freestyle skiing star made his first career trip to the World Cup podium, winning silver in 2011. Four years later he earned his record 29th career World Cup gold medal at Ruka, passing French legend Edgar Grospiron. And on Friday, Kingsbury earned a landmark 50th career World Cup win on the slope situated in northern Finland.
But for the reigning Olympic champion from Deux-Montagnes, Que., who at 26 still has years to build on his half-century of victories, milestones are far less important than executing in the moment.
"I never had in the back of my mind, not even once, that it could have been my 50th today," Kingsbury said. "The goal was just to ski at my best. And when I'm at my best, I know I'm very tough to beat."
Certainly tough to beat, though Benjamin Cavet gave it his best shot with a score of 86.45 in the super final. Kingsbury, skiing last and confident in his ability to push himself a little bit more, still beat the Frenchman with room to spare.
"I was thinking about my strategy, and the goal was to do ... the same run he did," said Kingsbury who posted a final score of 88.14. "But I felt so confident in my back full (back flip with full twist) and I knew I could push the speed faster than him and beat him in technique in the bumps.
"So I just went with the run I had planned in my head and was able to execute exactly what I wanted to do.
"To go two points higher than him in the super final after a run that was basically perfect for him was even better than winning my 50th one."
Sweden's Walter Wallberg was third with 82.38.
Friday's victory was the fourth season-opening win in a row for Kingsbury, who prides himself on training hard throughout the summer. He said he made some changes to his diet between seasons to lose weight and add muscle.
"The first World Cup creates momentum for the rest," he said. "You want the judges to be on your side after the first World Cup, so for me the first World Cup gives you so much momentum and is so important, and that's the reason why I perform well all year."
Kingsbury is coming off a huge 2017-18 season that saw him win his Olympic gold medal as well as two Crystal Globes as overall moguls champion and overall freestyle skiing champion on the World Cup circuit.
His next competition is at the World Cup stop in Thaiwoo, China, where Kingsbury won back-to-back moguls events last December.
In women's competition, France's Perrine Laffont won gold with a score of 82.26 points, followed by Kazakhstan's Yulia Galysheva (81.48) and Tess Johnson of the United States (75.85).
Montreal's Justine Dufour-Lapointe was sixth.