Kobe soaking it all in at last All-Star Game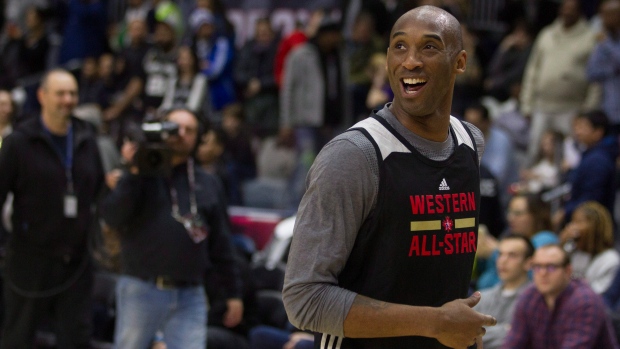 TORONTO, Ontario – As Kobe Bryant gets ready to play in his final All-Star game Sunday, the 20-year veteran admitted he is soaking in all the media attention and fan admiration he's received in Toronto.
"To be here one more time is special," Bryant told a large media gathering following the West All-Star practice Saturday. "It's not bittersweet at all.
"It's a great feeling, it really is. To be able to play this long and to get this kind of respect, there are no words to describe it."
"He seems more relaxed, he's happy," said fellow West All-Star James Harden. "Usually in his competitive days he wasn't so happy. He was all about winning. He's all smiles and embracing it all."
**
Miami Heat guard Dwayne Wade recalled the All-Star game in Orlando four years ago, when he broke Bryant's nose on a hard foul in the third quarter.
Bryant also suffered a concussion on the play.
"He's won two MVP's on me in All-Star games," laughed Wade following the East All-Star practice. The East lost the game 152-149 as Bryant scored 27 points and became the leading scorer in All-Star game history.
"We were competing and that's what Kobe brings to a game. It's not going to be any different tomorrow (Sunday)."
"I talked to him right afterwards and we talked through it," recalled Wade. "There were no hard feelings but he did kick my butt the next time we played them with the mask on after the All-Star game. I expected him to come out and get me, which he did."
Bryant scored 33 points on Wade and the Heat, as the Lakers won the game one week after the All-Star game, 93-83.
"This is his last All-Star game and you understand it ends one day," said Wade, who is a 12-time All-Star participant.
**
Chris Bosh will not be playing in Toronto as he has pulled out with a right calf injury and will undergo more tests possibly as soon as Monday.
Bosh has played in all 53 games for the Miami Heat this season and has been bothered by the injury for the past few days.
"It just lingered and I didn't feel it was wise to continue to push it, especially with this elongated week that we have off," said Bosh. "I just wanted to make sure that I was taking the necessary precautions and being a good professional."
Last year, Bosh's season ended following the All-Star break with a blood clot was found in one of his lungs.
"Cautious but optimistic," said Bosh. "I am going to make sure I take all my precautions and take advice of the doctors to do what I need to do to get back on the court."
Bosh was to have taken part in the 3-point contest and the All-Star game. He leads the Heat in scoring and is averaging 19.1 points a game this season. Miami doesn't play again until Friday and Bosh hopes to play.
Missing out on playing in Toronto – where he spent the first seven seasons his career – is disappointing.
"It's a huge disappointment," admitted Bosh. "I was really looking forward to it. It's all I was thinking about for a while. It was motivation during the summer time when we were really grinding it out and I didn't feel like working out. To get here and not to be able to compete, it's tough but I am here and I'm going to make the most out of it."
**
San Antonio Spurs head coach Gregg Popovich has his strategy all set for Sunday.
"Stay out of their way. Shut up. Let them just do what they do," said Popovich after practice, ahead of coaching in his fourth All-Star game for the West squad. "Less is more."
"This is about fun and entertainment," said Popovich. "There are no new pick and roll defences to be discovered. This is to have fun and showcase the talents of all the guys."
While much of the attention is focused on Bryant and LeBron James, Popovich is excited to see the future of the NBA.
"This is what it's all about," said Popovich. "When you see Steph Curry (third All-Star selection) or Draymond Green (first All-Star) or Klay (Thompson, second All-Star) and all those guys you know what's coming next, and that's the new generation and everybody is going to fall in love with. To be part of that now is thrilling for me."
Popovich also admitted Toronto is one of his favourite stops on the NBA calendar.
"When we look at the schedule when it comes out, we're hopeful we don't have a back-to-back because the night before the Toronto game we can go for dinner."
Popovich has for years had his playful moments with TNT broadcaster Craig Sager, who has been battling cancer and after missing last year's All-Star game, is in Toronto for this year's contest.
"I just saw him, his suit spoke to me. It blinded me for a second," smiled Popovich. "He's been an iconic figure in the NBA. He does such a great job. His sense of humour is obvious. We have a lot of fun going back and forth with that. To have him back where he belongs – we are happy for him and his health – but for the league it's great too because he's a fixture that everybody enjoys."