Kotkaniemi surges into top five of TSN Draft Ranking
Finn's strong performance at the World Under-18 Championships in April has some scouts believing he's a potential future No. 1 centre, Bob McKenzie writes. His late push could make the top 10 of the draft more unpredictable than originally anticipated.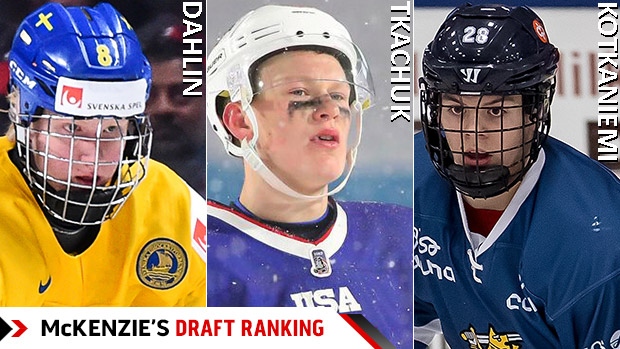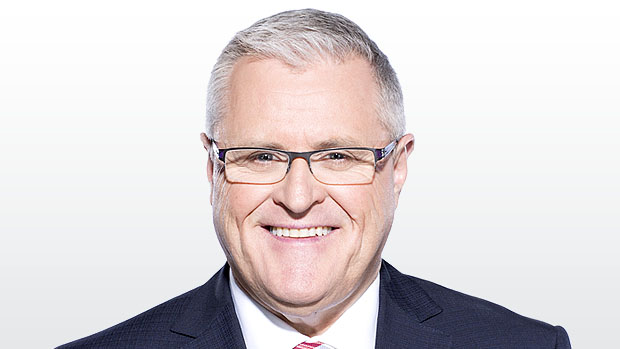 It started the season as the Rasmus Dahlin draft, it still is the Rasmus Dahlin draft and, based on the immense potential of the prospect and associated forecasts of greatness, it may well forever be known as the Rasmus Dahlin draft.
To no one's surprise, Dahlin sits atop TSN's Final Draft Rankings, a unanimous choice as he has been all season long. Ten of 10 NHL scouts surveyed by TSN have the 6-foot-3, 185-pound blueliner in a class all by himself.
We can expect the Dahlin hype train to hit top speed this week as he sets out on a career that will determine where he fits in the pantheon of modern-day elite Swedish defencemen.
He's not quite as tall as Tampa's Victor Hedman but does a lot of the same things on both sides of the puck as the Norris Trophy candidate. He's far bigger than Ottawa's Erik Karlsson but flashes the same dynamic skill and breathtaking offence. He has a long, long way to go to earn favourable comparisons to arguably the greatest Swedish defenceman ever - Nicklas Lidstrom - but Dahlin already demonstrates much of the same ease and three-zone impact as the Hall of Famer.
Dahlin is just commencing his journey to forge his own identity, and there's no telling for sure what he will make of it, but this is indisputable — at the same age, entering the draft, none of Lidstrom, Hedman or Karlsson was comparable to where Dahlin's game is at.
So, yes, it is the Rasmus Dahlin draft.
But a funny thing happened, a few of them actually, on the way to the Swede's official coronation as the No. 1 prospect in the 2018 NHL draft Friday night in Dallas.
Let's start with Russian winger Andrei Svechnikov of the Barrie Colts.
At first glance, his ranking has not changed one bit. He's still No. 2 on TSN's final ranking, just as he was in the preseason, mid-season and draft lottery edition rankings.
But this time it's unanimous, and it's the first of a number of notable draft developments that have unfolded over the last couple of months that could make even the top 10 of this Friday's draft more unpredictable than originally anticipated.
"If you want to know the truth," one scout said, "Svechnikov may be closer to Dahlin for No. 1 than the rest of the field is to Svechnikov."
The point is, outside of Dahlin, Svechnikov has separated himself from the rest of the field.
Svechnikov has size, speed and skill. He can play a power game or a finesse game, make plays or score goals any way they can be scored - off the rush, one timers from far out, getting his nose dirty in front of the net or off the cycle.
As Russians go, Svechnikov is well acclimated to the North American game and life, having lived with his mother in Muskegon and Barrie for the past two years. He's not absolutely fluent in speaking or understanding English but he more than gets by. His older brother, Evgeny, a first-round pick of the Detroit Red Wings in 2015, played two years in the Quebec League and two years in the American Hockey League.
Which brings us to the other notable change.
For much of this season, the top end of this draft was perceived to be structured on a 1-3-4 basis.
That is, Dahlin in a class by himself at the top. There's the one.
The next level or grouping was the three wingers - Svechnikov, Czech Filip Zadina of the Halifax Mooseheads and American Brady Tkachuk of Boston University. There's the three. Different scouts had different views on ordering of the three wingers, but for much of this season, that trio along with Dahlin looked like a dead-set certain top four.
Technically, it still is.
TSN's final rankings have Tkachuk at No. 3 and Zadina at No. 4, but there is a notable element of uncertainty there where little or none existed before.
For example, while Zadina is still very much a consensus top-five pick, relative to the other prospects, five of 10 scouts surveyed by TSN ranked him outside their top five. Five scouts had him in the top five, including three of them at No. 3, but he had three 6's, a 7 and a 9 as well. That's a far cry from the mid-season polling, when all of Zadina's marks came in between 2 and 4.
"I don't think Zadina necessarily did anything negative as much as so many others stepped up their game," a scout said.
Zadina has quick hands and feet, thrives in tight and small spaces and is able to get off an incredible release on a shot that is arguably the best in the draft, as his 44 goals in 57 games would attest. He's not as big and powerful as Svechnikov or Tkachuk — relative to the other top picks, Zadina's physical testing scores at the NHL combine were, at best, average — but his ability to make plays and score goals is as good as it gets.
Tkachuk, meanwhile, is a lot less refined and less polished than the other elite picks but the big raw-boned winger plays a hard-driving, aggravating power and agitation game. He proved at the World Junior Championship he can score and make plays in a pressure event against elite competition, which was a good thing since his overall lack of productivity at Boston University was becoming something of a concern. But Tkachuk appears to have that certain something and only one of our 10 scouts surveyed had him outside the top five.
Zadina and Tkachuk, incidentally, are late 1999 birthdates. Dahlin and Svechnikov are 2000s.
Which brings us to the other development. The four in 1-3-4.
For much of the season, once you got past Dahlin (1) and the layer of wingers (3), there appeared to be a notable separation to the next grouping of prospects that happened to be four defencemen — Swede Adam Boqvist, American Quinn Hughes and the top two Canadian prospects in the draft, Evan Bouchard and Noah Dobson. As was the case with the three wingers, talk to different scouts and you would get a differing ordering of the four blueliners.
But there was, for a great deal of this season, a sense Dahlin and the three wingers and four defencemen could be the clear top eight in this draft.
Kaboom. So much for that notion.
The No. 5 spot on TSN's final rankings goes to Finnish centre Jesperi Kotkaniemi, who was No. 19 on the mid-season rankings and No. 10 on the draft lottery edition rankings. His strong performance at the World Under-18 Championships in April has vaulted him into the top five and provided this draft with something that it seemed to be missing all season long — a potential No. 1 centre.
Scouts tend to be positionally biased. Centres and defencemen, generally speaking, tend to be more highly valued than wingers. So perhaps it was inevitable that trio of top wingers would be challenged for their top-five status.
In any case, here's how the rest of the TSN top 10 shakes out:
6. Noah Dobson. The big 6-foot-3 defenceman from the Acadie–Bathurst Titan played so well and so long in leading his team to the Memorial Cup title. Dobson is a strong skater with a high degree of creativity, vision and offensive prowess. Scouts feel we're only seeing the tip of the iceberg here. Worth noting: Four of 10 scouts surveyed by TSN have Dobson in their top five.
7. Evan Bouchard. The third-year OHL defenceman from the London Knights put up spectacular offensive numbers. The heady 6-foot-2 blueliner is arguably the best passer in the game. Long bombs, short outlets to get the attack started – he can do it all. He makes great passes to the right people at the right time, but also has a good shot from the blueline. Bouchard's skating is said to be good, not necessarily great, but by no means a liability. Although Bouchard is less than three months older than Dobson, he is technically viewed a year older, a late 1999 birth date as opposed to 2000.
8. Quinn Hughes. The University of Michigan American freshman defenceman has a wow factor to his game. He is the first of a plethora of smart, skilled and dynamic sub-6 foot offensive blueliners in this draft. He plays a go-go-go offensive game, at times more like a rover than a defenceman. He's fearless, not afraid to make high-risk, high-reward but also high-danger plays. Critics would say he's not defensively sound or aware; boosters would say he doesn't need to play much D because the puck is always on his stick. Also a late 1999 birthdate, Hughes played well for Team USA at the senior men's World Championship.
9. Oliver Wahlstrom. The American winger from the U.S. National Development Team program started out as a nine-year-old YouTube sensation who scored a dazzling highlight-reel shootout goal at a Boston Bruin game, but he's all grown up now at 6-foot-1 and 200-plus pounds. He's an elite shooter and goal scorer. Some say he's somewhat one dimensional — "He needs a good centre to get him the puck because he's not good at getting it himself," one scout said — but what a dimension to have because scouts project him as a potential first-line scoring winger in the NHL.
10. Adam Boqvist. At a shade under six feet tall, the Swede is a dynamic offensive defenceman. He started and finished the season on extremely high notes — he was the best defenceman at the Ivan Hlinka U-18 tourney last August and again at the Under-18 World Championship in April. In between those two events, his game wavered a bit at times as he bounced around to three different teams in three different leagues, playing mostly in the Swedish junior loop but also seeing some time in the elite league and second division. Like Hughes, Boqvist's defensive acumen is sometimes questioned.
What's interesting about the players ranked six through 10 is that every one of them got consideration as a potential top-five pick. For much of the year, when it was Dahlin and the three wingers (Svechnikov, Zadina and Tkachuk), there appeared to be only one top five slot available. But things have blown a lot more wide open.
As mentioned, four scouts have Dobson in their top five. Hughes is as high as No. 3 on one list, as low as 11 on another. Ditto for Boqvist, whose range was from five to 14.
And it doesn't end with the top 10.
Centre Barrett Hayton of the Soo Greyhounds, at No. 11, and Russian winger Vitali Kravtsov, at No. 12, were the only other players to get a vote in the top five.
If a top-10 team is looking for a centre, and Kotkaniemi is gone, Hayton could easily crash the top 10.
This draft was always going to be wildly unpredictable outside of the top 10 but what has become evident is how much potential variance there is from what we thought we knew earlier in the season.
Some other notable and/or random observations and thoughts on this year's TSN Rankings, which runs 93 prospects deep:
- It's always worth pointing out a few things about the nature of the TSN rankings.
This is not a subjective evaluation of which prospects TSN believes will be the best NHL players in time. That job belongs to the NHL scouts and various independent scouting services.
TSN rankings are a forecast of how high or low a prospect is likely to be chosen on draft day. That forecast is obtained by polling 10 NHL scouts, compiling their ratings into a consensus ranking.
- If a Canadian – Dobson, Bouchard and perhaps Hayton are the candidates – doesn't break into the top 5, it would be the first time since 1999 and only the second time in draft history a Canadian hasn't gone in the top three, let alone top five of the draft.
- Beyond Svechnikov, there are two Russians in TSN's top 15 — Kravtsov at No. 12 and physical winger Grigori Denisenko at No. 15. It's easy to say now, before the draft, but there doesn't appear to be the so-called Russian Factor working against them. Both seem highly regarded, though neither is likely to be in the NHL for another couple of years, which can sometimes be an issue for some teams.
- Czech forward Martin Kaut, No. 16 on the TSN list, was flagged at the NHL Combine medical screening for a congenital heart condition. He wasn't able to do any physical testing and coming out of the combine there were fears being expressed by some teams about his status.
Fear not, he now has a clean bill of health, which has been submitted to NHL Central Scouting and the 31 teams. Last week in Prague, Kaut underwent an ablation procedure to correct the issue, although after doing the procedure, the specialists maintained they don't believe he actually had the condition that was initially diagnosed.
In any case, doctors have signed off on full medical clearance and unrestricted activity for Kaut and this isn't expected to affect his draft status.
- Like any draft, and like any rankings, there are some wild cards. U.S. defenceman Bode Wilde takes that to a new literal level.
Quite aside from the easy pun, Wilde fits the bill. Four of our surveyed scouts had him top 20, four had between 40 and 60.
Wilde is No. 25 on the TSN list. It goes without saying, but we'll say it anyway, he could go higher or lower than that.
U.S. U-18 teammate K'Andre Miller, ranked one spot higher than Wilde at No. 24, is also all over the map in terms of projections, as high as 10 on one list and as low as 39 on another.
- No one moved up the TSN draft rankings this season like London Knight forward Liam Foudy, who didn't make TSN's top 80 in the mid-season rankings.
Now at No. 29, Foudy's up at least 52 spots, which would put him first in that department. He went up 72 spots on the NHL Central Scouting Bureau rankings.
Foudy's game really took off after the London Knights traded a lot of their core veterans. He went on an unbelievable scoring tear and only reinforced positive things at the NHL combine, where he was first amongst all prospects in the standing long jump, vertical jump, and no arm jump.
Foudy, obviously, is an exceptional athlete and comes by it honestly as his parents excelled in track and field.
- The title of most interesting/intriguing prospect in the draft goes to Guelph Storm defenceman Ryan Merkley.
Merkley is No. 32 on TSN's final rankings. No one would dispute that he has top-10 talent as a creative and offensive defenceman, but scouts have openly flagged him because of questionable attitude and behaviour.
Scouts say the immaturity comes in many forms – overstaying shifts, cavalier disregard for playing defence, being petulant or ill-tempered when things don't go his way, being hard on teammates, clashing with coaches and a perceived lack of self-awareness and accountability.
The Storm took a tougher love approach with Merkley in February – making him a healthy scratch, amongst other things – and by all accounts he did show improvement in many areas over the balance of the season. But that's most definitely a work in progress.
Is he just a kid who's slow to grow up? Or are his shortcomings fatal flaws?
Some teams have already decided they won't take him. But others are still looking at him as a potential first-round pick, though some teams who ranked him in their top 31 fully admitted they would have to think long and hard on the draft floor before pulling the trigger.
If he's not taken in the first round, he becomes an attractive "project" in the second round. In either case, easily the most interesting case study in this year's draft.
- There are no goalies in TSN's top 31 and only five goalies in the top 93. It's not a great year for goalies. Drummondville's Olivier Rodrigue is the top goalie on our list, at No. 49.
- These lists are always an inexact science, but the marginal difference between prospects ranked from Nos. 21 through 65 is really slim this season.
Outside of the goalies the top 65, pretty much every prospect got some consideration as a top 31 pick. It's going to be a really scattershot affair beyond the top 20.
The Top 93
| RK | Player | Team | POS | HT | WT | GP | G | P |
| --- | --- | --- | --- | --- | --- | --- | --- | --- |
| 1 | Rasmus Dahlin | Frolunda (SHL) | D | 6'3 | 185 | 41 | 7 | 20 |
| 2 | Andrei Svechnikov | Barrie (OHL) | RW | 6'2 | 192 | 44 | 40 | 72 |
| 3 | Brady Tkachuk | Boston U (NCAA) | LW | 6'3 | 192 | 40 | 8 | 31 |
| 4 | Filip Zadina | Halifax (QMJHL) | RW | 6'0 | 197 | 57 | 44 | 82 |
| 5 | Jesperi Kotkaniemi | Ässät (SM Liiga) | C | 6'2 | 182 | 57 | 10 | 29 |
| 6 | Noah Dobson | A-Bathurst (QMJHL) | D | 6'3 | 177 | 67 | 17 | 69 |
| 7 | Evan Bouchard | London (OHL) | D | 6'2 | 196 | 67 | 25 | 87 |
| 8 | Quinn Hughes | Michigan (NCAA) | D | 5'10 | 173 | 34 | 5 | 29 |
| 9 | Oliver Wahlstrom | USA NTDP (USHL) | RW | 6'1 | 208 | 62 | 48 | 94 |
| 10 | Adam Boqvist | Brynäs (SWE J20) | D | 5'11 ½ | 165 | 25 | 14 | 24 |
| 11 | Barrett Hayton | S.S. Marie (OHL) | C | 6'1 | 190 | 63 | 21 | 60 |
| 12 | Vitali Kravtsov | Chelyabinsk (MHL) | RW | 6'3 | 184 | 35 | 4 | 7 |
| 13 | Ty Smith | Spokane (WHL) | D | 5'11 | 176 | 69 | 14 | 73 |
| 14 | Joe Veleno | Drummondville (QMJHL) | C | 6'1 | 191 | 64 | 22 | 79 |
| 15 | Grigori Denisenko | Yaroslavl (MHL) | LW | 5'11 | 172 | 31 | 9 | 22 |
| 16 | Martin Kaut | Pardubice (CZE Extra) | RW | 6'1 ½ | 176 | 38 | 9 | 16 |
| 17 | Joel Farabee | USA NTDP (USHL) | LW | 6'0 | 162 | 62 | 33 | 76 |
| 18 | Dominik Bokk | Vaxjo (SWE J20) | RW | 6'1 | 176 | 35 | 14 | 41 |
| 19 | Serron Noel | Oshawa (OHL) | RW | 6'5 | 204 | 62 | 28 | 53 |
| 20 | Rasmus Kupari | Kärpät (SM Liiga) | C | 6'1 ½ | 189 | 39 | 6 | 14 |
| 21 | Isac Lundestrom | Luleå (SHL) | C | 6'0 | 183 | 42 | 6 | 15 |
| 22 | Ryan McLeod | Mississuaga (OHL) | C | 6'2 | 206 | 68 | 26 | 70 |
| 23 | Ty Dellandrea | Flint (OHL) | C | 6'0 | 180 | 67 | 27 | 59 |
| 24 | K'Andre Miller | USA NTDP (USHL) | D | 6'3 | 199 | 58 | 9 | 29 |
| 25 | Bode Wilde | USA NTDP (USHL) | D | 6'2 ½ | 198 | 61 | 12 | 41 |
| 26 | Jared McIsaac | Halifax (QMJHL) | D | 6'1 | 189 | 65 | 9 | 47 |
| 27 | Rasmus Sandin | S.S. Marie (OHL) | D | 5'11 | 186 | 51 | 12 | 45 |
| 28 | Akil Thomas | Niagara (OHL) | RW | 5'11 | 177 | 68 | 22 | 81 |
| 29 | Liam Foudy | London (OHL) | C | 6'0 | 174 | 65 | 24 | 40 |
| 30 | Alexander Alexeyev | Red Deer (WHL) | D | 6'4 | 196 | 45 | 7 | 37 |
| 31 | Mattias Samuelsson | USA NTDP (USHL) | D | 6'4 | 218 | 58 | 11 | 31 |
| | | | | | | | | |
| 32 | Ryan Merkley | Guelph (OHL) | D | 5'11 | 168 | 63 | 13 | 67 |
| 33 | Benoît-Olivier Groulx | Halifax (QMJHL) | C | 6'1 | 193 | 68 | 28 | 55 |
| 34 | Jay O'Brien | Thayer (USHS) | C | 5'11 | 176 | 30 | 43 | 80 |
| 35 | Jack McBain | Toronto (OJHL) | C | 6'3 | 201 | 48 | 21 | 58 |
| 36 | Nils Lundkvist | Lulea (SHL) | D | 5'11 | 172 | 28 | 2 | 5 |
| 37 | Jesse Ylonen | Espoo (FIN) | RW | 6'0 | 167 | 48 | 14 | 27 |
| 38 | Jonatan Berggren | Skellefteå (SWE J20) | LW | 5'10 | 181 | 38 | 18 | 57 |
| 39 | Nicolas Beaudin | Drummondville (QMJHL) | D | 5'11 | 175 | 68 | 12 | 69 |
| 40 | Jacob Olofsson | Timra (SWE-Als) | C | 6'2 | 189 | 43 | 10 | 21 |
| 41 | Calen Addison | Lethbridge (WHL) | D | 5'10 | 178 | 68 | 11 | 65 |
| 42 | Jett Woo | Moose Jaw (WHL) | D | 6'0 | 200 | 44 | 9 | 25 |
| 43 | Adam Ginning | Linköping (SHL) | D | 6'4 | 206 | 28 | 1 | 2 |
| 44 | Kirill Marchenko | M. Yugry (MHL) | RW | 6'3 | 187 | 31 | 8 | 16 |
| 45 | Jakub Lauko | Chomutov (CZE Extra) | LW | 6'0 | 179 | 42 | 3 | 9 |
| 46 | Jacob Bernard-Docker | Okotoks (AJHL) | D | 6'0 | 187 | 49 | 20 | 41 |
| 47 | Kevin Bahl | Ottawa (OHL) | D | 6'6 | 216 | 58 | 1 | 18 |
| 48 | Sean Durzi | Owen Sound (OHL) | D | 6'0 | 188 | 40 | 15 | 49 |
| 49 | Olivier Rodrigue | Drummondville (QMJHL) | G | 6'1 | 156 | 53 | 2.54 | .903 |
| 50 | Jonathon Tychonick | Penticton (BCHL) | D | 6'0 | 177 | 48 | 9 | 47 |
| 51 | Blake McLaughlin | Chicago (USHL) | LW | 6'0 | 157 | 54 | 23 | 52 |
| 52 | Jake Wise | USA NTDP (USHL) | C | 5'10 | 195 | 30 | 9 | 36 |
| 53 | Olof Lindbom | Djurgarden (SWE J20) | G | 6'0 | 173 | 20 | 3.10 | .897 |
| 54 | Filip Johansson | Leksands (SWE J20) | D | 6'1 | 176 | 29 | 4 | 9 |
| 55 | Niklas Nordgren | HIFK (SM Liiga) | RW | 5'9 | 169 | 28 | 13 | 42 |
| 56 | Jakub Skarek | Jihlava (CZE Extra) | G | 6'3 | 192 | 21 | 2.41 | .913 |
| 57 | Martin Fehervary | Oskarshamn (SWE-Als) | D | 6'2 | 194 | 42 | 1 | 7 |
| 58 | Jan Jenik | B.n. Jizerou (CZE 2) | C | 6'1 | 171 | 30 | 4 | 11 |
| 59 | Filip Hallander | Timra (SWE-Als) | C | 6'2 | 188 | 40 | 9 | 20 |
| 60 | Gabriel Fortier | Baie Comeau (QMJHL) | LW | 5'10 | 170 | 66 | 26 | 59 |
| 61 | Cameron Hillis | Guelph (OHL) | C | 5'10 | 168 | 60 | 20 | 59 |
| 62 | Tyler Madden | Tri-City (USHL) | C | 5'11 | 150 | 32 | 9 | 20 |
| | | | | | | | | |
| 63 | Sampo Ranta | Sioux City (USHL) | RW | 6'2 | 199 | 53 | 23 | 37 |
| 64 | David Gustafsson | HV 71 (SHL) | C | 6'2 | 196 | 45 | 6 | 12 |
| 65 | Jack Drury | Waterloo (USHL) | C | 5'11 | 174 | 56 | 24 | 65 |
| 66 | Ty Emberson | USA NTDP (USHL) | D | 6'0 | 200 | 61 | 4 | 27 |
| 67 | Ivan Morozov | M. Yugry (MHL) | C | 6'1 | 178 | 30 | 11 | 23 |
| 68 | Albin Eriksson | Skellefteå (SWE J20) | LW | 6'4 | 207 | 38 | 22 | 40 |
| 69 | Stanislav Demin | Wenatchee (BCHL) | D | 6'2 | 190 | 57 | 9 | 45 |
| 70 | Oskar Back | Färjestads (SWE J20) | C | 6'3 | 204 | 38 | 10 | 32 |
| 71 | Allan McShane | Oshawa (OHL) | C | 5'11 | 185 | 67 | 20 | 65 |
| 72 | Lukáš Dostal | Brno (Cze Jr) | G | 6'1 | 166 | 20 | 2.43 | .920 |
| 73 | Kody Clark | Ottawa (OHL) | RW | 6'1 | 179 | 56 | 18 | 39 |
| 74 | Jon Gruden | USA NTDP (USHL) | C | 6'0 | 169 | 61 | 28 | 60 |
| 75 | Justus Annunen | Karpat (Fin Jr) | G | 6'4 | 217 | 26 | 2.31 | .907 |
| 76 | Jordan Harris | Kimball Union (USHS) | D | 5'11 | 179 | 37 | 6 | 35 |
| 77 | Nico Gross | Oshawa (OHL) | D | 6'1 | 185 | 58 | 4 | 14 |
| 78 | Scott Perunovich | Minn-Duluth (NCAA) | D | 5'9 | 172 | 42 | 11 | 36 |
| 79 | Alec Regula | London (OHL) | D | 6'4 | 203 | 67 | 7 | 25 |
| 80 | Curtis Hall | Youngstown (USHL) | C | 6'2 | 200 | 54 | 13 | 31 |
| 81 | Aidan Dudas | Owen Sound (OHL) | C | 5'7 | 164 | 68 | 31 | 65 |
| 82 | Cole Fonstad | Prince Albert (WHL) | C | 5'10 | 159 | 72 | 21 | 73 |
| 83 | Alexander Romanov | Moskva (MHL) | D | 5'11 | 185 | 37 | 7 | 14 |
| 84 | Riley Sutter | Everett (WHL) | RW | 6'3 | 203 | 68 | 25 | 53 |
| 85 | Matej Pekar | Muskegon (USHL) | C | 6'0 | 170 | 56 | 14 | 54 |
| 86 | Blade Jenkins | Saginaw (OHL) | LW | 6'1 | 201 | 68 | 20 | 44 |
| 87 | Ruslan Iskhakov | Moskva (MHL) | C | 5'8 | 152 | 33 | 6 | 30 |
| 88 | Giovanni Vallati | Kitchener (OHL) | D | 6'2 | 184 | 65 | 3 | 26 |
| 89 | Philipp Kurashev | Quebec (QMJHL) | RW | 6'0 | 190 | 59 | 19 | 60 |
| 90 | Nando Eggenberger | Davos (SUI NLA) | LW | 6'2 | 198 | 36 | 3 | 5 |
| 91 | Tyler Weiss | USA NTDP (USHL) | LW | 5'10 | 151 | 58 | 12 | 31 |
| 92 | Logan Hutsko | Boston College (NCAA) | RW | 5'10 | 172 | 37 | 12 | 31 |
| 93 | Axel Andersson | Djurgarden (SWE J20) | D | 6'0 | 178 | 42 | 6 | 31 |