Kreviazuk family having a week to remember in Ottawa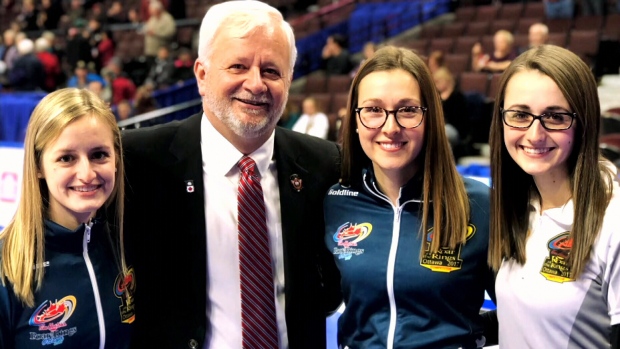 Most people have their family reunions at a park or in a backyard. The Kreviazuk family decided to have theirs at the Canadian Olympic curling trials.
All three sisters are competing this week in their hometown of Ottawa at the Canadian Tire Centre.
The youngest, Cheryl, is an alternate for Rachel Homan's squad. Lynn, the middle sister, plays second for Team Allison Flaxey. The oldest, Allison, is the alternate for that team.
Lynn never thought this could be a possibility, especially since Allison now resides in Sweden with her fiancé Fredrik Lindberg, who previously played second for Niklas Edin.
"Our team goal, the four of us on Team Flaxey, was to make it here and be a hometown team to be able to have this experience here in Ottawa," said Lynn. "Then when we had the opportunity to select a fifth, and I never really imagined that Ally could have been our fifth, so when we got the final approval from the Canadian Curing Association, it was really awesome to be able to bring her on board."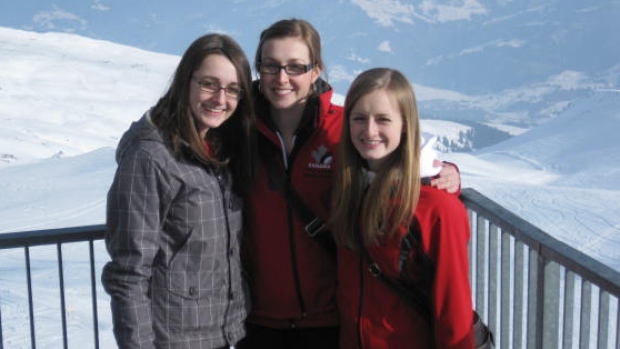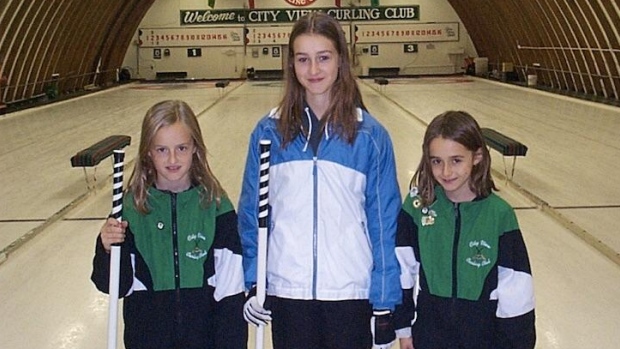 All three were on the same sheet Tuesday night as Team Homan squared off against Team Flaxey. Their biggest fan witnessed the once-in-a-lifetime moment from the stands.
"He's the really loud one in the stands," Lynn said of their father. "Every once and a while you'll hear him belt out something."
Doug Kreviazuk, who is volunteering this week at the Roar of the Rings as a statistician, says he couldn't be happier to see his daughters reach the pinnacle of the sport together.
"The sisters are best of friends – all three of them. Even Allison being in Sweden, the amount of texting and FaceTime that happens between the three of them is amazing," explained Doug. "They share everything. I'm looking at the bench here where Allison and Cheryl are sitting smiling. That's the one thing about those two, they have infectious smiles. It's just great to see."
Scottish Ties
The Kreviazuk clan caught the curling bug from the birthplace of the sport, Scotland.
Doug's wife, Janice, is from Scotland and when her parents immigrated to Canada they brought their love of curling with them.
The first sister to be introduced to the sport was Allison. At seven years old, she was watching it on television with her grandma, who quickly persuaded her to join the local club, the City View Curling Club.
The rest is history, says Doug.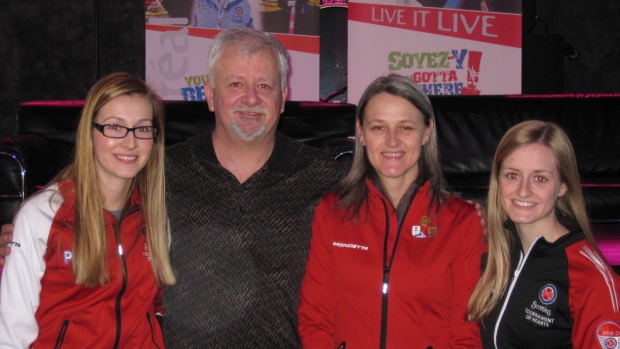 "Allison was hooked and then two years later her sister [Lynn] came along," he said. "They had fun and success which kept them in the sport and they met great people. That's the nice thing about curling. It's a positive culture, great people in the sport…who doesn't want to be a part of this?"
Doug jumped on board quickly and started taking coaching courses. He's now a level-three national coach.
"I've had the good fortune to work with Rachel [Homan] and Earl Morris, who is my mentor, and a number of other teams in the local area. It's just been a thrill," said Doug.
With Allison and Lynn fully invested in the sport, Cheryl was destined to join her sisters, even if it meant a little coaxing with some tasty beverages.
"I kind of grew up in the curling club," said the 25-year-old, who won a Scotties and world championship as Team Homan's alternate last season. "At first, I think I was forced into it, but after some hot chocolate and marshmallows at break time it kind of enticed me to continue and then I saw some success. It's been an awesome experience."
Supporting Sisters
With just a four-year difference between the oldest and youngest, the Kreviazuk sisters had plenty of competitions with and against each other over their young curling careers.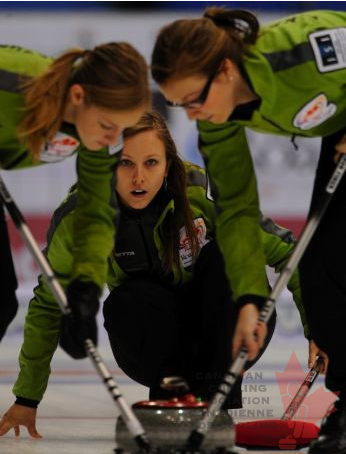 Allison and Lynn were the front end for Team Homan for three seasons, competing most notably at the 2009 Pre-Trials. Five years later, they would go head-to-head at the 2014 Scotties Tournament of Hearts in Montreal. Allison won that matchup en route to her second Canadian championship with the team.
Doug says it's not hard to watch two loved ones go head-to-head on the curling rink if you look at it the right way.
"You just want every game for the kids to play well. You want great shots. Somebody is going to win, and somebody is going to lose and there's nothing you can do to change that," he said. "So, accept it and support the winner, but also support the loser. But if they play well and play strong, everybody is a winner."
In their younger years, however, things may have gotten a little testy at times between the sisters, but ultimately their respect and love for each other prevailed.
"We get extremely well off the ice; on the ice it can be a bit challenging. We have a lot of respect for one another. We speak very honestly to each other," said Cheryl, who played with Lynn during their bantam and junior years and was coached by their father.
"When we were younger it didn't always go so well, but now we're older we have a lot more respect. We practice together sometimes and she's [Lynn] able to tell me, 'This is what you're doing wrong' and I take it and respect it."
Giving Back
Doug calls curling the family's "social network." He's chairman of the board for the Ontario curling association, works for Curling Canada on a regular basis and spends time with the local curling community.
Curling has given the Kreviazuk family a lot and it's only fair to give it right back, says Doug.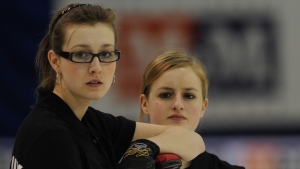 "It is our life. Because it has been so good to us I'm a strong believer in pay it forward. It's something I preach to my girls and they're strong on that as well with the little rocks in the area," he said. "You have to be a role model to your kids and you have to really firmly believe about paying it forward and giving back to this great sport."
Now you might be wondering if a Kreviazuk super team could ever be in store. Well, that dream might be a little too far-fetched with Allison leaving in Europe and the fact they don't have a skip.
"We're a team of three front end players so I think it might be a little challenging," joked Allison. "I think our dream team would be on the slow decline."