Lacy, Adams return to Packers practice
Running back Eddie Lacy and receiver Davante Adams have returned to Green Bay Packers practice after missing a day with ankle injuries.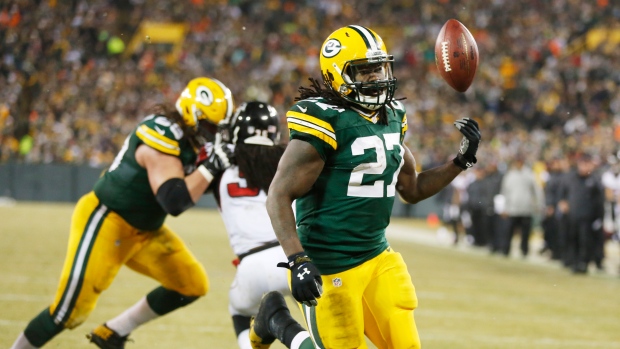 GREEN BAY, Wis. - Davante Adams made the cuts and ran close to full speed on his injured ankle in Green Bay's practice. Now the starting receiver's availability for Monday night's game against Kansas City will depend on whether he can do all that while absorbing contact.
There is one more practice left this weekend before the Packers can determine whether Adams and running back Eddie Lacy are available against the Chiefs. Lacy also has an ankle injury.
Those are two more important names on the injury list for an offence that has already lost wide receiver Jordy Nelson to a season-ending right knee injury. Receiver Randall Cobb is playing while recovering from a sprained right shoulder.
Adams said thinking about his ankle injury is "really the thing that holds me back right now ... rather than just playing. But with time, all that will go away and I'll be all right."
So far, Adams and Lacy appear to be making good progress. The duo returned to practice Friday on a limited basis, taking part in individual drills after missing a day.
The extra day off, with the schedule pushed back by a day for a Monday night game, has helped.
It sure didn't seem like Adams would be OK on Sunday night during the 27-17 win over Seattle. Adams was carted to the locker room in the second quarter after favouring his left foot.
Getting treatment inside Lambeau Field, Adams heard the roars of fans. His adrenaline was pumping. He wanted to get back on the field.
He did so, albeit a bit hobbled, in the second half.
"After the game, overnight it got a lot more sore and a lot more swelling," Adams said. "I'm just trying to do what I've got to do now so I can get right."
The good news for the Packers is they got effective contributions down the stretch from rookie Ty Montgomery, who would step up Monday night for Adams.
"Unfortunately we had an injury, he had to step in. He had a ball thrown his way, he made a play, he was able to break some tackles," Cobb said. "That's the kind of player that we thought he would be."
The Packers already have a proven backup at running back in James Starks, who ran for 95 yards on 20 carries. Lacy, who left in the first quarter, did not return against Seattle.
After practice Friday, Lacy said he had played through an ankle injury during his rookie season two years ago when he was able to "tape it and spat it."
This injury was different. Lacy couldn't put pressure on it, even after the training staff completely re-taped his ankle and added another layer of black tape around his shoe.
Lacy labeled the injury a "day-to-day thing.
"We're not ruling anything out," Lacy said. "If I wake up tomorrow and I don't feel like I went backwards, then rehab is definitely going to make it feel better for game time."
NOTES: Cobb was a full participant at practice for a second straight day, while backup CB Demetri Goodson (hamstring) missed practice a second straight day. ... LB Mike Neal (groin) was held out Friday after being limited on Thursday. ... S Morgan Burnett (calf) was limited. He missed the season opener against Chicago with the same injury.
___
AP NFL website: www.pro32.ap.org and http://twitter.com/AP_NFL