Ladd: No contract offers from Jets
Winnipeg captain Andrew Ladd knows Tuesday could mark his last game in the city as a Jet, Frank Seravalli writes.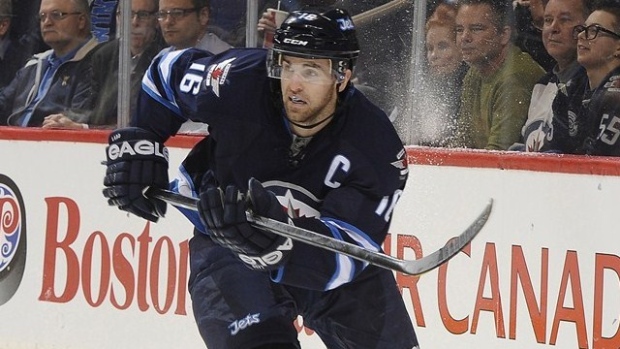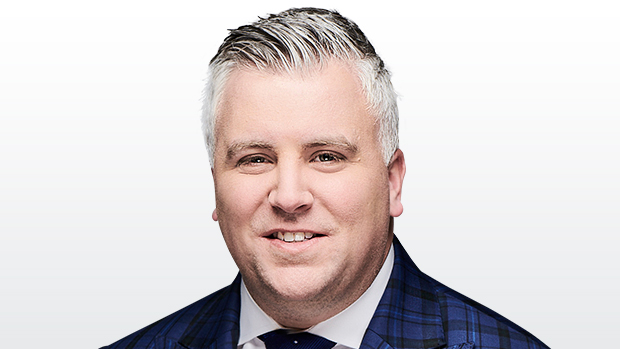 Andrew Ladd drove to the rink knowing Tuesday could mark his last game in Winnipeg as a Jet.

"It's sad to think about," Ladd told reporters. "But it's part of the gig, too. We haven't been told that, but I guess I can kind of see the writing on the wall."

The writing has been on the wall since the Jets refocused negotiations on defenceman Dustin Byfuglien last month, culminating in a five-year, $38 million deal signed on Feb. 8.

The message for Ladd has been clearer with each passing day.
Ladd, 30, said after Tuesday's morning skate that his camp has not received any contract offers from the Jets in the last week. In fact, Ladd said, there had not been much in the way of talks since Christmas - only further increasing the likelihood the Jets' captain will be dealt prior to Monday's deadline.

The Jets embark on a two-game trip to Dallas and Pittsburgh on Thursday and do not play again at MTS Centre until Tuesday.

"I realize the situation and what's going on," Ladd said. "I obviously hope it's not, but I realize it has the potential to be my last [game]. Obviously, I still want to hopefully be here for a long time with this group, but if I'm not, it just wasn't the plan. You've got to deal with that as it comes."

If Tuesday is indeed Ladd's final appearance in Winnipeg, what a run it has been. No Jet has more goals than Ladd (109), since the franchise was relocated from Atlanta in 2011. He is also second in points (245), only to Blake Wheeler's 289, in that same span.
Last year, Ladd helped Winnipeg to their first Stanley Cup playoff appearance since 1996 with a 62-point campaign in which he played through various injuries. He underwent sports hernia surgery after the Jets were swept by the Ducks in the first round.

"We had a good thing going on, and I felt good enough to play," Ladd told the Winnipeg Sun about his injury, which popped up in Dec. 2014. "You want to be part of it and keep pushing the group. We were making strides. It's one of those things you can do in the off-season."

Ladd's tenacity and production likely made him the team's top off-season priority last summer. But Ladd reportedly turned down a six-year, $36-million offer sometime over the last year, forcing the Jets brass to reconsider their options.

With restricted free agents Jacob Trouba and Mark Scheifele also due contract extensions and big raises this summer, the Jets only have so much salary-cap space with Byfuglien's $7.6 million cap hit kicking in.

The math potentially makes Ladd the odd man out. He said he has not had a "strong conversation" with GM Kevin Cheveldayoff, saying there has been a "weird vibe."

"The year hasn't gone [as planned]," Ladd said. "I don't think it was in anyone's plans to not make the playoffs. You go through the summer to come back and do [the playoff experience] again and go even further, and personally it didn't get off the start I wanted. As a team, things didn't go the way we needed them to. I think there are a lot of things that are disappointing. But you have to take responsibility for your part in that, too."

Florida and Ladd's former team, Chicago, are believed to be along the interested parties for the left winger. Ladd helped the Blackhawks to the 2010 Stanley Cup before being traded to Atlanta in a cap squeeze.

Either team would be getting a player who has found his game of late. Ladd has six goals in nine games since the All-Star break, saying he used the time to "get fixed up" and felt his confidence and quickness returned with the action.

Ladd admitted the last few games have felt "a little weird," with the impending outcome. That's because the Maple Ridge, B.C., native has embraced Winnipeg. And on Tuesday night, Winnipeg will have the chance to return the favour.

"I've said all along my hope was to stay here and be in Winnipeg for a long time," Ladd said. "I don't know if that's going to happen. The tough part is being in limbo and not really knowing what's going on. At any point it could change … I might as well just enjoy playing hockey with this group."
--

Frank Seravalli can be reached at frank.seravalli@bellmedia.ca.