Laine closes out his teens as NHL's youngest top scorer in 30 years
Since 1987-88, no NHL player has scored more goals as a teenager than Winnipeg Jets forward Laine did with his 80, leaving Sidney Crosby (75), Ilya Kovalchuk (67) and Rick Nash (58) in the dust, Frank Seravalli writes.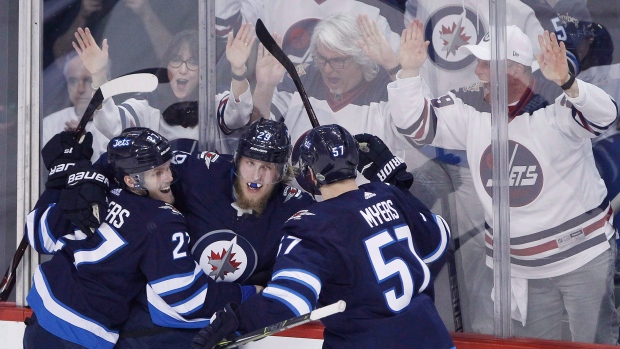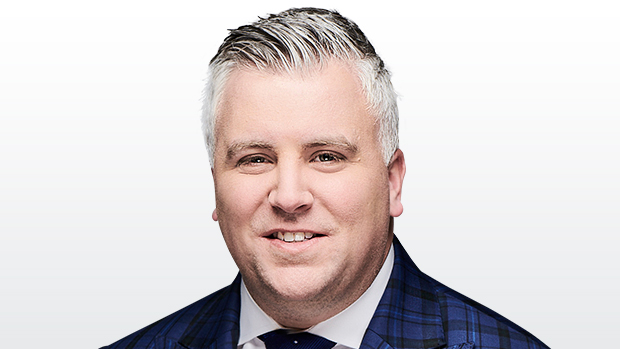 WINNIPEG — Patrik Laine stood there, half shocked, but soaking in the moment after the Jets got him with the old pie-in-the-face trick after practice.
He massaged the shaving cream courtesy of Matt Hendricks into his ridiculously blonde beard before walking off to shower smiling.
Happy 20th birthday, kid.
"He's growing up pretty fast," said Nikolaj Ehlers, himself only 22.
Thursday afternoon's locker room hijinks at Bell MTS Iceplex served as an important reminder, not just how loose the Winnipeg Jets remain the day before a potential series clincher against the Minnesota Wild, but also how truly young they are.
The Jets iced the third-youngest lineup in the NHL this season. If Sami Niku, the 21-year-old who was named the AHL's top defenceman this season, draws in to make his Stanley Cup playoff debut in Game 5 on Friday night, the Jets will have 13 players on the ice under the age of 25.
Laine still has another entire year before being eligible to buy a beer in the United States. He might have 130 career NHL goals under his belt by then.
Laine said he didn't have any plans for his birthday, just hoping that his mom – who is in town for the playoffs – will cook him his favourite steak and fries dinner.
"Just hanging around at home," Laine said. "That's my plan."
His teammates weren't planning on getting him a present – aside from the shaving cream bath.
"My company," Ehlers quipped. "It's priceless."
"We gave him a couple hugs and high-fives," Bryan Little said. "He's not a teenager anymore, so that's positive."
Laine may not be a teenager anymore, but what he was able to accomplish in his teenage years is historical.
Since 1987-88, no NHL player has scored more goals as a teenager than Laine did with his 80, leaving Sidney Crosby (75), Ilya Kovalchuk (67) and Rick Nash (58) in the dust.
Auston Matthews (40 goals) turned 20 before his second NHL season. Connor McDavid (30) was hurt for the bulk of his rookie season and didn't round into a lethal scorer really until this season when he was 21.
Laine finished second only to Alex Ovechkin with 44 goals this season. He's added another two in the first four games of this first-round series.
"I'm happy with my numbers as a teenager," Laine said Thursday. "Now I'm disappointed that it's over, but I am happy what I was able to do before my 20th birthday. It's nice to be here."
The scary thing for the rest of the NHL is that the Jets believe Laine is only starting to scratch the surface.
"I think we've only seen the beginning of what he can do," Ehlers said. "He's an exciting player to watch and play with. So we're all looking forward to it. He's doing pretty well for himself now."
That will result in an enormous pay day. He can sign a long-term extension with the Jets as early as July 1. Goals are at a premium in today's NHL and few snipers have the game-changing range that Laine does.
"The ability to score from areas that aren't necessarily scoring areas, it can be deflating, too, for another team when he beats you from outside the tops of the circles," Jets coach Paul Maurice said. "And he's going to get better. I really like his games – that line, the compete in the games, playing well with the puck in hard areas, smart decisions.
"I don't want to put a ceiling on the guy, so I don't want to tell you how important he is to our team just yet, but I think he's got a lot of room to get better."
It's easy to see why the Jets see room for growth in Laine if you take a look at him without his equipment on. He hasn't filled out yet, he hasn't even really dedicated himself to building his body. He's done a lot of this on pure talent.
A summer with Mark Scheifele might do him a world of good.
Then again, the Jets don't mind if he continues to play his video games, so long as he keeps scoring like his old teenage self.
"I think my playbook and [gaming] plans are going to be the same," Laine said of his new 20-year-old life. "It's not going to switch. It's the best game plan I have and I'm not going to change that."
Contact Frank Seravalli on Twitter: @frank_seravalli​