Laine's shot similar to some of NHL's best snipers
Winnipeg Jets rookie Patrik Laine has been lethal on the power play, where his approach brings to mind all-world shooters like Ilya Kovalchuk, Alex Ovechkin, and Steven Stamkos, Travis Yost writes.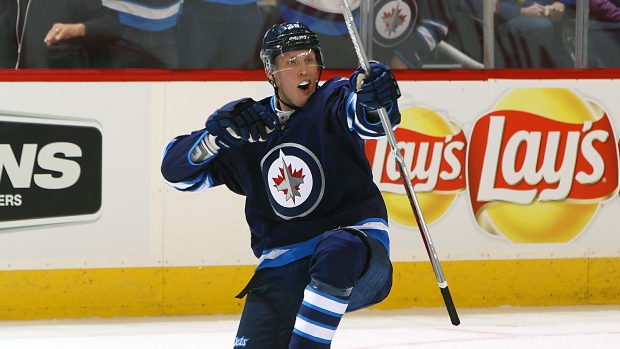 There are still fair questions to ask about Patrik Laine's ceiling as a player, but one thing is certain: his shot is beyond NHL capable, and, even at the age of 18, is eerily reminiscent of some of the best snipers in the league.
Though the Winnipeg Jets rookie has been an electric goal scorer over his first 32 games, we see the lethality of his shot most prominently on the power play, where he has a little bit more time and space. Laine has already scored six times on the man advantage this season, one back of the NHL lead (a few players, including Sidney Crosby, Tyler Seguin, and Shea Weber currently have seven).
One of the most interesting things to watch with Laine is how fluidly sets up shop in the offensive zone. After a clean zone entry or a won draw in the offensive third, Laine tends to drift toward his favourite area of the ice – the left circle. He'll methodically poke and paw for space up and down the left side of the ice, creating an angle for his teammates to set him up for his patented one-timer.
Laine, like most of the game's pure snipers, knows where his wheelhouse is and frequently gets off dangerous scoring opportunities from that area despite opposing defences knowing exactly what he's going to do. It's similar to what we've seen from all-world shooters like Ilya Kovalchuk, Alex Ovechkin, and Steven Stamkos.
Laine might not be a goal scorer of that prominence just yet. But, strategically, do these snipers really act in a different and material manner? Fully functional player shot charts (credit DTMAboutHeart) allow for us to make direct behavioural comparisons between players. The results are fun.
Let's start with Laine. Below is a heat map of how he's behaved on the power play this season. As you might have guessed, the data suggests he really tends to one very specific area – the left circle.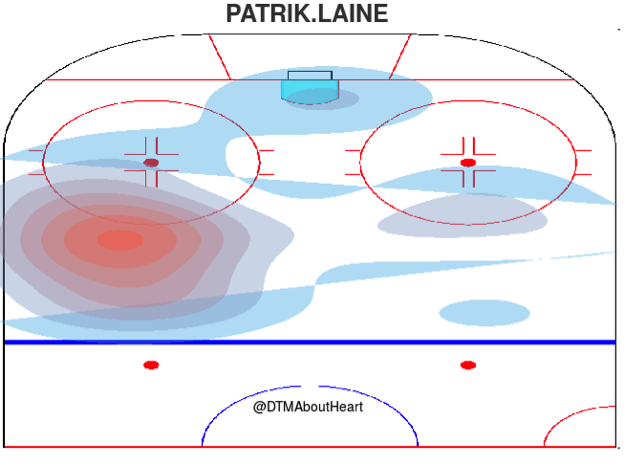 You might think at first pass that acting in such a manner would make a player easier to defend, but that's the nature of the man advantage – you can only cover so many options. At some point, Laine is going to wriggle himself open and get a great look or two at your goaltender.
Some players have made a career managing that feat. I've been on the bandwagon of the Kovalchuk comparison for Laine for some time now – they're not great play drivers so to speak, but their goal scoring and shooting prowess is so off the charts that they can drive big favourable goal differentials simply by continuing to fire at the net.
Here's Kovalchuk's power-play heat map from 2011-12 It looks exactly the same.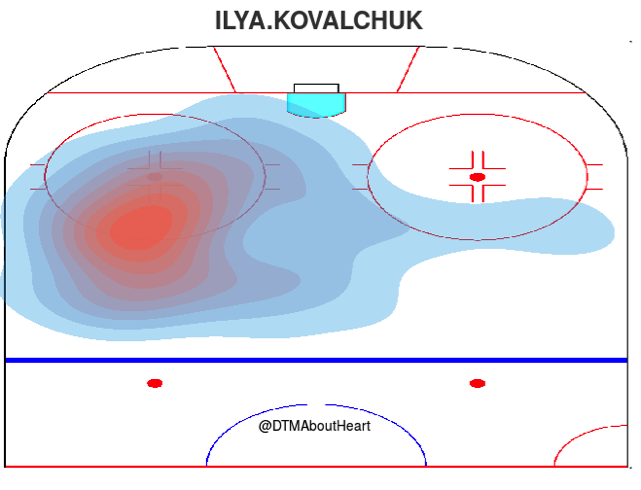 It's almost scary how similar the two maps are. The only difference seems to be that Kovalchuk would creep into the middle of the circle from time to time, but considering Laine has played just 32 games, we're probably splitting hairs on randomness.
Now, Ovechkin: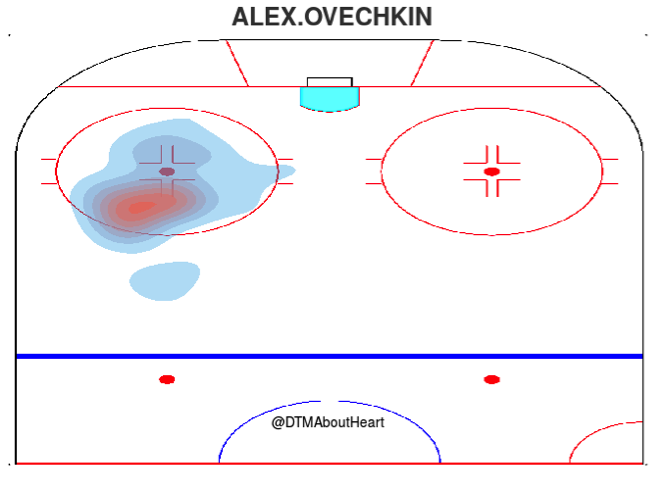 It's kind of amusing how concentrated Ovechkin is relative to Laine or Kovalchuk. I think part of this is the result of Ovechkin not needing to create nearly as much space for himself on the Washington power play – a well-oiled machine featuring excellent passing types (like Nicklas Backstrom) and excellent secondary and tertiary shooting options that keep defences honest. Defending the Washington power play means picking your poison, and that alone might be enough to let Ovechkin consolidate his strengths into one very specific area.
Here's Stamkos from 2015-16, since this year's data has been cut short by injury: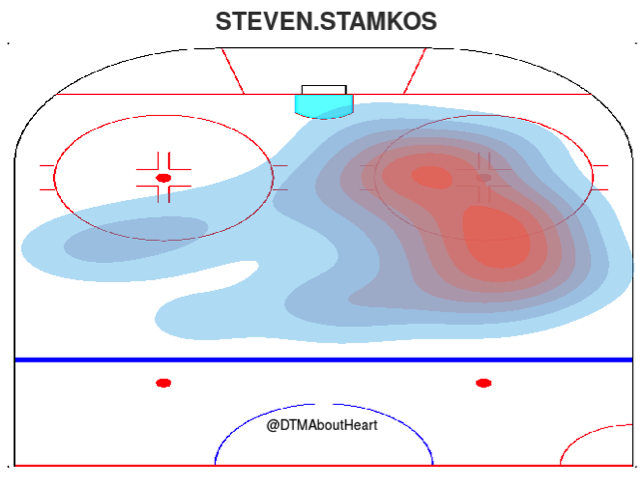 Stamkos is basically a mirror image of the other three guys. Where Laine, Kovalchuk, and Ovechkin tend to isolate in and around the left circle, Stamkos tends to float around the right. The same principles apply for Stamkos – the vast majority of his power-play opportunities come either just inside or at the limits of the circle, his most comfortable area as a shooter.
So, no, it's not unfair to argue that, strategically, Laine behaves the same way as some of the great scorers of the current era when it comes to power-play shooting. The amazing part is that Laine has found success in replicating something that only a handful of guys around the league can successfully manage year after year.
For Laine, the only real uphill battle is continuing to grow as a player at 5-on-5, especially in the defensive third. Offensively, it seems as though everything has already translated – a scary thought for opposing defences and goaltenders.