Lalime has lived Hammond's fairy tale start
The fairy tale start to Andrew Hammond's career with the Ottawa Senators might seem like a once-in-a-lifetime story, but Patrick Lalime has actually lived it himself. Ian Mendes of TSN 1200 Ottawa sits down with Lalime, who reminisces about his own record-setting start as a rookie in Pittsburgh nearly 20 years ago.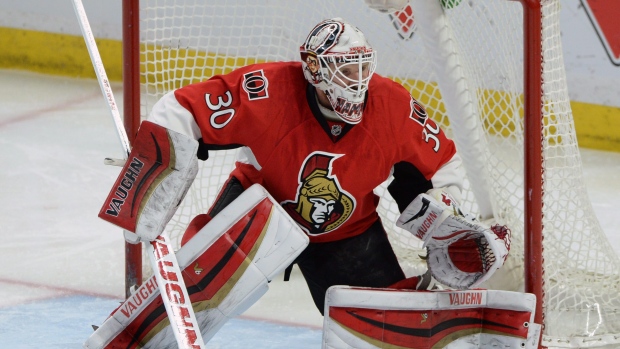 The fairy tale start to Andrew Hammond's career might seem like a once-in-a-lifetime story, but Patrick Lalime has actually lived it himself.
"Of course when I'm watching him, it kind of feels like 'Take 2' or something like that," Lalime says with a laugh. "But he's playing even better than I was. When you look at his numbers it's unreal what he's doing. And I love these kinds of stories where guys come out of nowhere and do this."
Lalime – who says he would love to go for a hamburger with Hammond at some point – feels a special bond with the Senators current netminder because their stories are so similar. In December of 1996, the Pittsburgh Penguins suffered injuries to their top two goalies in Tom Barrasso and Ken Wregget. So they were forced to turn to Lalime – an unheralded 22-year-old from the Cleveland Lumberjacks who had no previous NHL experience. Lalime was a sixth-round pick of the Penguins and hardly anybody thought he was destined for a lengthy NHL career.
In his first outing, Lalime replaced Wregget midway during a lopsided loss against the New York Rangers. He allowed three goals on 14 shots in relief – and there were no signs that one of the great stories in NHL goaltending history was about to be born. There's an eerie parallel between Lalime's experience and Hammond's first appearance this season – in which the Sens netminder allowed two goals on five shots in relief duty of an injured Robin Lehner against Carolina last month. But Lalime believes that being thrown to the wolves in a relief appearance was actually beneficial for both he and Hammond.
"I gave up three goals on 14 shots in my first NHL game, but it got the nerves out. You've been thinking about that moment of playing in an NHL game for so long. So just getting thrown out there, it sort of gets the nerves out of the way," says Lalime.
Lalime's nerves were so calm and cool after that shaky debut, he seized the moment and went on a 14-0-2 run to start his career. The 16-game run by Lalime established an NHL record for the longest unbeaten streak (in regulation time) to start an NHL career – a mark that Hammond is threatening himself, after going 11-0-1 in his first 12 NHL starts.
Lalime knows exactly what it's like to be thought of as a 'flash-in-the-pan' – only to have the pressure mount with each passing victory.
"People say, 'Well he doesn't have any pressure on him', but I'll tell you what, as it starts to build up and the streak keeps going, the pressure comes with it," Lalime explains. "And that's what the challenge is going to be for him. You have to just stay focused and keep going. But there's definitely pressure. And there's even more when you play in a Canadian market because everyone is reminding you what you've done."
Lalime noted that Hammond tied Frank Brimsek's 76-year-old record last night by starting his NHL career by allowing two goals or fewer in each of his first 12 starts. And the former netminder is well aware that his own record of gaining a point in 16 consecutive starts at the beginning of the career is in jeopardy.
"Of course I'll be paying attention. I know the Senators schedule for the next four games – they play Boston, Toronto, New York and San Jose," he says without so much as a pause. "But I'm pulling for him to have success because every record is there to be beaten. You just wish him the best because what he's doing right now is just incredible."
Lalime also has a little advice for Hammond – who is set to become an unrestricted free agent – on how to handle his contract situation this summer. After his remarkable breakout season in 1996-97, Lalime was a restricted free agent with the Penguins. But the Penguins had their established veteran netminders and Lalime failed to come to terms on a new deal with Pittsburgh. He spent a couple of seasons in the IHL before his NHL rights were traded twice – first to Anaheim and then to Ottawa. Lalime eventually got his break in the 1999-2000 season with the Senators, starting a five-year run in which he set numerous franchise records for goalies including most wins (146) and shutouts (30). Lalime appeared in more than 400 NHL games and believes that Hammond has the same potential as well. He knows from first-hand experience that some people will call him a fluke, but eventually, Hammond will find a place in the NHL – even if free agency isn't kind to him this off-season.
"The situation is so similar to mine. I was an RFA at the end of that year and the Penguins had Wregget and Barrasso under contract for another year and they had a three-headed monster, so it didn't work out there," said Lalime. "But what I would say to him is just worry about your own game and you will be rewarded eventually. This isn't just luck. What I can say is that this guy is an NHL goalie and he belongs here."