Lamoriello says Leafs are set on No. 1 pick
Lou Lamoriello says the Maple Leafs are set on their choice at the top of Friday's NHL Draft. On his eve of being drafted - likely at No. 1 - Auston Matthews spoke to TSN's Kristen Shilton about accomplishing his dream of playing in the NHL and what it might be like playing for the Leafs.
Kristen Shilton, TSN.ca Toronto Maple Leafs reporter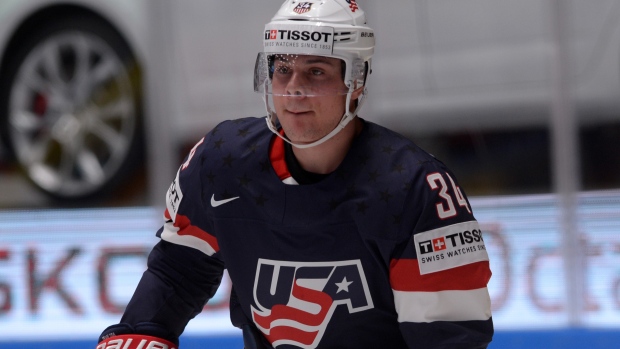 BUFFALO - The morning before what will likely be one of the biggest days of his life, Auston Matthews laced up his skates and joined some aspiring young talents in a skills camp at Buffalo's HarborCenter. In the shadow of First Niagara Center, where on Friday Matthews will almost assuredly be the No. 1 overall pick of the Toronto Maple Leafs in the NHL Entry Draft, the 18-year-old stole a moment to reflect.
"It's pretty humbling to come back and skate with these little kids and just see their faces an how excited they are," he said. "When you're younger, you want to play in the NHL. Whether you're just skating out there with your little buddies or watching an NHL team play, you get such a thrill from watching it. That was always my belief, my dream, that I could make it to this level. I didn't really envision it playing out like this, but it has worked out pretty well."
With 24 hours to go before they are on the clock, Maple Leafs general manager Lou Lamoriello shed a modicum of light on what the team plans to do with their top selection.
If ever there was a debate, it's over now.
"I think we know who we're going to pick. No dissention," Lamoriello said. "Right now all we're doing is putting the finishing touches on things, any last minute discussions. We're ready."
This will be Lamoriello's first draft with the Maple Leafs after taking over the GM's chair last July. But he brings nearly 30 years of experience in the role with him to one of the most significant drafts in franchise history, with the weathered expectations to match.
"Any time you have the ability to pick the best player in a draft in your opinion, there's no question we expect a lot out of the player we're getting, but certainly not right away," he said. "We have to respect the game in the National Hockey League and the abilities of the players you're taking an 18-year-old and expect him to do wonders, it's not fair."
Matthews, the big power forward from Scottsdale, Arizona who missed out on being eligible for last year's draft by a mere two days, said whether he goes No. 1 to Toronto this year, or went No. 3 to the Arizona Coyotes in the 2015 draft, made no difference to him. Playing at home may have come with presumptions he won't have to bear as a Maple Leaf.
"I don't think there's any player that's going to be the face of this franchise," Lamoriello said. "The logo will be the face of the franchise."
Refusing to discuss any possible inquiries about the team's draft choices (11 in total) and whether they were entertained, Lamoriello continued to drive home the same point he's been preaching for the past 11 months - patience, please.
"I don't think there's anything the franchise should not look at," he said of luring players to the team. "(But) the process, and to use the expression 'The Plan,' is never going to be interrupted. We were able to acquire a goaltender (Frederik Andersen) at the age of 26 who we feel is a No. 1 goaltender, but we have to do that."
There would be no more critical piece to keeping The Plan on track than Matthews. A centre in the mould of Anze Kopitar (who he counts as an influence) with the poise of a future captain, Matthews is at the top of every scouting report for a reason. He can be a franchise player for a franchise that sorely needs one.
"(I'm) really anxious, really excited," Matthews said on his last day not being an NHL draftee. "It's something you dream about from the time you're a little kid. For me it doesn't matter (for) who, you just want to make it there. It has always been my dream."