Lazar struggling to find permanent spot in lineup
Young Ottawa forward Curtis Lazar has watched his role jump all over the map in the first quarter of the season, TSN's Ian Mendes writes.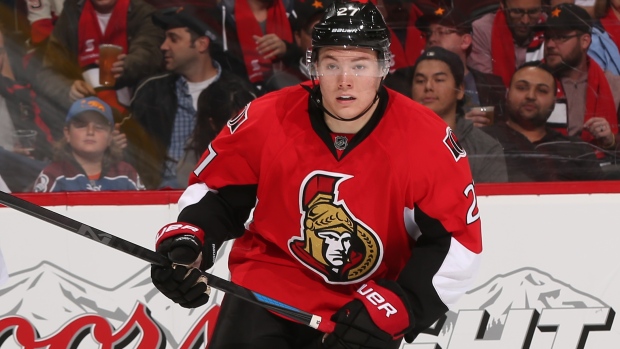 By the time Monday morning rolled around, however, Lazar was back occupying the left wing side on the club's fourth line. While this type of shift in linemates might seem extreme, it's become the daily routine for Lazar in the 2015-16 season.
"I wake up in the morning not knowing what line or which position I'm going to be playing in. And that is an adjustment for myself," admitted Lazar to TSN.ca prior to the Senators game against the Red Wings. "Obviously, it's a unique situation and I'd be lying if I said it wasn't tough. It is tough to find that rhythm and trying to find a set position and build off momentum from your last performance."
Lazar was merely a placeholder for an injured Kyle Turris in Sunday's practice, but once the Senators No. 1 centre said he was fit to play Monday against Detroit, Lazar was shifted back to the fourth line.
In the first quarter of this season, Lazar has watched his role jump all over the map. He started the season as the right winger with Jean-Gabriel Pageau on the third line — a role many expected him to keep for the entire season. But Lazar was moved up to the first line to play on the left wing with Turris and Stone when Hoffman was injured in October.
Lazar suffered a concussion while playing in that spot and has continued to bounce around; often on the fourth line. He's replaced Zack Smith as the centre on that unit at certain times, but on Monday night Lazar will find himself on the left side with Smith in the middle and Chris Neil on the right.
"I thought I got off to a pretty good start this season and I'm trying to find my way again. If that's on the left side on the fourth line, then that's something that I'm going to have to carve my way out to do," said Lazar. "But it's going to lead to more opportunity down the road. I just take it with a grain of salt and just go out there and play."
Lazar's ice time has fluctuated significantly this season. In a win over the Winnipeg Jets earlier this month, he logged more than 20 minutes of ice time playing on the right side with Turris and Hoffman while Stone was serving a suspension. In Saturday's 2-1 shootout loss to the Rangers, Lazar saw only 11:24 of ice time on the fourth line.
While Lazar's nomadic spot in the Senators lineup might be viewed as an indictment on his play — since he's only managed to score two goals — head coach Dave Cameron prefers to look at the situation in a different light. Lazar has essentially become the Senators utility man; able to slide into any position on any line in any situation. Given the number of injuries they've already seen this season, that makes Lazar a very valuable asset for Cameron.
"Curtis has a high hockey IQ and that enables him to be moved around," explained Cameron. "A lot of guys get moved around and it affects them because they're not comfortable. They can't see the game from different sides. It doesn't affect (Lazar) at all. His hockey IQ gives him a lot of confidence. He appreciates being in the National Hockey League. He just wants to play."
When the Senators drafted Lazar with the 17th overall pick in the 2013 NHL Draft, they projected him to be a solid two-way centreman for many years to come. That is still the expectation for both the club and the player, although Lazar knows that he's still too young to make any demands about where he plays on a nightly basis.
"I know I'm still only 20 and I have to pay my dues in that sense. But in the long-term future, I do see myself as a centreman," he said. "And after that, I do see myself on the right side. But if those spots aren't there for me, then I'll gladly slide over to the left side. It's a challenge, but it also has its perks. It's a pros and cons game and I'm just going to help out where necessary."