Lazard lifts Iowa over Memphis in Liberty Bowl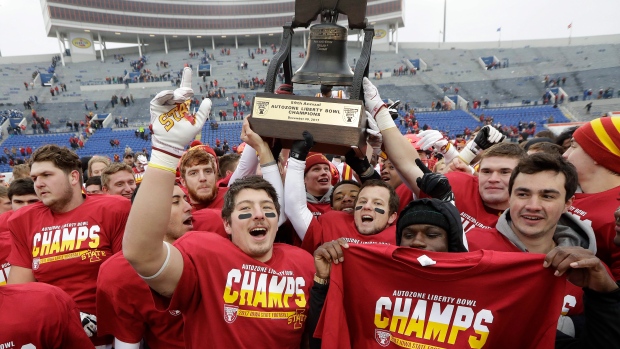 MEMPHIS, Tenn. -- Allen Lazard tied a Liberty Bowl record with 10 catches and put Iowa State ahead with a remarkable 5-yard touchdown reception in the third quarter, and the Cyclones beat No. 19 Memphis 21-20 on the Tigers' home field Saturday.
Iowa State (8-5) held after losing its first fumble this season just as it appeared on the verge of scoring an insurance touchdown late in the fourth quarter.
The Cyclones led 21-20 and had third-and-goal from the 1 when David Montgomery fumbled as he was crossing the goal line. Jonathan Cook recovered in the end zone for a touchback with 4:06 left.
The call stood after replays were inconclusive as to whether Montgomery had reached the end zone before Memphis' O'Bryan Goodson knocked the ball loose. Iowa State was attempting to become the first Football Bowl Subdivision team to play an entire season without losing a fumble.
Memphis (10-3) drove to the Iowa State 40 on its next possession but lost the ball on downs when Riley Ferguson overthrew Phil Mayhue on fourth-and-10 with 1:52 remaining.
Iowa State pulled ahead for good on a bizarre play with 4:28 left in the third quarter. On second-and-goal from the 5, Kyle Kempt's pass appeared to elude Memphis safety Josh Perry's outstretched arms and get tipped by Iowa State's Marchie Murdock before Lazard caught it in the back of the end zone.
Lazard had 142 yards receiving.