Leafs acquire Boyle from Lightning
The Toronto Maple Leafs added depth and experience Monday afternoon, acquiring veteran centre Brian Boyle from the Tampa Bay Lightning for forward Byron Froese and a second-round draft pick in 2017.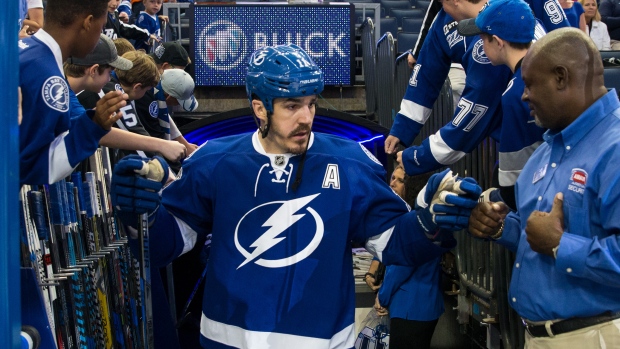 Brian Boyle was taking a pre-game nap Monday afternoon before the Tampa Bay Lightning played the Ottawa Senators when his phone rang with the news he'd been traded to the Toronto Maple Leafs.

Looking to add depth and experience at the centre position, Toronto sent forward Byron Froese and a second-round draft pick in 2017 to Tampa in exchange for Boyle in the team's first major move ahead of Wednesday's trade deadline.

Speaking to reporters two hours after the call, Boyle was still wrapping his head around what was happening.

"It's definitely a feeling I haven't had as a player before this," Boyle said. "It's a lot of different things. Do I start packing a bag? Do I take a shower? It's a great opportunity. I moved up in the standings in the matter of a couple hours and it's exciting for me."

Boyle, 32, has 22 points (13 goals, nine assists) in 54 games with the Lightning this season. He will be an unrestricted free agent this summer when his three-year, $6-million contract expires, and looks to be a rental for the Maple Leafs as they push toward the playoffs.

With Toronto in San Jose preparing to take on the Sharks Tuesday night, Boyle said he hopes that's where he'll make his Leafs debut. He projects to slot into the fourth-line centre spot.

"I think there are some smart minds behind that organization in Toronto and they know the player they're getting and that's what I'm going to do," he said. "I'm going to do what's asked of me, first and foremost. There's a lot of motivation for me to prove Lou [Lamoriello] and Brendan [Shanahan] and the management in Toronto right, and help the team win."

Boyle's playoff experience is highly coveted by the Maple Leafs, who are in the second wild-card spot in the Eastern Conference. Boyle has gone to the playoffs in each of the last six seasons and amassed 26 points in 100 contests, the most by any player from 2011-16. He was also part of back-to-back Stanley Cup Finals with the New York Rangers (2014) and Lightning (15).
He is now the Maple Leafs' most tenured playoff player, ahead of Roman Polak (49 games) and James van Riemsdyk (46).

The 10-year veteran will try to help Toronto reach the postseason for the second time in 12 seasons by bolstering their depth down the middle. With Nazem Kadri, Auston Matthews and Tyler Bozak centering the team's top three lines, the Maple Leafs have shuttled journeyman Ben Smith and rookie Frederik Gauthier in and out of the fourth-line spot. Boyle is at 53 per cent in the faceoff dot this season overall and 50 per cent in short-handed situations. Smith, who is touted by Babcock as a defensive zone draw specialist, is at 44.8 per cent.

"I get an unbelievable opportunity now to play on an Original Six team with a tremendous amount of history," Boyle said. "I think since the trade deadline last year, when they started playing some of the younger guys, and now obviously with Auston Matthews, they have some guys in there that are just phenomenal, phenomenal players."

Boyle acknowledged Toronto was one of his suitors during free agency three years ago, before he decided on Tampa. While expressing his disappointment that the Lightning fell short of expectations this season – they currently sit in sixth place in the Atlantic Division – what's waiting for Boyle in Toronto is an opportunity similar to the one he had his first season with the Lightning.

"When I came down to Tampa it was a younger team, relatively untested, and we went to the Stanley Cup Final," he said. "So the potential and the opportunity are there. I think the skill level is for sure there. Post-trade deadline last year, they were a tough team to play against. This year they're just going to keep getting better and better."
If Boyle does go onto the fourth line, AHL call-up Gauthier looks likely to be sent back to the Toronto Marlies, with Smith sticking around in case of an injury. As he prepared to get his things together and head for the airport, Boyle said he wasn't looking ahead to what summer free agency might bring or if it would involve a return to Tampa. Right now his sights are set on another city.

"I'm really looking forward to Toronto. Playing there as a visitor is tremendously exciting," he said. "That buzz that goes around a game, just the knowledge they all have up there of the game and what's going on around the league and the passion for it. It's something I'm excited to experience."