Leafs' Boyle in wait-and-see approach as UFA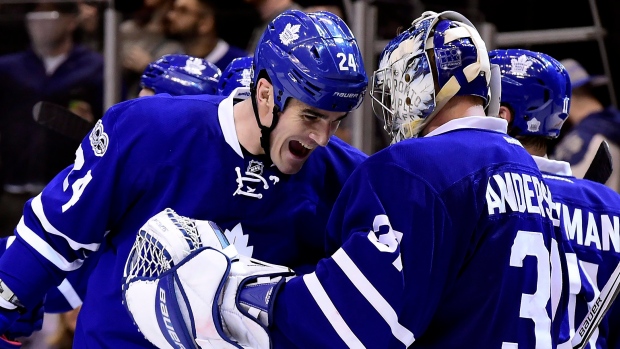 Toronto Maple Leafs veteran forward Brian Boyle joined Leafs Lunch on TSN Radio 1050 Toronto on Tuesday and discussed where he is at when it comes to signing a new contract with the Blue and White.
"I'd have to say - there's just so much going on. There's interest from me [in returning], and we enjoyed our time. I'm a product of the Maple Leafs right now," said Boyle. "You kind of have to wait and see. Every GM has decisions to make right now. Right now it's between my [agent] and Lou. Those conversations have to stay between our camp and theirs."
The 32-year-old, who was acquired from the Tampa Bay Lightning ahead of the Trade Deadline this season, said he would love to have some term in his next contract, but understands it's difficult for a player of his age.
"You want to have some term, and that's a big thing. It's tougher when you're 32. I love the game," he said.
Boyle was not protected by the Leafs ahead of the expansion draft, but won't likely be selected by the Vegas Golden Knights as he becomes an unrestricted free agent on July 1. He is ranked 14th on TSN's Top 30 UFAs list.
Boyle scored 13 goals and added 12 assists over 75 games split between the Lightning and Maple Leafs in 2016-17.
The Bolts sent Boyle to the Leafs in late February for centre Byron Froese and a 2017 second-round pick.
The American centred Toronto's fourth line for the final stretch of the regular season and was a valuable presence in the playoffs against the Washington Capitals, producing a couple helpers as well as winning important draws in the defensive zone.
The 26th overall pick of the 2003 NHL Entry Draft (Los Angeles Kings) has 93 goals, 76 assists and 169 points over 694 career games with the Kings, New York Rangers, Tampa Bay Lightning and Maple Leafs.
He's added 15 goals and 13 assists over 106 career playoff games, including back-to-back Stanley Cup final appearances with the Rangers and Lightning in 2014 and 2015 respectively.
Boyle is coming off a three-year, $6 million contract.