Leafs D Rielly restless despite strong Game 1
Toronto Maple Leafs defenceman Morgan Rielly is focusing on the finer details of his game as Toronto looks to even series with the Washington Capitals.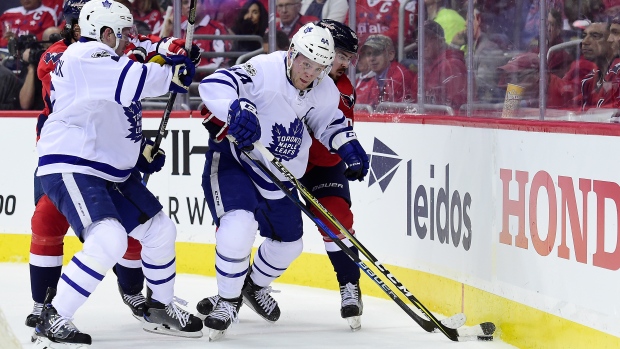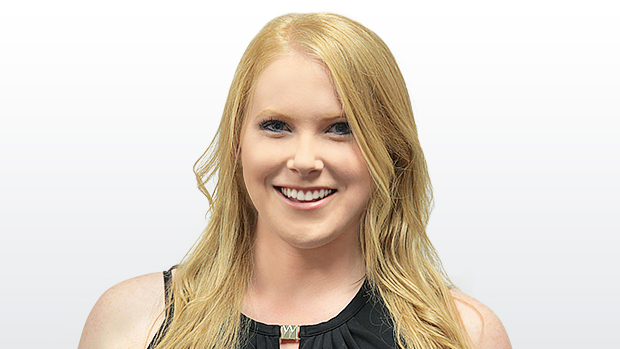 WASHINGTON, D.C. – The Toronto Maple Leafs made a decision about this season when they set their opening-night lineup: Mistakes and growing pains be damned, they were going to play the kids.
At 23, Morgan Rielly isn't exactly a kid, nor would his four seasons of NHL experience exactly qualify as veteran status with most teams. But he and rookie Nikita Zaitsev were quickly given the heavy responsibility of acting as Toronto's shutdown defence pair this year. Rielly is perhaps best described as the team's most grizzled youth. He has been through the ringer as the franchise infamously went off a cliff and then began to rebuild. He has shouldered the burden of Toronto's blueline struggles all season.
Like his 19- and 20-year-old teammates, Rielly made his NHL playoff debut against the Washington Capitals on Thursday night, logging more than 24 minutes in Toronto's 3-2 overtime loss. Afterward, coach Mike Babcock said it might have been Rielly's best game of the season. He was the only Maple Leaf not to register a shot on goal, but Rielly matched the Capitals' physicality, won board battles and was good on breakouts.
"I appreciate [Babcock's] compliment, but…you have to take some time to step back and look at it more," Rielly said Friday. "Your goal as a player is to play the best game of your season every night. There's lots of speed, lots of hitting, but your expectations [for your first playoff game] are always going to be a little bit beyond reality."
Toronto managed to jump out to a 2-0 lead in the first 10 minutes of Thursday's game, before Capitals' head coach Barry Trotz started chasing new matchups. Rielly and Matt Hunwick, both taking on more minutes in Zaitsev's absence (upper-body injury), began seeing more of Washington's top line with Alex Ovechkin and Nicklas Backstrom. Neither player ended up registering a point as Toronto held them to four shots on goal.
After the final buzzer sounded, it wasn't the big plays in the game that bothered Rielly ("there were high-end opportunities their group created on the rush and I don't think you can kick yourself over those plays") but the details that clouded his bus ride back to the hotel and made sleep hard to come by.
"When they chip it in, we want to break out faster and get on offence," he said. "We went over clips this morning where you go back for pucks and you make one quick play and you're out, and then there were some not so good ones. Those are usually the ones where you end up kicking yourself, where you have one opportunity to make a play and you don't and you end up being in your zone for a minute."
Toronto was bested slightly in the possession category by Washington (53 per cent to 47 per cent) but ended up on the winning side of the faceoff dot (54 per cent). The numbers may have been positive, but the underdog Leafs need to build off every weakness, however slight, ahead of Game 2.
"There were little faceoff plays here and there," Rielly explained. "Ovechkin likes to line up in what we call an offset, where he lines up behind the puck and we have to change what we're doing when he does that. We can do a better job of that as a five-man group on the ice, recognizing that and deciding what we can do to get the puck out."
Even at his comparatively advanced age, Rielly has been charting plenty of new territory this season, starting with wearing a letter for the first time. Rielly naturally carries himself like a captain with his teammates and the media. Rielly paced the team in ice team this season (22:10) while posting the second-worst plus-minus (minus-20), figuring out his new role on the ice as he went.
With the franchise in turmoil for much of his tenure, Rielly has to carve out his own niche to grow from.
"If you arrive and you play with [Zdeno] Chara, and he says, 'You stand there and you pass to this guy, and that's what you do,' and you sit next to him in your stall, that's a different growth opportunity," said Babcock. "And it can be way quicker for you. When you don't, you learn more on your own. What Rielly's great at is, he's a good, good, good man who wants to be a real good player, so those guys are easy to coach."
Whether he was ready to be a matchup defenceman or not, Rielly has made a concerted effort to be a stabilizing force for Toronto's defence corps all season. With that unit not expected to get Zaitsev back on Saturday, having the first-game butterflies out of the way is just another experience Rielly's already internalized and learned from.
"I don't think you should be planning to put out fires because you're worried about mistakes all night," he said of Game 2. "You're just thinking about the plays you can make in order to help your team…They've got lots of speed, their forwards like to get going up ice and look for that long pass. But when you make those little plays, it makes the game a lot easier."​