Maple Leafs drop season finale, will face Capitals in first round
There will be no Battle of Ontario in the first round of the NHL playoffs.The Toronto Maple Leafs dropped their regular-season finale 3-2 to the Columbus Blue Jackets Sunday night and will now face the Washington Capitals in the opening round of their first post-season since 2013.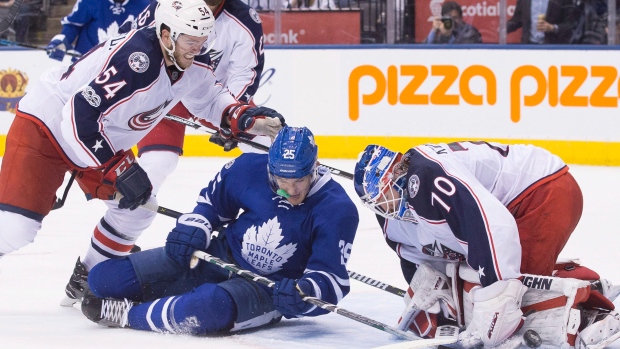 TORONTO — No one usually recognizes Jake Gardiner on his walk home from the Air Canada Centre, but that changed Saturday evening after the Maple Leafs clinched their second playoff berth in the last 13 years.
Post-season hockey is new again in Toronto and for most members of the Leafs heading into a first-round series with the Presidents' Trophy-winning Washington Capitals. The Leafs got the Caps — and not the Ottawa Senators — by dropping their regular-season finale to Columbus on Sunday.
"We've drawn a real good team and we're going to find out what playoff hockey is in a hurry," head coach Mike Babcock said after the 3-2 loss to the Blue Jackets, which sealed Toronto's slotting as the second Eastern Conference wild card team. "We're going to find out that it's way different than regular-season hockey."
Nine Leafs who've yet to play a single NHL playoff game are likely to suit up for Game 1, including the high-performing rookie trio of Auston Matthews, Mitch Marner and William Nylander. Another handful, including Gardiner, Nazem Kadri, and Tyler Bozak, have just a single playoff series under their belts, that one coming during the Leafs last playoff appearance in 2013.
Others like Matt Hunwick, Matt Martin and Frederik Andersen have registered a few post-season trips each, however, for fewer than 30 games.
Only three have real experience: Brian Boyle (100 games), James van Riemsdyk (46) and Roman Polak (49). Former Capital Eric Fehr has 60 games worth, but he's hurt and unlikely to be available versus Washington.
Babcock, perhaps not surprisingly, plans to spend lots of time before Thursday's opener in D.C. detailing for his group what exactly is different about playoff hockey.
"They're not going to believe me and then it's going to happen," he said.
The difference?
"No space. Zero. Battle for every inch of ice, from the opening faceoff to the end," said Babcock, who's coached 144 playoff games in the NHL.
The Leafs were noticeably shocked by the change in temperature the last time they went to the playoffs, Boston thumping them 4-1 in Game 1 four years ago. Toronto was outshot 40-20 that night at TD Garden, ultimately losing the series in seven games.
The lone Leaf to look comfortable in the opener was van Riemsdyk, who'd been to the Stanley Cup final with Philadelphia previously. He finished with a goal and five shots.
Babcock hopes his group dives in with no fear opposite a heavily-favoured opponent.
"If you want to dip your toe into the water you're going to find out it's boiling. You might as well just jump in," Babcock said. "Run down the dock and jump right in and don't be putting your foot in the water, you might not get in."
It's Cup or bust for the Caps this year, expectations almost entirely at odds with the young Leafs, who are simply trying to soak up playoff experience for future Cup runs.
Nylander noted that his side had "nothing to lose going into the series" and Babcock observed something similar ahead of the game against Columbus when asked about pressure on his young team. He said it was the team that won the Presidents' Trophy that was under the most pressure, the team, in other words, with expectations of success.
Toronto's not expected to do much, conversely, beyond deliver some excitement this spring.
"When you finish in the top spot the expectations are a little bit different, that's for sure," said van Riemsdyk, who scored twice in the loss to the Jackets, setting a new career-high with 62 points.
"For us we've kind of surpassed some outside expectations so it's a little bit of a different dynamic for each team. But obviously when we come this far we're not going to be satisfied with anything but trying to move on and trying to win games so we're not just happy to be here, we want to try to make our mark and play as well as we can."
Washington was already loaded at every position when it added Kevin Shattenkirk, an offensive ace from the back-end, at the trade deadline. Slowing him down along with Alex Ovechkin, Nicklas Backstrom, T.J. Oshie and Evgeny Kuznetsov will be an immense challenge for the Leafs as will beating reigning Vezina Trophy winner Braden Holtby.
It'll be all the more difficult if Andersen isn't at 100 per cent after exiting Saturday's clincher with an apparent injury. The Leafs expect their starting netminder and defenceman Nikita Zaitsev to be ready for Game 1, the Russian defender forced to leave Sunday's game with an upper-body ailment.
"You've got to beat the best at some point," Gardiner concluded of the matchup, "so might as well do it in the first round."