Leafs' Franson, Booth leave preseason game with injuries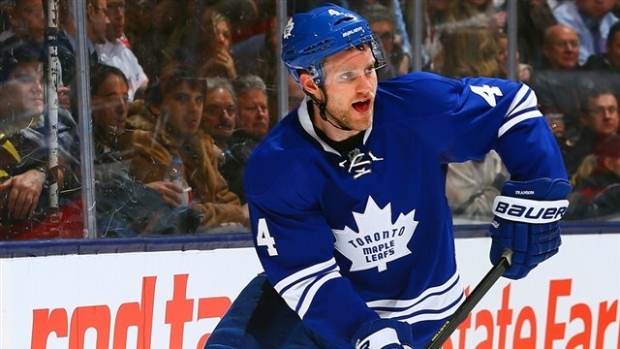 Toronto Maple Leafs defenceman Cody Franson and left winger David Booth both left the team's preseason game against the Buffalo Sabres on Sunday with injuries.
Franson took a hit from the Sabres' Torrey Mitchell in the third period and fell awkwardly into the boards, injuring his left kneecap. He was helped off the ice and did not return to the game.
No penalty was assessed on the play.
The six-foot-five Franson led all Leafs defenders in points in 2013-14, scoring five goals and 28 assists for 33 points in 70 games. Franson and the Leafs agreed on a one-year, $3.3 million contract this summer.
He is slated to become an unrestricted free agent at season's end.
Booth left the game earlier with a bruised foot, sustained blocking a shot.
The 29-year-old Booth was signed to a one-year deal by the Maple Leafs this past off-season and is one of several forwards currently vying for jobs in the Leafs' crowded ranks.
In 66 games with the Vancouver Canucks last season, Booth scored nine goals and added 10 assists. He had the final year of his contract bought out by the Canucks this summer.
The Sabres also saw a pair of players head off injured in the game. Patrick Kaleta took a Morgan Rielly slap shot in the face in the first period. Johan Larsson also went off with a minute left in the first after a collision with Leafs' defender Petter Granberg.
Toronto won the game 3-2 in a shootout.