Leafs G Sparks to make NHL debut against Oilers
Toronto Maple Leafs goaltender Garret Sparks will make his National Hockey League debut on Monday night when the team hosts the Edmonton Oilers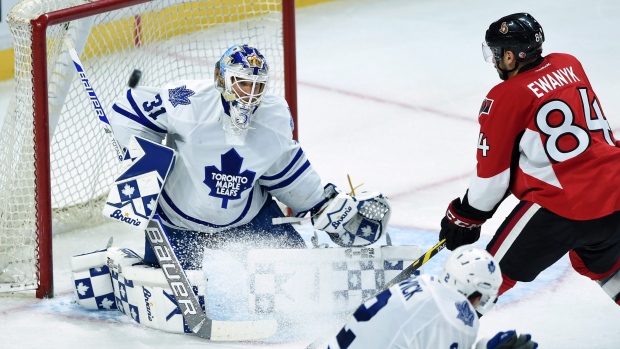 Garret Sparks will become the 88th goaltender since 1926 to man the Toronto Maple Leafs' crease on Monday night.
The 22-year-old native of Elmhurst, Illinois will backstop the Leafs against the Edmonton Oilers as starter James Reimer continues to battle a lower-body injury and Jonathan Bernier continues to struggle.
Bernier gave up four goals on 23 shots in a 4-2 loss to the Washington Capitals on Saturday night in his first start since November 15. He fell to 0-8-1 on the year and has not won a game since last April.
Reimer incurred his injury during Tuesday's practice. He left the session early and missed all of Wednesday's, but he returned in time for Friday's practice. He appeared at Sunday morning's session, but was the first goalie off of the ice and did not participate in any in-zone drills. He hopes to return soon.
Sparks, originally a seventh-round draft pick out of the Guelph Storm on the Ontario Hockey League in 2011, was called up from the Toronto Marlies of the American Hockey League. This is Sparks' fourth professional season, having split time between the Marlies and the Orlando Solar Bears of the East Coast Hockey League.
He's appeared in 11 games for the Marlies this season, posting an 8-2-1 record with a goals against average of 1.90 and a .938 save percentage.