Leafs' Holland skips road trip; on trade block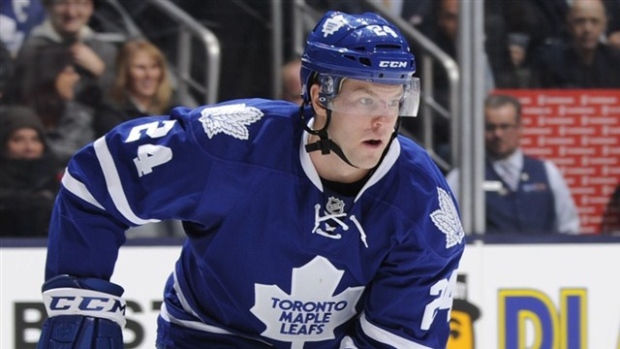 Peter Holland and the Toronto Maple Leafs appear to be headed for a split.
The 25-year-old did not accompany the Maple Leafs on their current road trip and the club will now try to trade the centre, who has been a healthy scratch in 13 games this season.
"Peter and (Leafs general manager) Lou (Lamoriello) met this weekend," Holland's agent, Joe Resnick told TSN Hockey Insider Darren Dreger. "At this time, it appears that Peter's future with the club is limited and, Lou will do his best to trade him. Lou also stated that Peter not go on the road trip during this time frame."
In eight games with the Leafs this season, Holland has no goals and one assist. He played 65 games with the team last season, scoring nine goals and adding 18 assists. He played in 62 games in 2014.
Holland was acquired by the Leafs in November 2013, along with Brad Staubitz, when Jesse Blacker and two draft picks were traded to the Anaheim Ducks.
In 203 career games with the Leafs and Ducks, Holland owns 30 goals and 70 points with a minus-14 rating.
Holland re-signed with the Leafs on a one-year, $1.3 million deal on July 25. He had been placed on waivers (which he cleared) by the team three days earlier.
The Caledon, ON native was the 15th overall pick of the 2009 NHL Draft.