Leafs' Kadri, Komarov share bickering bond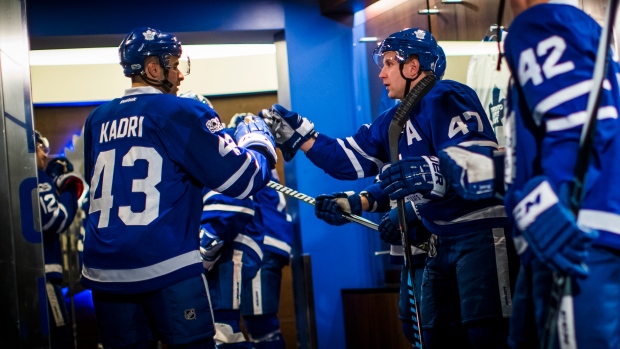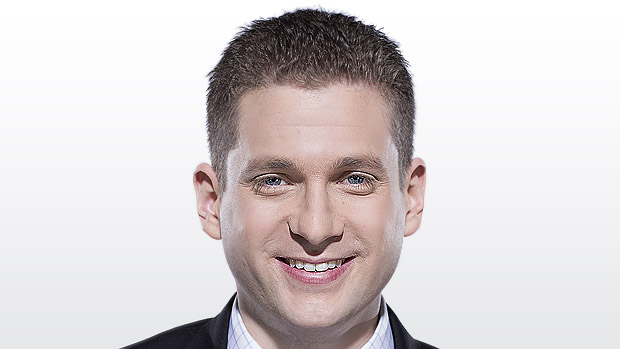 Early in his first season as Toronto's coach, Mike Babcock noticed Leo Komarov yelling at Nazem Kadri on the bench during a game. The gritty Komarov was urging the offensive-minded Kadri to be more responsible defensively. "Naz needs a good tightening on a regular basis and Leo doesn't mind giving it to him so it's perfect," Babcock said on Sunday. "They're good friends and competitive guys and they play with a lot of emotion and it's important for us."
Komarov's watchdog approach with Kadri is one reason Babcock has played them together consistently the last two seasons often giving them the toughest match-ups. "I'm getting a little sick of him, but I don't really have much of a choice," Kadri said with a chuckle.

Kadri, who attended Komarov's wedding in Finland last summer, said he'll sometimes yell right back at the left winger when they disagree about a play. "It definitely goes both ways, it's mutual for sure," he said. "I mean, it's like a brotherhood. It's like siblings would yell at each other. If there's a play we don't much agree with then it can get heated on the bench but, at the end of the day, after that play's over it's back to normal. He's like my big brother and I respect him a ton." The arguments are always well-intentioned. "We're trying to teach each other and make it better," Komarov explained. "I know a lot of the boys are getting mad at us because we are pretty loud out there too, but it's in a good way."

The fiery friendship started early in their NHL careers when Kadri and Komarov roomed with each other on the road. Why'd they click? "Maybe we're both a little bit stupid and think the same way," Komarov said with a big grin. "He's a weirdo (laughs) but he's a great guy. That's why I'm hanging with him because our level of humour is the same." Despite his no-nonsense demeanour on the ice, Komarov is one of the bigger jokesters on the team. Jake Gardiner noted that Komarov will often hide a kettlebell inside the luggage of teammates on the way to the airport as a prank. So, what's Kadri's favourite Komarov story? "There's a lot of them, for sure. He thought it was funny, every night before we went to bed (when we roomed together), he (told) me a bed-time story and they might have been the worst stories I ever heard in my life. He just kind of made them up as he went. That was pretty hilarious and just shows what kind of personality he has." How did Komarov come up with the stories? "I played in different leagues and I lived in different countries too so I have a couple stories," the KHL and SM-liiga veteran said, "and it's always fun when you can share them with someone."

• Connor Carrick was paired with Morgan Rielly at Sunday's practice and appears poised to return to the lineup for the first time since sustaining an upper-body injury (suspected shoulder issue) on Feb. 21. "It feels great," Carrick said. "It's encouraging." Carrick was optimistic about playing in Monday's crucial game against the Boston Bruins, but said he'd check with the medical staff before any decisions are made. Carrick's return should boost a defensive group that has seen its pairings scrambled a bit of late. "Carrick gets the puck moving," said Babcock, "doesn't play a lot in his own zone. He's mean, he likes to cross-check people, I like that, and he can get (shots) through from the blue line as well so he's a good player."
• Alexey Marchenko played fewer than 12 minutes in each of the last two games as Babcock mixed and matched his defenders. But the coach objected to the notion that his blue line needs stabilizing. Babcock referenced internal statistics showing the Blackhawks had just six scoring chances in regulation on Saturday versus five for the Leafs. "There were no chances, hardly, in the game at all so I thought we did a real nice job. Obviously, we did a pretty good job in the game before. We did a good job of really clogging up the neutral zone yesterday and really making it hard so they didn't get a ton (of chances) and we'll have to do that again tomorrow if we're going to have success." Babcock has been especially pleased with the play of Matt Hunwick and Roman Polak lately as the games have become tighter and tighter. "They're veteran players and they know where to stand. It (shouldn't) be a surprise to everyone that Chicago keeps bringing back these D that are 30, 34 and 35. Why? Because they know where to stand and they've had enough minuses in their career by chasing the puck around that they know where they should be so veteran players are important. We went through that today with our D. We met with our D and talked about those things. We think we're a work in progress and trying to get better."
• Brad Marchand has surged into the Hart Trophy discussion this season with 37 goals and 42 assists in 71 games. But there were signs he was capable of such a big performance before the NHL campaign even started. Marchand played for Team Canada at the World Cup where Babcock slotted him in beside Sidney Crosby and Patrice Bergeron on the top line. Marchand excelled alongside Crosby eventually scoring the tournament-clinching goal. "Yeah, I was thinking about that the other day. I was thinking I shouldn't have done that," Babcock said to laughs. "I should've put him on the fifth line, sucked the life out him, can't believe it!" Now, Babcock's Leafs are trying to chase down the Bruins in the playoff race. Does he regret giving Marchand a boost of confidence? "You don't give him a boost," Babcock noted. "He earns that opportunity." Marchand has been especially good of late compiling nine points during a three-game trip through Western Canada. "He's a top-three player in the league ... this year and nobody's driving his team harder," Babcock observed. "He's all-in every day."

• James van Riemsdyk missed practice on Sunday after also missing Saturday's morning skate. Brian Boyle also sat out Sunday's workout. The veteran centre previously missed Wednesday's practice in Tampa. Babcock said these were maintenance days and both players are expected in the lineup on Monday. Accompanied by a trainer, Zach Hyman left practice early. His status is unknown.

Lines at Sunday's practice:
Hyman-Matthews-Nylander
Komarov-Kadri-Brown
Leivo-Bozak-Marner
Martin-Fehr-Soshnikov
Smith
Rielly-Carrick
Gardiner-Zaitsev
Hunwick-Polak
Marincin-Marchenko
Andersen
McElhinney