Leafs looking for strong push upon return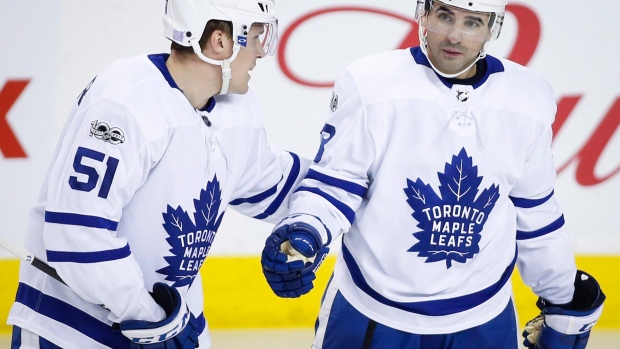 TORONTO — Maple Leafs defenceman Morgan Rielly is thankful for Toronto's bye week, perhaps more than others in the dressing room.
Toronto started its five-day break on Thursday on the heels of back-to-back losses. Both looked to be winnable games against tired teams playing the second of a back-to-back on the road, but Rielly made a mistake in each that led to important goals in the dying minutes of the third period.
"I think if I'm not mistaken last year's break came at a time when we were rolling and we didn't really want to go away for a week. Right now, I think a little break might not be the worst thing," Rielly said after Wednesday's 4-3 loss to the Senators.
Overall, Toronto outplayed its opponent in both but only came away with one of a possible four points.
The Leafs dropping points and a hot run by the Bruins has Boston tied with Toronto for second in the Atlantic Division with 53 points just past the halfway mark of the season. The Bruins, however, have five games in hand and have gone 12-2-3 since the beginning of December. Toronto was 2-3-2 in its last seven before the bye, with a shootout needed for both victories.
"I think, to be honest, we haven't got as many points as we would like the last little stretch. This will be a good chance for everyone to regroup and refocus for what's ahead," said Leafs goaltender Frederik Andersen.
Andersen is in a three-way tie for NHL lead with 37 starts, with coach Mike Babcock only turning to a second option in eight of Toronto's 45 games. He has the second most time on ice with 2,233 minutes 22 seconds and is well on his way to surpass the career high of 3,799 he played last season. He's also seen the most rubber, facing 1,261 shots, an average of 34 per start.
Andersen is 22-13-2 with a 2.66 goals-against average and .921 save percentage, sitting among the league leaders in most statistics.
"If he's not our MVP he's right there," said Leafs defenceman Ron Hainsey.
"He's just given us great, great goaltending for however long now. We've got a chance every night."
Babcock would prefer the players keep active over the break, saying, "there's a whole other level we've got to get to if we're going to have any success."
"As a young coach I would have wanted them to take their skates to the Bahamas and find some ice and skate, we know that's not happening. I think you pick the battles you can," said Babcock. "Any time you take time off, getting the motor running, getting skating again is not as easy as you might think."
The Leafs assigned forward Frederik Gauthier and defenceman Travis Dermott to the AHL Marlies so they won't see much of a break with the minor-league squad set to play two games over the weekend. Both can be re-called.
Toronto has six more sets of back-to-backs down the stretch and 20 games at Air Canada Centre compared to 17 on the road.
Rielly says the time off should be getting used properly, to prepare for the long haul of the season with a potential playoff spot and home-ice advantage on the line. Toronto returns on Tuesday at home against St. Louis. Then the Leafs play the next four of five on the road.
"We'll come back re-energized. It's important that the guys in this room take care of our bodies and come back rested and prepared to make a long push," said Rielly.