Leafs managing increased second-half expectations
Toronto is on track to make the playoffs, but the learning process is far from over at the halfway mark of their regular season, Maple Leafs reporter Kristen Shilton writes.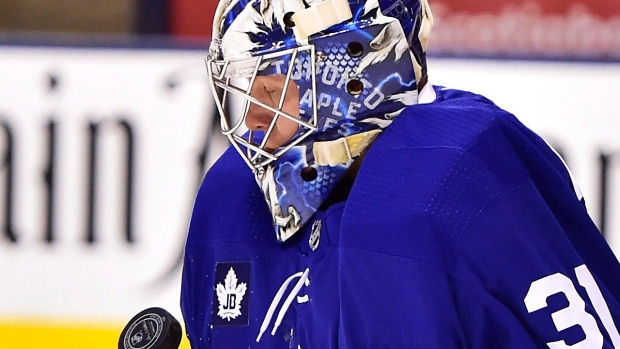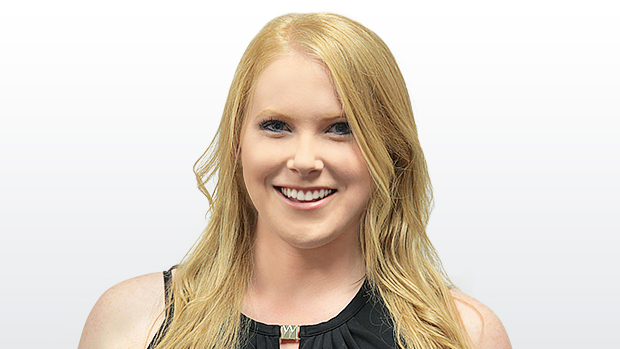 The Maple Leafs held a noon practice at MasterCard Centre on Wednesday.
It's not enough for the Toronto Maple Leafs to just surprise the NHL's top teams anymore. Now, they have their sights set on contending with the league's best.
After playing 41 games in 2017-18, the Leafs are on track to make the playoffs – but the learning process is far from over at the halfway mark of the regular season. From the outset of training camp, players talked about the common theme of expectations. They knew there would be pressure from the outside to improve after their six-game postseason run against the Washington Capitals last spring, but as a whole the Leafs maintain that no one and nothing is setting goals on their behalf.
"[Our mindset] changed right away [to start the season]," said Auston Matthews. "Not [because of] the expectation around us, but I think the expectation within the team. We went on our little merry-go-round in first year – everyone is all happy, we're doing well. But now we expect to win every night."
It's that singular idea that Toronto (23-16-2) is a team capable of earning a victory every night that has helped shape this current roster. For some of the team's younger players, expectation is an entirely foreign concept at this NHL level, while veterans like James van Riemsdyk have learned to keep them in perspective.
"It's nice to be in a position at the start of the year where you know what to expect," he said. "Obviously last year there were a lot of unknowns, a lot of new guys. This year, guys have had a chance to get a few games under their belts, so in that sense the expectations shift a little, but you still have to go out there and perform on the ice and just worry about that and we're going from there."
At this time last season, the Leafs were getting schooled left and right on what life at hockey's highest level is like, with varying degrees of success. Win or lose, they were eager students. But these days, gaining ground on the red-hot Boston Bruins in the standings gets more consideration than learning new lessons.
"We want to be winning every time we play so that's what we're going out there to do. We're not going out there just for feel-good stories and stuff," said van Riemsdyk. "At the end of the day, there are some things you try to gauge by the points in the standings and other things where it's just the detail in your game, so [you want to be] balancing out those and by the end of the year you're pretty sharp and you're not giving away anything for free."
As coach Mike Babcock's team continues to mature and develop the "winning habits" he covets, he anticipates they'll begin letting go of any singular definitions of success and fully embrace that concept as a 23-man group.
"We really believe we have enough talent in the room; we have to find a way to be better on a consistent basis and that's all part of that process," Babcock said. "I think learning to win every day and doing things right and sacrificing individual things for the team, I think, is so important. I'm not evaluating when my next shift is, I'm not evaluating whether I played on the power play or didn't, I'm just working hard to help the guys win and I think that's the biggest priority for us."
There's no doubt the Leafs aren't exactly where they want to be just yet. With 48 points in 41 games – earning just seven points in their last 10 outings – they're barely keeping pace with Babcock's stated goal of six points per five-game segment. But the drive to exceed expectations has hardly diminished over the season.
"I think we're in a good position; we're in a playoff spot right now," said Matthews. "We want to be at the top and these last two teams [Vegas and Tampa Bay] we've just played are at the top, and we're not quite at that level yet but we feel as a team that we have all the tools to be there. It's just a matter of putting in the time and the will to be there."
Silver linings in loss to Bolts
Perhaps in a perfect world, the Leafs would have come out against the NHL's best team on Tuesday night and earned a statement-making victory that highlighted their ample offensive abilities.
Instead, the Tampa Bay Lightning shut the door on Toronto, holding them off the scoresheet for just the second time this season.
They may no longer be searching solely for lessons to build off of, but the Leafs still appreciated a window into the kind of club they're trying to evolve into when they faced the Lightning.
"I think it was a good measuring stick for us to see how much work we still have to put in on where we want to be," said Matthews. "We made some mistakes and some things cost us and there's some things we need to work on, but I think these last two games have been good for us to see where we want to be and where we are now."
The Leafs were able to go toe-to-toe against the Lightning's blistering speed and challenge vaunted netminder Andrei Vasilevskiy, but a miscommunication behind their net and an ill-timed line change ultimately put the Bolts' up by a 2-0 lead they'd never relinquish. The Lightning's depth makes them relentless all over the ice, putting opponents on their heels.
In the end, the Leafs' third straight loss was frustrating for the team, but it wasn't exactly demoralizing, either.
"[On Tuesday] I think we played a lot better than we showed in Vegas," said Matthews. "Still, we were undisciplined; we took a lot of penalties and that kind of killed momentum sometimes. A lot of the times it seems like they had the puck all game and they were rolling around in our zone and that definitely wears on your D, it wears on your forwards, and that ends up swinging momentum onto your side."
Like every team that eventually rises to the top of the NHL heap, the Lightning took their lumps along the way over the years. That experience is invaluable, and it's what Toronto is continuing to gather.
"I thought it was a pretty well-played game," Babcock said. "In the end, you have to find a way to win those games; you have to find a way to block one more shot, make one more good play, score on the power play, score on one of those rebounds. Just a find a way – that's what the good teams do. The other question you ask yourself is, were we as detailed as the other team and do we work as hard or harder than the other team? I think there's lots of room for growth on our group and that's what we have to do."
Goaltender Frederik Andersen, one of the Leafs' most consistent players this season, knows playing better each and every game is essential for success.
"We obviously want to take a step forward; we still haven't really accomplished anything we want to do," he said. "We believe in the process we're going on and the direction we're going on. With that comes a lot of things throughout the year you want to get better at and you take it as you go. The same thing happened last year where we had some growing pains but we worked our way through it."
Feeding off of Marner's confidence
When one scorer struggles, another scorer steps up.
Just ask Nazem Kadri, one of the Leafs' most consistent forwards all season. He fell into a scoring drought in early December that's now gone on longer than a month. But at the same time, Mitch Marner has finally gotten his groove back.
The second-year winger found his game in December, staring with a three-assist performance in Pittsburgh on Dec. 8. From there, Marner has added three goals and seven assists in his last 11 games, matching his point total for the entire month of November.
Even as the Leafs have struggled through this recent stretch of four losses in their last six games, Marner has been one of the team's few consistent bright spots.
"He knows he's a driver on this team," said Babcock. "He's got to come in with swagger each and every day, and lead by example and work ethic and be improving his game and getting stronger and living right and doing all those things, and things will work out for him. He's just got to keep grinding. We count on a number of young people here as you know, and we need them to be good."
Babcock has encouraged Marner to hold onto the puck more, not hesitate to shoot and be more tenacious all around when he's on the ice. When he does that, Marner is as dangerous as any in the Leafs' stable of talented forwards, and the belief he's able to generate for himself has become contagious.
"I think he's just really confident out there; he's skating again and creating a lot of chances, and you love to see that," said Matthews. "Because when he's flying around like that it definitely kind of gets everyone else going and everyone else skating, so it's always good to see one of your top players doing that."
Remembering Johnny Bower
Before puck drop in Tuesday's game, the Leafs honoured legendary goaltender Johnny Bower with a heartfelt pre-game ceremony involving his entire extended family.
The scene moved fans in the Air Canada Centre audience to tears, and players were similarly touched by the video tribute.
"I thought it was really nicely done," van Riemsdyk said. "Having his whole family there in front of that net he tended for many years was a pretty nice touch."
"It was good," Matthews added. "I'm sure it was very emotional for a lot of people. Johnny is one of the guys you saw around so I think everybody (was) looking forward to this ceremony."
The Ceremony of Life hosted by the Leafs on Wednesday afternoon was attended by the entire Leafs' roster and coaching staff, as well as NHL Commissioner Gary Bettman, special guests and droves of fans. Andersen and Curtis McElhinney were asked by the family to contribute to the ceremony as pallbearers, helping to carry Bower's casket from the arena floor at the ceremony's conclusion. Andersen said the Bower family had reached out to them earlier this month, and he accepted the invitation right away.
Also attending the ceremony were several former Leafs and some of Bower's teammates, including Frank Mahovlich, Ron Ellis and Dave Keon, who all spoke at the memorial.
While much has been said and shared about Bower since his passing on Dec. 26, Babcock said repeatedly he hoped his players would glean something not just from who Bower was as a player, but from all that he represented as a person.
"I really believe in the end the measure of a man is the family he raises, and the impact they have on society," Babcock said. "So it's your obligation to do good things for those people and set them up with a foundation so they can go out and earn their own confidence and make a difference in the world. When you see that [Bower family] group out there, obviously it was pretty special. There must have been some serious parties at their place. Obviously a fantastic life [lived], he touched a lot of people, but no more than his family."
Leafs practice lines on Wednesday
Hyman-Matthews-Nylander
Marleau-Kadri-Komarov
van Riemsdyk-Bozak-Marner
Martin-Gauthier-Brown
Moore
Rielly-Hainsey
Gardiner-Carrick
Borgman-Polak
Marincin
Andersen
McElhinney
*Josh Leivo missed practice due to a personal issue.