Leafs' Matthews captures Calder Trophy
For the first time in more than 50 years, a Toronto Maple Leaf takes home the NHL's rookie of the year prize. Centre Auston Matthews won the Calder Trophy on Wednesday to become the 10th Maple Leafs player to do so, and first since Brit Selby in 1966.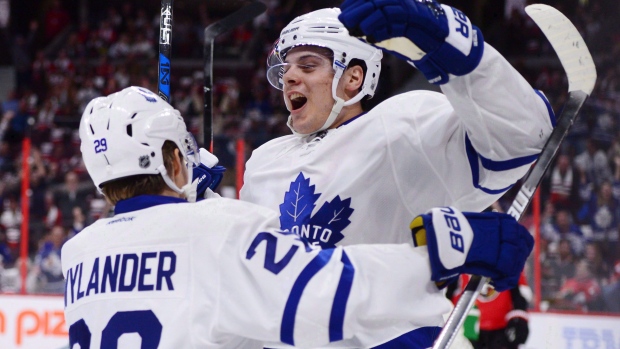 For the first time in more than 50 years, a Toronto Maple Leaf has won the Calder Trophy.

Centre Auston Matthews, selected first overall by the Leafs in the 2016 NHL Entry Draft, took home the league's rookie of the year prize at Wednesday's awards ceremony in Las Vegas. He's the 10th Maple Leafs player to win the Calder, and first since Brit Selby in 1966.

Matthews beat out Winnipeg Jets winger Patrik Laine and Columbus Blue Jackets defenceman Zach Werenski for the honour. He was a nearly unanimous choice for the honour, earning 164 of 167 first-place votes (three went to Laine). A native of Scottsdale, Ariz., Matthews is the first American-born player to take the title since Tyler Myers in 2010.
"That's a pretty big surprise to me," Matthews said Wednesday of getting so many first-place nods. "There was such a good rookie class. It's definitely a big honour to receive this award. I'm not a big public speaker so it was pretty nerve-wracking going up there, but it was pretty cool."

The 19-year-old skated in all 82 regular-season games for the Leafs, tallying a team-leading 69 points (40 goals, 29 assists) and led all NHL rookies in goals and points. Matthews added four goals and one assist in six playoff games.

One of 10 rookies who suited up for the Leafs last season, Matthews played exclusively with other freshmen at even strength – Zach Hyman was his left winger, while Connor Brown and William Nylander both saw time on his right side. The team's rookies talked about pushing each other all season to be at their best, and winning the Calder was a goal for Matthews as he navigated the ups and downs of NHL life.
"Of course, you want to perform individually," Matthews said. "But in the end you want to do what you can to help the team win and I felt I did a pretty good job of that. I was just doing my thing out there and having fun at the same time."

Matthews asserted himself immediately on the NHL stage with a historic four-goal debut against the Ottawa Senators on Oct. 12, the first player in the modern era to do so. With expectations at an all-time high, Matthews would quickly endure the first lengthy struggle of his young career, when he went through a much-talked about 12-game goalless drought from Oct. 27-Nov. 23.

Matthews continued to generate opportunities, and eventually the points started piling up. He reached the 20-goal plateau with a thrilling overtime-winning marker in Toronto's Centennial Classic game against the Detroit Red Wings on Jan. 1 and was named to his first NHL All-Star Game later that month.

By the season's final stretch, Matthews was breaking one record after another. He surpassed Wendel Clark's franchise mark, set in 1985-86, for most goals scored by a rookie with his 35th of the season on March 28. His 39th goal on April 3 put Matthews past Neal Broten for most goals scored by a U.S.-born rookie, a record that had stood since 1981-82. That goal also gave Matthews 67 points on the season, breaking Peter Ihnacak's record for most points by a Leafs rookie (set in 1982-83).

Matthews scored in five consecutive games between March 25 and April 3, making him the third Leafs rookie with a streak that long, behind Alf Skinner with six (1917-18) and tying Gaye Stewart with five (1942-43). The eight game-winning goals Matthews scored during the season also tied a franchise rookie record set by Howie Meeker in 1946-47.
With all that behind him, Matthews' sights are set on the season ahead.
"Individually you want to take a step forward. As a team you want to take a step forward," he said. "We made playoffs this year and we want to continue to push it and achieve that ultimate goal."
In the pre-expansion era, the Maple Leafs had nine Calder winners (Syl Apps, Frank Mahovlich, Dave Keon, Gus Bodnar, Frank McCool, Howie Meeker, Kent Douglas, Stewart and Selby). The closest the franchise has come prior to Matthews' victory was when Clark finished second to Calgary's Gary Suter in 1986.