Quick goal lifts Leafs past Oilers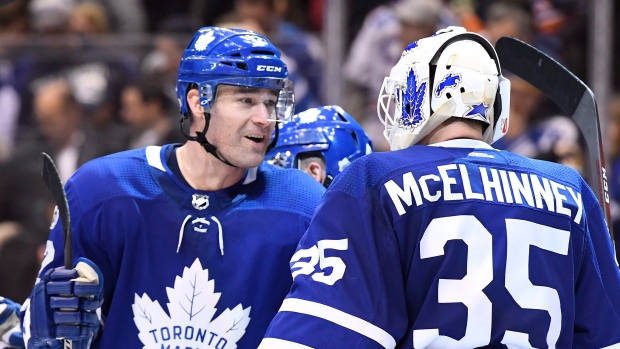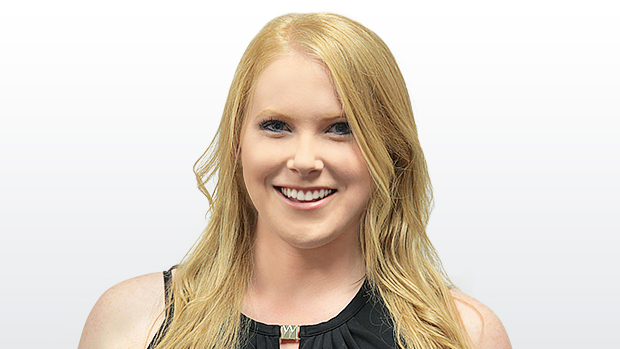 TORONTO – Thirty-four seconds.
That's all it took for the Maple Leafs to score their game-winning goal against the Edmonton Oilers on Sunday night, a 1-0 final with all the makings of a high-scoring affair until Curtis McElhinney slammed the door with a 41-save shutout.
Toronto had to contend with Connor McDavid just one day after facing Sidney Crosby and the Pittsburgh Penguins. And this time, they did it without Auston Matthews – the centre was a last-minute scratch with an upper-body injury. It was the fifth game this season that the Leafs' leading scorer has missed with an ailment, and the Leafs are now a surprising 5-0-0 without him.
"We're not trying to have [Auston] out of the lineup, but it's nice we can win without him obviously," said Mike Babcock. "…We knew we'd have to start on time. I thought our goaltender was real good, our penalty killing was outstanding. In the end we spent too much time in our own zone, but it was a big night on a back-to-back and a big win for us."
Babcock said he expects Matthews will be available for the Leafs going forward, but wasn't 100 per cent sure; it will depend how he feels. Matthews was injured in the waning minutes of Saturday's game when he collided with Morgan Rielly. The 20-year-old immediately appeared shaken up, clutching at his head and chin.
Anticipating Matthews' absence, Babcock told William Nylander on Sunday morning to be ready to play centre – if he wanted. Offered his choice of the wall or the middle, Nylander elected to play his first game of the season at centre. Aside from a few opportunities during a 22-game stint with the Leafs in 2015-16, Nylander hasn't played the middle regularly since he was in the American Hockey League. Fortunately his two linemates with the Toronto Marlies – Zach Hyman and Connor Brown – were available to flank him again on Sunday.
"It is fun when we get to play together, it [had been] a while," Nylander said. "I think it started pretty good. In the third period we were hemmed into our d-zone a lot, so it was a tough third period but we kept it out of the net and [McElhinney] played amazing so that helps for sure."
Nylander's line was matched up against Leo Draisaitl's for most of the night and they were on the ice when the Leafs opened the scoring. Carrying the puck into the Oilers' zone, Nylander pulled up along the halfboards and dished a pass to Jake Gardiner, who ripped it on net for Hyman to tip in. The assist was Nylander's first point in three games, and the fact Toronto was able to ride the score to a victory made it even better.
Toronto improved to 10-2-1 on the season in one-goal games, which was positive confidence-wise for the team, but made Nylander's return to the centre position a little more turbulent than Babcock might have liked.
"When you haven't played centre in a while and your first game is a 1-0 game, and it's going to be tense the whole third period, it's not the easiest one to play," Babcock said. "You'd rather play in a 5-0 game and cruise around and play on offence. He wasn't involved in anything negative, so good for him."
Likely at least part of Nylander's desire to switch roles was that it offered him a chance to get off the Leafs' fourth line, where he's been relegated for the last several games. On Saturday, when Pittsburgh was only rolling three lines, Babcock followed suit and that left Nylander with one shift in the third period and a career-low 8:39 in ice time. By the final whistle Sunday, he'd played 13:25 and went 6-of-12 in the face off dot with one helper and zero shots on goal.
Nylander's line was even at 50 per cent possession after two periods, but a relentless attack from the Oilers in the third period put that total at 34 per cent by game's end. The 21-year-old admitted their defensive play should have been better, but with Matthews missing, the bigger focus for the Leafs was just surviving with two points.
"I think you have to step up when a guy like Auston is out of the lineup and I think everybody takes it upon themselves to bear down a little bit harder," said Hyman. "You always miss Auston when he's not in the lineup and hopefully we get him back soon here."
Takeaways
Return of the Mac
With Matthews missing, and the Leafs playing on a back-to-back, a strong performance from Curtis McElhinney would go a long way towards earning a victory. McElhinney did them one better, delivering his finest game of the season. After the Leafs jumped out to the early lead and the sides settled in, McElhinney steadily became the busier netminder. Toronto was giving up some quality opportunities to the Oilers and McElhinney made one tough stop after another. In particular, he thwarted Jujhar Khaira from in tight during the first period and then made a great poke check save on McDavid after the Edmonton captain blew past Ron Hainsey. In the second frame, McElhinney stoned McDavid on a breakaway chance and again on a good shortside chance. The Oilers got the Leafs on their heels with some solid forechecking that put McElhinney under siege a couple times, but the veteran stayed calm throughout. He got a at least four assists from the post and crossbar, including two while Edmonton was on the power play, but as the saying goes, you have to be lucky to be good, and McElhinney was very good for the Leafs. He finished with 41 saves in the shutout.
Turning the tide
It was a golden opportunity for the Oilers – trailing 1-0 against a red-hot goalie, and suddenly they're handed a two-minute 5-on-3 power play. Roman Polak had been called for cross-checking and on the ensuing delayed penalty, Mitch Marner was tagged for tripping. Nikita Zaitsev, Ron Hainsey and Leo Komarov were on the ice for the majority of the kill (1:50) and they were effective in containing McDavid and company; Edmonton only produced a pair of quality chances, both of which McElhinney turned aside. Hyman said the Leafs' bench got a major boost from watching what the killers were able to do, and it motivated them down the stretch. Toronto's kill has been strong lately, giving up just two goals in their last six games (14-for-16), and they finished 4-for-4 on Sunday while allowing 11 shots on goal.
No redemption just yet
Before puck drop on Sunday, McDavid spoke about wanting a little absolution after how the trip back to his hometown finished last season – with Nazem Kadri pushing past him to score the overtime winner. Kadri speaks often about his love of going up against top-tier players like McDavid, but he's also quick to note it's near impossible to limit every chance for that caliber of player. Kadri just hopes to minimize their impact on the game. With McDavid held off the scoresheet on Sunday while still generating nine shot attempts, a breakaway and several slick set up passes halted by McElhinney, at best Kadri wrestled him to a draw. The Leafs centre got the better of McDavid in the faceoff dot, winning 69 per cent of his draws, but his final possession time was just 24 per cent. There are few players in the league who can challenge McDavid in speed and skill, both of which were on full display Sunday, but the Leafs did just enough to keep the centre from hurting them.
Consistently searching for consistency
Tyler Bozak's line with Mitch Marner and James van Riemsdyk had one of its best games of the season on Saturday, producing three goals and four assists while driving the Leafs to victory. They didn't turn in anything close to that level of game against Edmonton. Going up against Ryan Nugent-Hopkins' line, Bozak's group had trouble matching their speed and getting out of their zone. Marner was called twice for tripping, both the result of falling behind the play. They accounted for just three of the Leafs' 23 shots on goal and finished with 36 per cent possession and four high-danger scoring chances against. It's been a pattern for Bozak's line all season, where they follow a strong game with a string where they're average, unable to sustain the positive momentum they earned. It's a trend they'll be eager to not see repeating.
Next game
The Leafs hit the road again for another extended trip, starting on Tuesday against Philadelphia.