Leafs' past and future on display in home opener
On a night honouring the team's past, the Toronto Maple Leafs' future was front and centre with a 4-1 win over the Boston Bruins. Kristen Shilton has more.
Kristen Shilton, TSN.ca Maple Leafs Reporter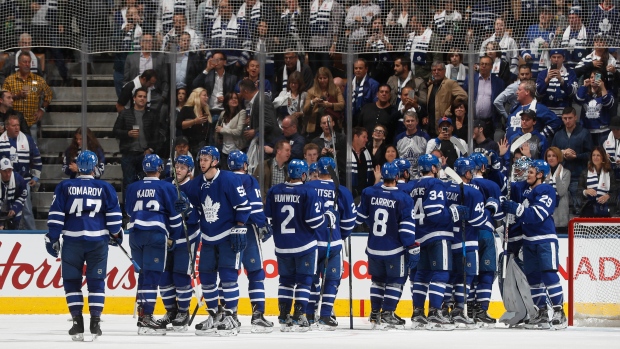 TORONTO – The night that set out to honour great Toronto Maple Leafs of the past ended up being dominated by the club's future stars.
For the second straight game, no script could have been better than the Maple Leafs' reality. Just ask Mitch Marner.
Playing his first regular season NHL game at home on Saturday night, the Toronto native was coming off an excellent performance in Ottawa on Wednesday that didn't result in a score. But he didn't have to wait long to light the lamp in front of a multitude of friends and family – even if his mom was in the restroom when he tallied it.
"Every kid dreams of that puck going in the net, especially in front of your home crowd," Marner said of his first-period marker. "It was a special moment for me and something I'll remember for the rest of my life. The excitement just takes over your body and you hear the fans cheer and it's exciting."
"Exciting" might also describe Saturday's contest against the Boston Bruins, which was also the Maple Leafs Centennial Anniversary home opener. The game was preceded by a ceremony retiring 16 previously "honoured" jersey numbers for the Maple Leafs, plus Dave Keon's No. 14. It ended in a 4-1 win for Toronto, their first of the season in their second tilt. It took twice that long to earn a victory last season. End-to-end chances for both teams meant a high-energy pace, even if Toronto wasn't particularly prudent with the puck.
Ultimately, it's the kids' tenacity that has made the Maple Leafs the first team in the expansion era to have rookies combine for each of their first six goals of the season. Auston Matthews scored four on Wednesday in Ottawa and Connor Brown netted his first of the season for Toronto early in the opening frame on Saturday. Marner didn't allow frustrations from not scoring sooner stifle his production at home.
"I had a lot of chances in Ottawa and nothing really cracked open. To feel that relief go through your body, it was really exciting for me," Marner said. "It helps playing with [James van Riemsdyk] and [Tyler] Bozak. They trust me with it out there, so as a young kid you feel pretty respected."
Marner played well on both side of the puck, clearing the zone on one heads-up play to give the Maple Leafs a much-needed change after a successful penalty kill. He just missed van Riemsdyk on a cross-ice feed with a gaping net after Marner blocked a shot in the defensive zone, corralled and banked the puck up off the boards, only to pick it back up himself and create the scoring chance. Marner led the team with four shots on goal and five rookies combined for 12 of Toronto's 24 shots.
From start to finish, Saturday was continually described as a night to remember. But it was also the perfect bridge between 100 and 001, where Toronto's players aim to write their own history.
"It's electrifying," Nazem Kadri said of the team's young talent. "It really felt like, coming into this year we had some new faces, but we also knew what to expect from each other. New jersey, new logo, clean slate.
"It was nice for us to be introduced as a group [before the game] instead of individuals. That's really what we want to focus on – that crest on the front."
--
Takeaways
With the Maple Leafs retiring Borje Salming's No. 21 earlier on Saturday, van Riemsdyk, who has worn the number since he arrived in Toronto, made the switch to No. 25. The change was presented to him in a phone call from Brendan Shanahan over the summer, but he was sworn to secrecy, so much so he said he didn't even tell his parents. Van Riemsdyk had a strong first outing with his new digits, scoring his first goal of the season. And while he didn't give any reason for selecting No. 25, his teammates joked since he scored with it on his first time out, he better keep the goals coming.

Frederik Andersen had his best game as a Maple Leaf on Saturday. After struggling in his first start in Ottawa, allowing five goals on 30 shots, Andersen was the busier netminder on Saturday, but stood tall to the task. A goal by David Pastrnak as the first period came to a close was the only blemish in an otherwise strong performance, where he stopped 24 of 25 shots. Andersen had talked this week about getting his confidence back and not second-guessing himself and he played with more conviction than he's shown previously. On one particular sequence in the second period, the Bruins were pressing hard and it was Andersen that held Boston at bay. "I worked hard the last two days in practice with Steve [Briere] and he did a hell of a job getting me back to where I feel good and that had something to do with [tonight]," Andersen said. "Winning is fun, and once you win, you want to win more, so it's something you chase every day."

Brown had a taste of the NHL last season, playing in seven games with the Maple Leafs. Still technically a rookie, he played a great game on Saturday. Netting his first goal of the season 2:14 into the game, Brown spotted a loose puck bouncing off Anton Khudobin and sent it back through traffic to give Toronto a 1-0 lead. Later, Brown had a great chance on the penalty kill for a shorthanded goal, chasing down the play and taking the puck from backhand to forehand to get a hard shot off. It whistled just wide, but the effort highlighted Brown's impressive skating. His physicality along the boards and in puck battles has become even more pronounced since the preseason, as it has for his linemates Matt Martin and Peter Holland.

Toronto's power play continues to struggle. They failed to capitalize on back-to-back penalties to Brad Marchand early in the first period, rarely establishing zone time that would allow them to put pucks on net. So far, the Maple Leafs are 0-7 with the extra man over two games after going 0-3 on Saturday.

Zdeno Chara has seen many dominant seasons in the NHL, but on Saturday the Maple Leafs' kids found ways around him. Along the boards, Zach Hyman muscled past Chara more than once, extending plays into the offensive zone with good success. Marner easily blew past him on a second-period rush. With all the speed and creativity of the Leafs' new generation, they also showed they're not intimidated by the league's larger presences.

Getting off to good starts was something Babcock stressed before the regular season opener and the Maple Leafs have delivered with fine results over two games. They jumped out to early leads in both games and lead the Bruins 3-1 Saturday after the first period. In exhibition pla,y they looked sluggish out of the gate and were constantly playing from behind. What could have been a theme that carried into the regular season has so far been eradicated.