Leafs rally to edge Isles, but Matthews leaves game hurt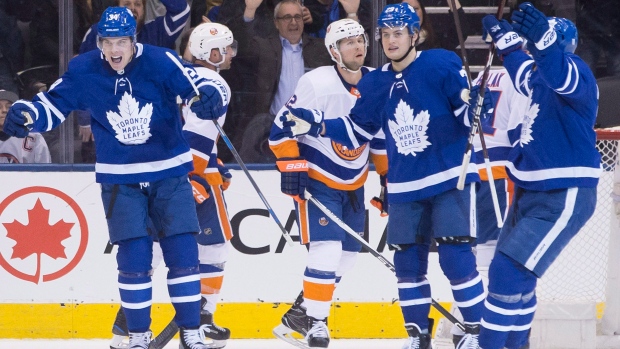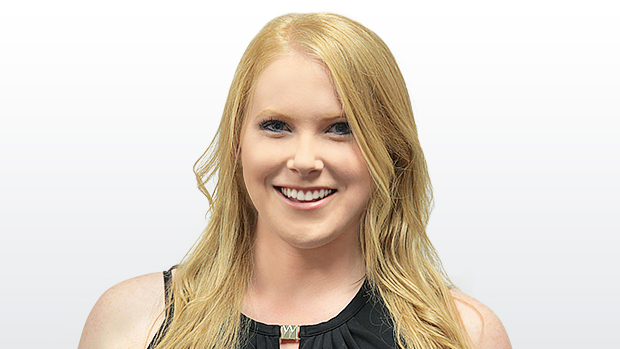 TORONTO – The Toronto Maple Leafs proved they have resilience in spades on Thursday night, gutting out a 4-3 shootout victory over the New York Islanders. But their resilience may be tested even further in the coming days after top centreman Auston Matthews exited the game late in the third period and did not return.
Matthews got sandwiched between Cal Clutterbuck and Adam Pelech in the waning seconds of the final frame, appearing to favour his left shoulder in the immediate aftermath. The 20-year-old visibly swore as he left the ice to talk with a trainer on the bench, ahead of swiftly departing for the locker room with an undisclosed injury.
Leafs head coach Mike Babcock had no update on Matthews after the game, saying the Leafs would know more Friday morning.
"It sucks. He's a big part of this team," said Mitch Marner of seeing Matthews leave early. "He's a once-in-a-lifetime player on a team, so it's nice to have that and it sucks when you see him go out of a game. But he'll come back stronger, he'll be fine and I'm sure he'll be out there soon."
Matthews has already missed 10 games this season, first because of a back issue and then a concussion. He finished Thursday's game with a game-high six shots on goal.
Before he was forced to leave on Thursday, Matthews had been the Leafs' third-period hero. Toronto was trailing the Islanders by a goal when Matthews tipped a Jake Gardiner shot off defenceman Nick Leddy and past Jaroslav Halak to tie the game with 3:23 left to play. His 28th goal of the season secured the Leafs a point they probably didn't deserve based on play alone, but that was earned by a stick-to-itiveness and poise that has set Toronto apart from where they were even six months ago.
"We weren't very good. Anyone who watches us knows that we weren't very good," said Babcock. "Saw it coming yesterday in practice, we talked about it then and the preparation [from there] wasn't good enough. But that being said, we found a way to get points and found a way to win. We were able to get two points and in the end they add up."
The positive impact of Matthews' goal was set up much earlier in the game though, when Toronto was in the midst of a disastrous first period. The Leafs were slow out of the gate and down 2-0 less than 12 minutes in, getting outworked by the Islanders in all three phases. But late in the frame, Marner gave the Leafs much-needed life with a goal that sent his team to the dressing room re-energized with confidence to carry them through the rest of the way.
"Crucial. Crucial," said Morgan Rielly of Marner's score. "When you're getting down to the end of a period, you get the mentality of like, 'If you get one before the end, you might be okay.' Mitchy is a clutch guy and we knew we had to make a little bit of a push before the end of the period and that's what we did. It gave us an opportunity to go out and be in the game."
Rielly himself would eventually pot the game's equalizer 88 seconds into the third period with a top-shelf strike on Halak, but Jordan Eberle came right back for the Islanders less than two minutes later to necessitate another key score from Matthews. Along with sending the game to overtime, the goal offered a little redemption for Matthews' line with William Nylander and Zach Hyman after they were on the ice (along with Gardiner and Nikita Zaitsev) for all three goals in the game.
"I think [what we showed] was a combination of being resilient, being confident and just kind of believing in yourself," said Rielly. "We always believe we have a chance to win games and tonight was a good example of that."
Further to that, the extra point was especially satisfying for Toronto to lock down considering how a season ago they posted an inexplicably awful 1-8 record in the shootout. With Thursday's win, the Leafs are 6-1 in the shootout this season, tied for most shootout wins in the league. And against New York, it was the franchise's all-time leader in shootout goals – Tyler Bozak – who came to the rescue once again. Bozak potted the only score from either side in the skills competition, his fourth on five tries and third shootout game-winner.
"He's unbelievable at [the shootout]," said Marner. "He always talked and joked about how good he was back in the day, and he still hasn't lost that touch. He been great for us in that category, but I think we have to stop going that route. Thank god we got him or we might be in trouble."
Avoiding potential trouble is exactly what Babcock is aiming to do. Even with Thursday marking the Leafs' eighth straight win at home, it's not enough to make him believe a skid couldn't be on the horizon if the deficiencies in Toronto's performance aren't quickly addressed.
"We've played real well here, but we're not talking about tonight," he said. "That's a different thing. We won the game, that's it. We've played real well here of late, we've worked real hard and we've been organized. I think we've done things right. We got off it here and we have to get back on it tomorrow, obviously."
TAKEAWAYS
Grinding it out
After a quiet first two-thirds to the season, the Bozak line has started stringing together some solid outings. In the first period against New York, Bozak, James van Riemsdyk and Connor Brown were about the only forwards working for Toronto in a lacklustre frame. Van Riemsdyk had maybe the best scoring chance of that period from any Leaf – Bozak and Brown did some good work on the forecheck to cycle the puck back to the point, where Zaitsev fired a blast that van Riemsdyk tipped in front of Halak. The puck didn't drop in, but the Bozak group kept grinding at both ends of the ice to offer the Leafs a fragment of life. After 20 minutes, they were the only line that had generated multiple shots on goal (two). In the second, Bozak and Brown kept winning battles down low and playing the Islanders physically along the boards. When that line was in their end, they were breaking out quickly and moving the puck well through the neutral zone, which hasn't been a forte of theirs all season. The hard work they showed eventually started manifesting in points on the scoresheet when van Riemsdyk and Brown set up Rielly's go-ahead goal with good work along the boards and through middle ice, and Bozak contributed with the eventual shootout game-winner. With a combined six shots on goal and 49-per-cent possession, Babcock said after the game, "I thought Bozie's line was probably our best line tonight."
Power outage
Given the offensive firepower the Leafs boast, the inconsistency of their power play this season has been surprising. It had another off night, going 0-for-3 against the Islanders and dropping the Leafs to 2-for-20 with the extra man in their last eight games. Toronto had three power-play opportunities in the second period alone against New York, all the while trailing 2-1, but failed to generate more than a couple truly dangerous chances on Halak. The Matthews-led unit still has a tendency to pass too often rather than shoot, and Nazem Kadri's group struggled to get set up in the Islanders' zone on their first two opportunities. Leo Komarov stepped in for Brown on the Matthews unit to try and spark some life on that unit with a net-front presence but it didn't help. The Leafs generated five shots on net in their three opportunities. Toronto's penalty kill did their part on the night though, shutting down the Islanders on two power-play tries, allowing just one shot on net.
Hungry for more
Connor Carrick doesn't get many opportunities in the Leafs' lineup these days, sharing a third-pairing slot next to Travis Dermott with Roman Polak. But even in what's supposed to be a rotation of defenders, Carrick has been called upon significantly less than his veteran counterpart. Thursday was Carrick's 37th game of the season, and just his fourth in February. Each time he does get in, however, Carrick has obvious jump and strives to have an impact on each shift. Early in the first period against New York, he made a great outlet pass to Brown to help set up a scoring chance that never fully materialized after Bozak got his pocket picked in the slot. He had a terrific scoring chance of his own from the slot in the second period, with the top corner open behind Halak but the puck whistled just high on him. Carrick always plays with a noticeable confidence and isn't afraid to get involved in the physical side of the game, and will often be seen directing rookie partner Dermott around the ice to avoid any confusion in the Leafs' end. When the Leafs were trailing in the third period, Carrick was actively asserting himself into the fire, putting two quality shots on Halak in search of an equalizer. Still, he finished with the second-lowest possession among Leafs (32.14 per cent) with four high-danger chances again. Babcock said after the game Carrick is more of a puck mover than Polak, who offers elite penalty-kill abilities. So the rotation project will continue, with Polak slotting in when the Leafs go up against clubs with elite power plays.
Next game
The Leafs finish off their three-game homestand on Saturday against the Boston Bruins. ​