Leafs recall Soshnikov ahead of KHL deadline
Kristen Shilton, TSN Maple Leafs Reporter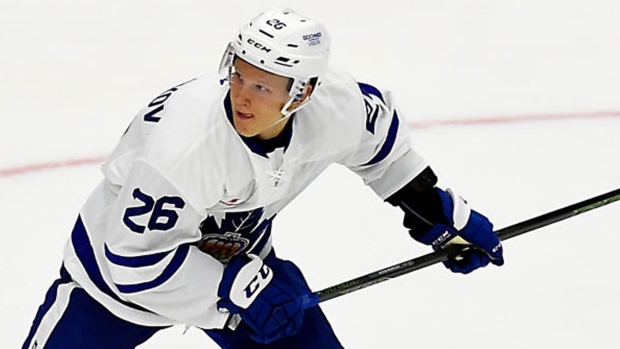 The Maple Leafs announced Tuesday they have recalled forward Nikita Soshnikov from the Toronto Marlies.
In a corresponding roster move, the Leafs returned centre Frederik Gauthier to the AHL.
As previously reported by TSN's Hockey Insider Pierre LeBrun, Tuesday was the deadline for the Leafs to add Soshnikov to their active roster or a clause would be activated in his contract allowing the winger to return to the KHL.
When asked about the situation on Monday, Leafs' head coach Mike Babcock told reporters, "I don't really know much about that" and declined to give any further details. Prior to his recall being announced on Tuesday, Soshnikov was already at the Leafs' practice facility and worked with a skills coach on the ice for more than an hour.
Soshnikov has five goals and seven assists in 14 games with the Marlies this season, sitting second on the team in points.
The 24-year-old was brought to the Leafs prior to when Babcock and general manager Lou Lamoriello arrived with the team in May and July 2015 respectively. Toronto's previous general manager Dave Nonis inked Soshnikov to a three-year, entry-level contract in March 2015 that included the clause now tying the Leafs' hands. Toronto doesn't want to lose Soshnikov to another league, but as with all their young players, they want him in a lineup regularly. At this point, the Leafs don't appear to have that playing time readily available for him.
Barring injuries to top-nine forwards, the Leafs already have one winger – Josh Leivo – who's a healthy scratch each night. Leivo, 24, isn't waiver exempt, and with three more NHL games under his belt, Soshnikov will no longer be waiver exempt either. Babcock has been clear Leivo is a replacement player and not someone he wants in a rotation with other guys. Soshnikov projects to be in a similar situation.
During his first North American season in 2015-16, Soshnikov had an 11-game call-up from the Marlies to the NHL, where he produced two goals and three assists in 11 games. Last season, a nagging injury from the off-season necessitated a five-game conditioning stint with the Marlies, but Soshnikov remained with the Leafs for the duration of the year. He didn't have the same success though, posting five goals and four assists in 56 games. Soshnikov suffered a concussion in late March against the Boston Bruins that ultimately ended his season.
The effects of that concussion continued to plague Soshnikov throughout the summer. At Leafs' training camp in September, Soshnikov admitted he was "a little nervous" to be out there on the ice again. Babcock felt he was in his own head too much and trying too hard instead of just letting his skill set shine through.
With a glut of forwards already, Soshnikov's demotion to the Marlies in October, along with Kasperi Kapanen's, was expected. Babcock and Lamoriello praised them as "NHL players" and said they'd simply have to wait their turn for another chance.
In theory, Soshnikov has a chance now, but whether that's to play or just to watch remains to be seen.