Leafs trade Polak, Spaling to Sharks
The Toronto Maple Leafs have traded defenceman Roman Polak and forward Nick Spaling to the San Jose Sharks for two second-round draft picks and forward Raffi Torres.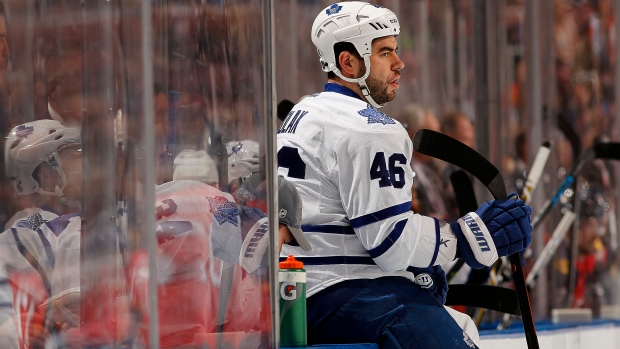 TORONTO - Maple Leafs general manager Lou Lamoriello isn't waiting until the final hours before the trade deadline to make moves.
Lamoriello continued to get ahead of the trade market Monday, completing his second transaction is as many days, a week before the Feb. 29 deadline.
The Leafs sent defenceman Roman Polak and centre Nick Spaling to San Jose for second-round picks in 2017 and 2018 as well as forward Raffi Torres. Toronto landed a fourth-round pick and prospect Colin Smith when it dealt forward Shawn Matthias to Colorado on Sunday and also sent captain Dion Phaneuf to Ottawa in a nine-player swap earlier this month.
"I always felt that if you could do it a little earlier (it's) better," Lamoriello said on a conference call shortly after the trade was announced.
The two most recent transactions add more draft picks to a growing haul for the Leafs. Toronto could have as many as 12 selections in the 2016 draft with nine in the bank for 2017 (including three second-round picks potentially) and eight for 2018.
The Leafs want to give Mark Hunter, the team's director of player personnel and draft leader, plenty of opportunities to land prospects for the future.
"I think the picks are the most important thing that we've got in these transactions," Lamoriello said, noting the ability to move picks for players down the line.
Two second-round picks is a rich return for Toronto given that Polak and Spaling will likely fill depth roles for the Sharks, who missed the post-season last year and currently sit third in the Pacific Division.
"We wanted to give this group the ability to compete and they deserve it. They have really worked hard," general manager Doug Wilson said. "We've put ourselves in a really good position and you make the determination on this team now with these added ingredients. It feels like they can compete. That's important in the room."
Polak was acquired by the Leafs in a swap for Carl Gunnarsson in the summer of 2014, becoming a valued veteran leader for the group this season. He became a favourite of Leafs head coach Mike Babcock for his competitive nature.
"There's no question what his characteristics are: he's a man," said Lamoriello. "He's somebody you'd go in a foxhole with at any given time. He knows what we think of him."
He had one goal and 12 assists in 55 games with Toronto this season.
"Roman is a big physical, right-shot d-man which is important," Wilson said. "Blocks shots, certainly a great PK player. We've seen a lot of him over the years. A quality, quality guy, great teammate and the physical presence will be a great addition."
Spaling was added in the Phil Kessel transaction last summer but was bothered by injuries this season. He snapped a 60-game goal drought in Toronto's overtime loss to Philadelphia on Saturday.
The Leafs are likely to remain active on the trade front with a number of expiring contracts — P.A. Parenteau, Michael Grabner and Brad Boyes among them — still to move.
Toronto opted not to add a veteran to their AHL affiliate, the league-leading Toronto Marlies, and instead re-assigned Torres to the San Jose Barracuda.
Torres hasn't played this season because of suspension and injury and will be eligible for free agency this summer.
"Raff is a good man," Wilson said. "He's been on a tough journey. He just needs more time to go get healthy and go on with his career. This was a necessary part of this deal to make it work cap wise and financially."
Brendan Leipsic and Stuart Percy were recalled from the Marlies following the trade and could be in the lineup Tuesday when the Leafs host the Predators.