Lecavalier getting through rough season with help of son
For Vincent Lecavalier, weekly skating sessions with his son Gabriel - who turned four in October - have been something of a sweet escape during another trying season in Philadelphia, Frank Seravalli writes.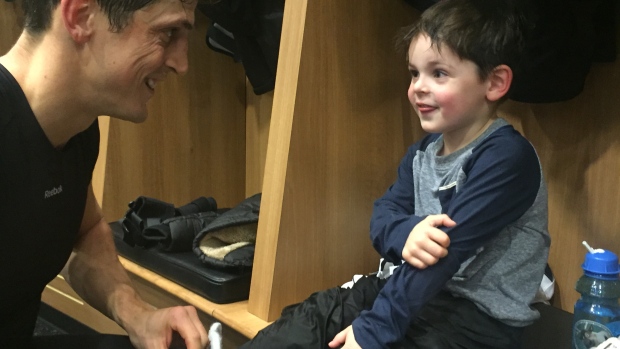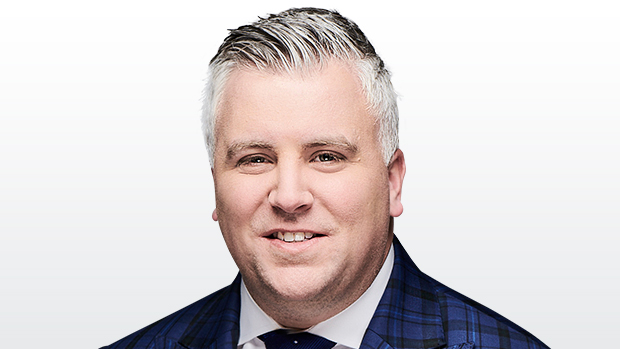 PHILADELPHIA — As the Flyers' optional practice wound down on Wednesday, a little guy with Lecavalier and No. 40 emblazoned on the back of his orange jersey patiently waited by the glass with skates on.
Vinny Lecavalier skated over and invited him on the ice. The youngster's legs moved a mile a minute as he toddled toward centre ice, bypassing Flyers Ryan White and R.J. Umberger battling in a drill.
The boy promptly took a seat on the Flyers' bench. His dad, Lecavalier, sat next to him. They talked, mostly in French, then returned to the ice.
For Lecavalier, weekly skating sessions with his son Gabriel - who turned four in October - have been something of a sweet escape during another trying season in Philadelphia.
"I'm sure, like everybody, work comes up at home. Your job is part of your life," Lecavalier said. "But obviously, the kids kind of keep us busy. He doesn't know anything about (not playing). I'm just their Dad."
Little has changed exactly one calendar year after Lecavalier was scratched for the first time in 1,100-plus nights in his NHL career. Lecavalier, 35, has appeared in just seven games this season – earning one assist.
The shock has worn off. He no longer arrives at the rink expecting to play, scratched 34 times in the year. The proud Montrealer is no less frustrated, but Lecavalier has compartmentalized it.
"I don't come to the rink pissed off every day," Lecavalier said. "I think that's the wrong mindset to have. That first time, I was shocked and you don't know what to think. It's passed that. My mindset is actually really good right now.
"I don't want to come to the rink mad and be a distraction. You don't want to be that guy. I think we have a great bunch of guys here and I don't want them to come here and see me be pissed off."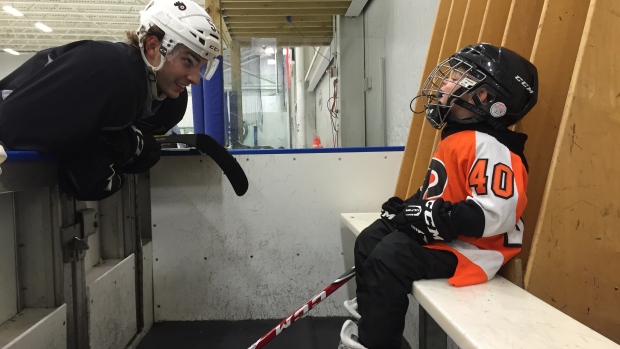 How did Lecavalier get to this point?
As hard as it may be to fathom now, Lecavalier was the marquee free agent two and a half years ago after Tampa Bay Lightning owner Jeff Vinik signed off on the largest buyout in NHL history at $37 million.
Fifteen teams contacted Lecavalier's camp with interest. He was 33. He racked up 874 points in 1,037 games and helped deliver the first Stanley Cup to the NHL's sun belt.
The day before the 2013 Draft in New Jersey, Lecavalier and his agent set up shop at the Westin Times Square hotel in New York City.
Dallas, Montreal and Boston were in hot pursuit. Toronto, Anaheim, Detroit, St. Louis, Washington and Calgary all met with Lecavalier on June 29, 2013. San Jose, Carolina and Vancouver were also believed to have kicked tires.
There were signs of decline in Lecavalier, but he was nearly a point-per-game player in the lockout-shortened season. With Jim Nill interested, the Dallas Morning News wrote that day: "Lecavalier is an interesting player who is seen as a bit of a project, because his game has slowed down in recent years."
Other more financially lucrative offers than the Flyers' were believed to be on the table. Did Lecavalier just pick the wrong suitor to sign for five years and $22.5 million?
"I don't think so," Lecavalier said. "It's easy to go back. My decision was solely - out of every team that I met - it was on meeting the coaches and what their vision is and how they want their players to play the game. I solely came here for (Peter Laviolette) and he got fired after three games."
Amazingly, only a handful of those Lecavalier admirers still employ the same coach from the courting process.
With a no-movement clause, Lecavalier is stuck in purgatory with the Flyers. Tears won't be shed for Lecavalier, with nearly $130 million U.S. in on-ice earnings.
But behind the jeers and the Flyers' yearning for his retirement is a proud player who genuinely believes he has more to give. Drafted No. 1 in 1998, Lecavalier was supposed to be the next Jean Beliveau, not fade as the game whizzed by in his early 30s. Fans are perplexed Lecavalier is willing to go through two more years of torture.
"People can say what they want. Until you're in my position, it's very personal," Lecavalier said. "It's not someone from the street and whatever they think. It's really personal. I'm not there yet."
No team has scored fewer goals in the NHL than the Flyers, yet they cannot find a role for him.
Coach Dave Hakstol commended Lecavalier on his professional approach, but wouldn't bite on what facet is holding Lecavalier out of the lineup. The frequent knock is on his skating, but Lecavalier is also a career minus-140 player, limiting his potential as just a power play specialist.
Watching Lecavalier, he still owns a deadly release. He collected 20 goals two years ago - and matched his career power play average (8 goals) - despite missing 13 games with fractures in his lower back and foot.
Now, Lecavalier waits. The Flyers had a deal in place to reunite Lecavalier with Laviolette in Nashville in 2014 before it was nixed by Predators' ownership. Ron Hextall has given Lecavalier's agent permission to broker a trade, but won't say how much money the Flyers are willing to eat on his contract. Interest from one other Western Conference club fizzled last summer.
Lecavalier isn't holding his breath, as the scratches mount and his best chance to prove himself is on the ice with Gabriel.
"It doesn't seem like I'm getting a chance, even if I do play. The minutes are minimal," Lecavalier said. "I don't know what the future holds, but I'm hoping I get a legit chance someday."
Frank Seravalli can be reached at frank.seravalli@bellmedia.ca.