Lehner's gripping season (and tenure?) with Islanders ends with a thud
For Robin Lehner, the dream season that no one expected ended in a way that few could have imagined: Alone. It was a tough scene to swallow for Lehner's teammates - and anyone who has followed his incredible story. Frank Seravalli writes.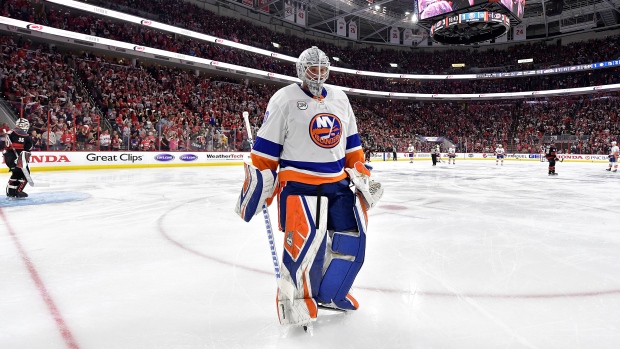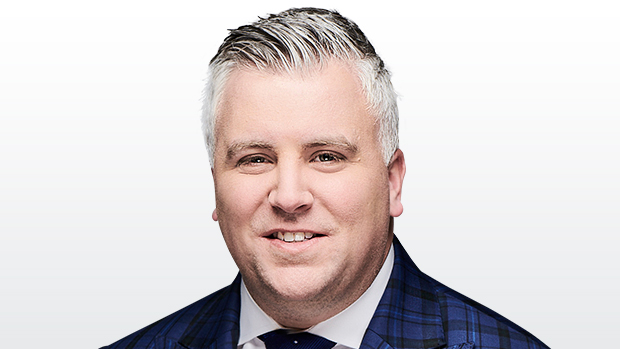 RALEIGH, N.C. — For Robin Lehner, the dream season that no one expected ended in a way that few could have imagined: Alone.
Lehner was pulled in the second period of the New York Islanders' season-ending sweep, leaving him to sit in exile from his teammates, across the ice from the bench where the backups sit at PNC Arena.
It was a tough scene to swallow for Lehner's teammates - and anyone who has followed his incredible story.
"Our backbone," Brock Nelson told reporters.
Lehner detailed his recovery from drug and alcohol addiction in a gripping first person story in October in which he also revealed his diagnosis of Bipolar 1 with Manic Phases.
He went on to become a finalist for the Vezina Trophy after finishing second in save percentage (.930) and third in goals against-average (2.13) while posting a career-best 25 wins in 43 starts.
Lehner captured the William M. Jennings Trophy in tandem with Thomas Greiss for allowing the fewest goals against in the league and his story makes him the favourite for the Masterton Trophy for "perseverance, sportsmanship and dedication to hockey."
His redemption story was one of the best in hockey in some time.
"This is not how we pictured the end of this story," Lehner said. "It's mixed feelings that the season is done, but you cannot overlook how we played this year. I'm really proud of this season, I'm proud of this organization, (it) was a hell of a year."
Only time will tell if it was Lehner's last night in Islanders blue and orange as he stares down free agency.
The leash was short, but Lehner said he did not take Barry Trotz's decision to yank him in favour of Greiss personally after allowing three goals on Friday night.
"It's the coach's decision and he's the best coach in the league," Lehner said. "It's hockey, you know? I don't take that personal. They came out really hot. He probably wanted to pull to get some momentum and get a kick out of the team. There's nothing to regret. It sucks to lose. I'm not regretting anything."
Trotz admitted there was "a lot of talk" and "a lot of back and forth" on whether to start Lehner to begin Game 4.
"It was a real tough decision," Trotz said. "We just got punched in the nose and I was looking for a spark. Goals have been hard to come by in this series. I knew we couldn't let it get past three goals. I was hoping guys would quiet it down and the guys would focus in for 'Greisser'."
Lehner allowed just six goals in the first three games of the series against Carolina (.930 save percentage). But, the Islanders finished with just two even-strength goals in the four-game sweep - the second coming in the waning minutes with the game already out of reach.
They were dangerously close to becoming the first team in 30 years to net just one even-strength goal. The Islanders ran into a Carolina buzzsaw that played a similar style with more sandpaper.
"In this series, goaltending really wasn't the problem," Trotz said. "It was more the goal scoring. I'm not going to put all the blame on the goaltending, because it wasn't the problem in this series at all."
Now, after the best season since 1993, the Islanders have more questions than answers.
Lehner is a pending free agent along with core forwards in captain Anders Lee, Brock Nelson, and Jordan Eberle. When asked about his future with the team, Lehner was non-committal.
"It's been an incredible year," he said. "A little too much emotions right now. We really like everyone here. This group is incredible, some of the best people I've been around - and I've been around for a while now. We'll see what God has in store for me."
There is work to be done for GM Lou Lamoriello with Trotz admitting the Islanders were "lean" in "some of the high-skill positions."
Turns out, that didn't including goaltending - against all odds.
"Going into this year, I thought quite honestly goaltending would not be one of our strengths," Trotz said. "A lot of people said there wasn't high expectations, they didn't think we were going to do anything. There was a lot of doubt about this group - from the work ethic to the character. But this group would not go away."
There is just no guarantee Lehner will be a part of it next year, even after resurrecting his career on Long Island, even after raving about his teammates, the organization, and his relationship with Lamoriello.
"For me personally, this is Step 1," Lehner said. "There are a lot of things left for me to address and fix in my life. I have a long summer to address that and I truly believe, in my court, I'm going to be a better goalie next year."
Contact Frank Seravalli on Twitter: @frank_seravalli​