Leivo making the most of opportunity to play
Maple Leafs winger puts a tough start to the season behind him with five points in four games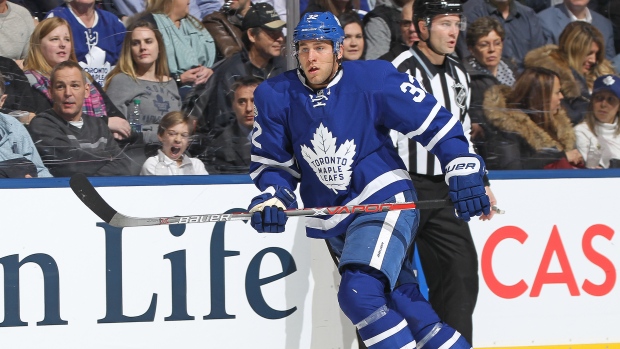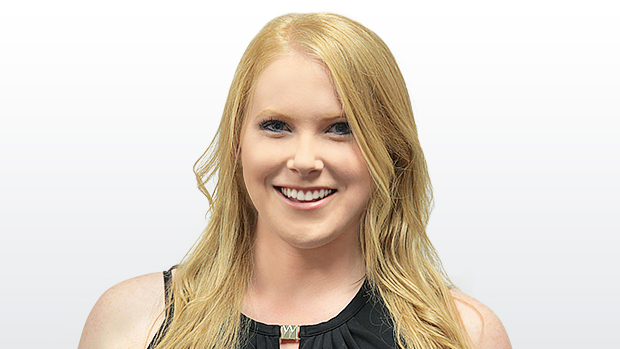 Josh Leivo could probably see the chirps coming.
As he met the assembled media in Columbus on Wednesday morning to discuss his three-point game the night before against the New York Islanders, several of his Maple Leafs teammates walked in front of him with words of encouragement.
"Look at this!"
"Atta boy, Leivs!"
"Three-point night! Star!"
Leivo didn't flinch, finishing his answer and taking a couple more questions. As he prepared to depart for the team bus, Leivo was asked how he kept his composure in the face of that interruption.
"Oh, I'm used to it," he said, grinning.
Leivo has plenty to smile about. Putting a nightmarish start to the season behind him, Leivo is back in Toronto's lineup and determined to make the most of the opportunity.
Drafted in the third round by Toronto in 2011 (86th overall) and signed to a two-year, $1.25 million contract as a restricted free agent in July, Leivo was expected to compete for a lineup spot in training camp. A lower-body injury quickly derailed those plans. He appeared in just one exhibition game, and Mike Babcock said Leivo had made "no impression" a week out from Toronto's season opener.
Still hurt, Leivo didn't play the first two weeks of the season. Then the team loaned him to the Toronto Marlies for a five-game conditioning stint. By Nov. 21, he was back in limbo with the Maple Leafs, no closer to playing than he was when he left.
"At first it was tough. It was the first time I've ever [not played]," Leivo said. "Having the guys in the room keep me positive helped. The coaches kept on me, kept me going. My family was really good. They understood I was having a hard time so they came to visit and kept me positive."
Leivo, 23, finally played his first NHL game of the season Dec. 19, finishing plus-one in 12:37 of ice time. In his next opportunity - Jan. 7 against Montreal - Leivo played only 4:17. He waited a whole month for another shot, slotting in on Feb. 9 against St. Louis when Nikita Soshnikov was felled by an upper-body injury.
He hasn't missed a game since. Even with Soshnikov available, Leivo has continued to replace him on the right side of the team's fourth line with Ben Smith and Matt Martin.
The three points he tallied against the Islanders (one goal, two assists) accounted for his first points of the season and the first multi-point game of his NHL career. Leivo put five shots on goal that night, tied for second-most on the team in the second-fewest minutes.
He followed that up with another multi-point game on Wednesday, assisting on both of Nazem Kadri's goals in a 5-2 loss to Columbus. Babcock rewarded Leivo for his efforts by giving him his most ice time of the season (14:53).
"Leivs is real good from the hash marks down, real strong on the puck, can make real good plays, can absolutely shoot – he's got a bomb – and you have to get yourself in those situations," Babcock said. "He's with a forecheck group [mostly], so you've got to get in there and when you get your opportunity, make good on it."
Babcock is unrelenting when it comes to improving the defensive play of his forwards. During week after week of watching from the press box, Leivo focused on what would help keep him in the lineup when he finally reached it.
"He's a straightforward guy, he knows what he wants to see," Leivo said of his coach. "He wants me to be a solid defensive player; he wants me to learn that first. He knows I can play offence, so it's a matter of learning the defensive side and staying within the team's structure."
Some of what made Leivo successful in juniors – creativity and touch around the net – aren't defining characteristics of his game now. But he's kept working on that blistering shot, and made room for other skills to emerge.
"I can work well down low, get the puck back and control the play pretty good," said Leivo of where his focus is now. "And I feel like I have some good hockey sense where I can make plays and find my linemates or the defender at the top."
Playing alongside Kadri and Auston Matthews on Wednesday as the Maple Leafs searched for an offensive spark, Leivo was Toronto's best playmaker. He has a grittiness that balances Toronto's skill players, but his skating must keep improving for a move there to be more permanent.
After a long wait for it to be his time, Leivo has a chance to take control of his fate.
"You work hard and you grind every day and have a good attitude, when you get your opportunity, if you do something with it, you get another opportunity," Babcock said. "If you don't do anything with it – it's pro sports and someone else gets the opportunity.
"Everyone thinks the coach decides who plays. No. They decide who plays – I just watch."