Leivo scores in debut but Canucks fall to Wild
A pair of goals from Jason Zucker led the Minnesota Wild to a 3-2 win over the Vancouver Canucks Tuesday night. The victory snapped the Wild's three-game losing streak and extended a slump that has seen the Canucks post a single win in their last 13 outings.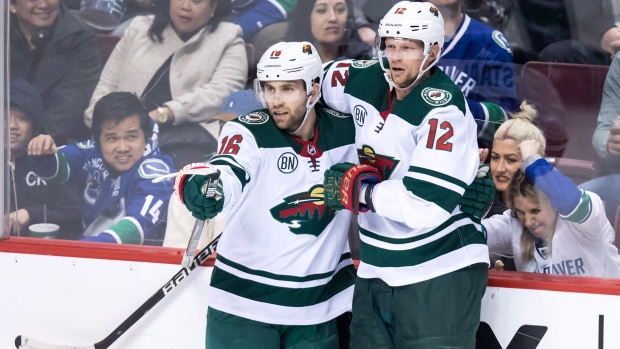 VANCOUVER — The Vancouver Canucks simply need to find a way to kill penalties, says head coach Travis Green.
The Canucks (11-15-3) gave up a trio of power-play goals on Tuesday night en route to a 3-2 loss against the Minnesota Wild (15-10-2).
"We've got to find a way to get a puck out," Green said after the game. "We're well aware that we've got to tighten it up."
Vancouver has spent 325 minutes in the box this year and their penalty kill is ranked 27th in the league.
Minnesota, meanwhile, is surging when they have the man advantage. The Wild have the ninth-best power play in the NHL and that unit has produced 11 goals in their last 10 games.
Zach Parise, Ryan Suter and Jason Zucker all scored for the Wild on Tuesday.
"Three goals on the power play, that's the recipe for a win on the road. It's a good two points for us," said Mikael Granlund, who had two assists.
Minnesota goalie Devan Dubnyk made 29 saves while Anders Nilsson stopped 25-of-28 shots for Vancouver.
Tyler Motte and Josh Leivo put up goals for the Canucks.
Leivo's came on his first shot in a Canucks uniform. He collected a pass from Elias Pettersson in the slot and flipped it over Dubnyk's blocker to open the scoring.
Playing on a line with the rookie sensation requires quick reflexes, said the 25-year-old left-winger.
"He's got eyes in the back of his head and sometimes when you least expect it, it's on your tape," Leivo said. "So I've just got to be ready whenever he's got the puck."
Leivo was dealt to Vancouver from the Toronto Maple Leafs on Monday in exchange for American Hockey League forward Michael Carcone. He had four goals and two assists in 27 appearances for the Leafs this season.
Leivo played with Pettersson and Brock Boeser on one of the Canucks' top lines on Tuesday, and put in time on the power play.
"It's exciting. I've got to make the most of it," he said of the new role. "I thought I battled hard and I've just got used to the speed. I'm not used to play against the top line."
Tuesday also marked Jay Beagle's return to the Canucks lineup. The veteran centreman missed 24 games after suffering a fractured forearm off a blocked shot against the Florida Panthers on Oct. 13.
Beagle saw 8:33 of ice time in his return and said he felt pretty good.
"Strength-wise everything felt good," he said, adding that he needs to work on his timing. "The game feels faster and your reads are a little off every once in awhile. So it's just a matter of making sure I'm in it and that I'm not shying away from the play."
The 33-year-old wants to help out with the penalty kill now that he's back on the roster, and be part of a line that drives the team.
"It's a matter of just going out and just changing momentum, getting energy," Beagle said. "And when we're doing that, you can see the effect it has so we have to keep doing that and build on that."
Tuesday's win snapped a three-game losing skid for the Wild and extended a slump that has seen the Canucks post a single win in their last 13 outings.
The stretch has been tough on the young Vancouver squad, Green said.
"Our team hasn't got the results and it's hard when you don't win," he said. "But I'll give our team credit — they're going out and competing. They're not letting themselves not show up. And that's hard when you haven't won in awhile."
The Canucks wrap up a five-game homestand on Thursday when they host the Nashville Predators.
---
NOTES:
Vancouver re-assigned Sam Gagner to the AHL's Toronto Marlies on Tuesday. Gagner had one goal and two assists in seven games with the Canucks. ... Canucks right-winger Nikolay Goldobin was a healthy scratch on Tuesday. Green said the 23-year-old needed a "reset" and was working on various aspects of his game. Goldobin is third in scoring for the Canucks with 16 points.