Leonard, Lowry ranked among SI's top 30 players of 2019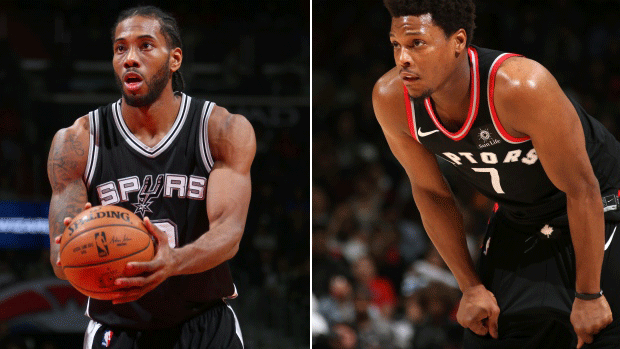 Kawhi Leonard and Kyle Lowry both rank in the top 30 of Sports Illustrated's Top 100 NBA Players of 2019 list.
SI, which began releasing the rankings on Monday, have unveiled Nos. 100-11 so far.
Leonard, who the Raptors notably acquired for a package that included DeMar DeRozan, ranked 12th on the list, which is eight spots lower than where he checked in on last year's edition.
In his reasoning as to why Leonard ranks as its 12th-best player, SI's Ben Golliver points to the high level of skills and ability that the two-time All-NBA first-teamer has show on the court in the past, but mentions that he needs to re-establish his image after the major hit took during his injury saga with the San Antonio Spurs.
Here's a snippet from what Golliver wrote about Leonard: "Clearly, there's a major "but…" coming now. But, at this moment in his career, Leonard finds himself needing to reestablish a quality that is essential to leadership and winning: reliability. This is a question of both health and demeanor. After playing just nine games last season, the 27-year-old Leonard has now missed 27% of his team's regular-season games during his career. To make matters worse, he behaved in reprehensible fashion for a max-level franchise player throughout his injury absence, drawing soft rebukes and subliminal digs from his legendary coach and teammates."
The 27-year-old averaged 16.2 points per game and 6.2 points per game over the nine games that he appeared in for the Spurs last season.
Lowry, who ranked 19th on SI's 2018 list, checks in at No. 23 on this year's edition. Though Lowry's individual numbers fell last season, Golliver is more concerned that the 32-year-old point guard might be beginning to slow down because of his age.
"While Lowry remains a strong outside shooter and a dynamic all-around offensive player, his age might be starting to show on the other end. He led the league with 37 drawn charges in 2017-18, but his impact stats weren't quite as impressive as in recent years. This much is clear: No one benefits more from Leonard's arrival than Lowry, who gets to move to a shotgun role alongside an MVP-level champion at the exact moment his own window as an elite point guard was starting to close."
Lowry averaged 16.2 points per game along with 6.9 assists last season.
Former Raptor and now current Spur DeMar DeRozan, appears at No. 30 on SI's list, which is the highest he has ranked in the six years that SI has been putting together the list..
SI's Rob Mahoney credits DeRozan for the attempts he made last season to reformat his game by shooting more threes and looking to be a playmaker, but holds it against the four-time all-star that he reverted to his old ways once the playoffs begin.
"The lesson of the Raptors is that a franchise could easily build a playoff team around DeRozan. It's building a championship team that's the trouble—in part because a seven-game series airs out DeRozan's every liability. "
DeRozan averaged 23.0 points per games and 5.2 assists last season.
Fellow Raptors Fred VanVleet (94), Serge Ibaka (78) and Jonas Valanciunas (50) also appear on this year's list. In regards to Canadian players, Kelly Olynyk (93), Andrew Wiggins (74) and Jamal Murray (55) also checked in.