Leonard starting to hit stride for East-leading Raptors
The Raptors head to Brooklyn on a 9-1 tear since losing three straight Nov. 12-16 to New Orleans, Detroit and Boston. Kawhi Leonard has reached 30 points in three of their past four games and appears to be hitting peak form for the Raptors.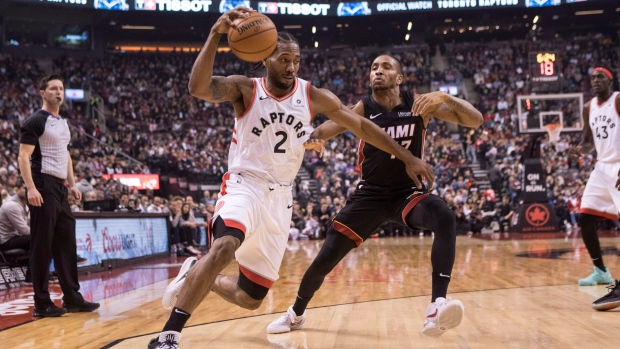 NEW YORK -- One team owns the league's best record while the other is experiencing massive struggles of late, especially in fourth quarters and in home games.
Those things describe the state of the Toronto Raptors and Brooklyn Nets, who are four years removed from a classic first-round postseason series and seem even further removed from each other in the Atlantic Division.
It also represents how one-sided things are in recent seasons between the teams as Toronto will be seeking its 13th straight win in the series when it visits Brooklyn on Friday night.
The Raptors (21-5) have won four of the last five Atlantic Division titles, including the 2013-14 crown when their season ended with a one-point home loss in Game 7 to the Nets. They have won over 50 games in the last three regular seasons only to lose to LeBron James and the Cleveland Cavaliers each time.
It resulted in Dwane Casey being replaced as coach by assistant Nick Nurse and DeMar DeRozan being traded to San Antonio for Kawhi Leonard and Danny Green, two players who are free agents after the season.
The Raptors head to Brooklyn on a 9-1 tear since losing three straight Nov. 12-16 to New Orleans, Detroit and Boston. During its tear, Toronto is averaging 116.4 points, 26.2 assists, shooting 50.2 percent (439-of-875) and making 35.7 percent (121-of-339) of its 3-pointers.
The latest win occurred Wednesday when the Raptors pulled away in the fourth quarter for a 113-102 home victory over the Philadelphia 76ers. Leonard scored 36 points and reached 30 points for the third time in four games and seventh time overall while matching wits with Jimmy Butler, who produced 38 points.
"He's getting there, right?" Nurse said. "You're seeing a little more spring in the legs as well, on the three-ball, those things are kind of related."
The Raptors own five double-digit wins during their current run and Wednesday they outscored Philadelphia 35-25 in the fourth quarter and clinched the win with a 13-2 run early in the fourth.
"We played pretty good defense," Toronto center Jonas Valanciunas said after scoring six of his 26 points in the deciding run. "We played five-guys defense. One guy goes down, next one steps up, we helped each other, we've been on a string, we've been on a chain reaction. So that's great. That's what our identity should be."
Toronto's last loss to the Nets was April 3, 2015, and the average margin of victory is 11.8 points.
The version of Brooklyn the Raptors are encountering owns eight blown double-digit leads and five meltdowns in the fourth quarter at home since Nov. 17.
It is part of an eight-game home losing streak since blowing out Philadelphia on Nov. 4 and an eight-game overall losing streak since beating Miami on Nov. 20.
The latest was Wednesday's collapse in a 114-112 loss to the Oklahoma City Thunder when the Nets could not stop Paul George from scoring 25 of his 47 in the fourth. The Nets blew a season-high 23-point lead and led by 19 in the final 8:53 remaining.
The loss to Oklahoma City occurred after Brooklyn blew a 10-point lead in the final 3:52 of a double-overtime loss to the Memphis Grizzlies on Friday. It also occurred a week after the Nets were outscored 31-13 in the fourth and blew an 11-point lead to the Utah Jazz.
Besides those games, the Nets also blew a 20-point lead and were outscored 38-23 in the fourth quarter and took a 127-125 loss to Philadelphia on Nov. 25. That loss occurred eight days after the Nets blew a 15-point lead and were outscored 39-22 in the final 12 minutes of a 127-119 loss to the Los Angeles Clippers.
"We're to a point now, it's happening too often, seven, eight games, and the way we're losing, it's like Groundhog Day," Nets forward Jared Dudley said. "We're losing in very similar ways, not playing smart basketball, not doing little things ... rebounding, stupid turnovers, not knowing shot selection, time on the clock, fouling bad shots, putting them on the free throw line. We're playing bad basketball in the last five to seven minutes, and it just seems like we're out there and we're not making enough adjustments."
During those fourth quarters, the Nets are getting outscored 173-108. In those fourth quarters, the Nets are shooting 39.5 percent (36-of-91) while opponents are making 49.6 percent (62-of-125)
Those meltdowns are also part of a 2-10 skid the Nets are on since losing leading scorer Caris LeVert to a dislocated right foot seconds before halftime on Nov. 12 in Minnesota.