Lest We Forget: Remembering 'One-Eyed' Frank McGee
Remembrance Day 2014 is a special one, as this year marks the 100th anniversary of the start of the First World War. Thousands of Canadians fought and died in the Great War. They were farmers, teachers, business people, lawyers and athletes. One athlete in particular was a well-known pro hockey player from Ottawa - the man they called 'One-Eyed' Frank McGee.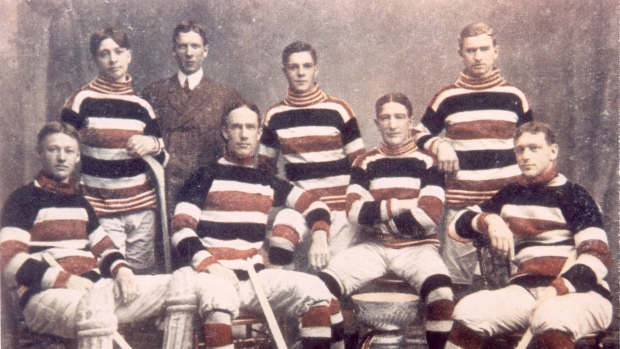 Francis Clarence McGee was the centrepiece of the Ottawa Silver Seven's dominant Stanley Cup defence from 1903 to 1905.
After a successful hockey career, McGee answered the call for his country and served Canada in the First World War from 1914 to 1916.
McGee earned the nickname 'one-eye' after he lost the sight of his left eye while playing for the Canadian Pacific Railway team in 1900 after being struck by a puck. Despite his injury, McGee joined the Ottawa Hockey Club in January of 1903.
Despite his size – just five-foot-six - McGee made an instant impact for Ottawa, scoring two goals in 7-1 rout of the Montreal Amateur Athletic Association. In March of 1903, he helped Ottawa defeat the Montreal Victorias to capture the Stanley Cup. Weeks later, Ottawa completed their first successful defence of the Stanley Cup with a victory over the Rat Portage Thistles.
McGee's Ottawa team became known as the 'Silver Seven' and McGee remained a staple of the team's dominant offence.
In February of 1904, they won the Stanley Cup – a 'Challenge Cup' which teams held as long as they successfully defended it – against the Toronto Marlboros. McGee furthered his reputation as a big-game player with five goals in the second game of the series. A month later, he had another five-goal game as the Silver Seven thwarted Brandon, Manitoba's bid for the championship.
In 1905, McGee scored 17 goals in six games as the Silver Seven won the Federal Amateur Hockey League Championship. But it was in January of 1905 that McGee put together his most legendary performance.
McGee scored a Stanley Cup record 14 goals in the second game of the Silver Seven's famed one-sided series against the Dawson City Nuggets. Eight of his 14 goals came consecutively in less than nine minutes of action as the Silver Seven dominated with a 23-2 victory - the most lopsided game in Stanley Cup history.
McGee capped an already successful 1905 by scoring the winning in the deciding game of a three-game series against Rat Portage. More impressively, 'one-eye' played the game with a broken wrist.
McGee's 1906 season saw him score 28 goals in just seven regular season games. The Silver Seven successfully defended the Stanley Cup twice more in February and March with a two-game sweeps of Queen's University and Smith Falls and McGee recorded 15 goals in those four games.
Just as the Silver Seven's historic run as champions ended, so did McGee's career. He retired prior to the 1907 season with 135 career goals in just 45 games.
In 1914, McGee and his 43rd Regiment was mobilized. Few knew how McGee was even allowed to join the military without his sight in one eye.
McGee departed Canada for England on May 6, 1915 and didn't shy away from the front lines. Even after being wounded in Belgium in December of 1915, McGee declined the option of a taking a desk job after a seven month recovery, opting instead to return to his regiment.
According to The Ottawa Citizen, he told his brother D'Arcy in a letter that his desire was to be a part of his battalion for the 'big push.'
He was killed twelve days after writing that letter on Sept. 16, 1916 - at age 34 - while fighting in the Battle of Flers-Courcelette during the Somme Offensive. His body was never recovered.
But on this day, the memory of McGee's legacy remains strong.
Remembered for his prolific scoring on the ice, he was among the Hockey Hall of Fame's 14 inaugural inductees in 1945.
And he was also among the 24,029 casualties Canada suffered in the Battle of the Somme. Today, McGee is one of 11,169 unfound Canadian First World War causalities commemorated at the Canadian National Vimy Memorial in Pas-de-Calais, France.
Lest we forget.