Letang's season over due to herniated disc
Pittsburgh Penguins defenceman Kris Letang's season is over due to a herniated disc in his neck. Letang will undergo surgery on his neck and need four-to-six months to recover. Letang said Wednesday he believes the Penguins can win a Stanley Cup without him.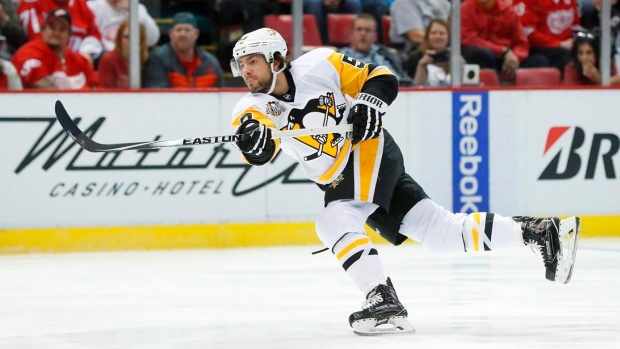 PITTSBURGH — Kris Letang's goal in Game 6 of the 2016 Stanley Cup Final clinched a fourth championship for the Pittsburgh Penguins.
The talented but star-crossed defenceman will have a far different view as the Penguins try to defend their title when the playoffs start next week.
The three-time All-Star will undergo surgery to repair a herniated disk in his neck and is out 4 to 6 months, rendering him a spectator as Pittsburgh tries to become the first team in nearly 20 years to win back-to-back Cups.
"Right now it's pretty hard to swallow," Letang said Wednesday.
Letang last played on Feb. 21, but was working his way toward a return before the post-season begins before symptoms returned last week. He underwent a second MRI, with team doctors recommending he have surgery to repair the problem.
"It was not expected," Letang said. "Like I said, I was going through rehab. It was going really well. It's just in the last week that it blew up on me."
The 29-year-old is one of the league's elite defencemen, a blend of speed and skill that make him valuable on both ends of the ice.
Yet he's also struggled staying healthy with a variety of injuries, from a stroke in 2014 to a concussion in 2015 that forced him to sit out during a first-round loss to the New York Rangers. His play was interrupted twice earlier this season with lower-body issues that coach Mike Sullivan insisted had nothing to do with the neck injury.
"This was an accumulation of events over time," Sullivan said. "It wasn't any one incident when it occurred."
Letang had five goals and 29 assists in 41 games for Pittsburgh, which is in second place in the Metropolitan Division with three games remaining in the regular season.
The team bolstered depth along the blue line at the trade deadline, bringing in Ron Hainsey and Mark Streit with Letang, Olli Maatta and Trevor Daley on injured reserve.
The team is hopeful Maatta and Daley will return when the playoffs start and both will travel with the rest of the team for a three-game road trip beginning in New Jersey on Thursday.
The Penguins have hung around in the competitive Metropolitan Division despite a slew of injuries to bold-faced names and have the league's second-best record behind rival Washington. The silver lining — if there is one — is that Pittsburgh has learned to make do without Letang.
"It doesn't really change our thought process," Sullivan said. "It really doesn't change our players in what their contributions need to be. We're not asking anybody to replace him."
Letang pointed to his team's Cup run last year as evidence it can deal with adversity. Sullivan replaced Mike Johnston in December and put together a remarkable turnaround even with centre Evgeni Malkin missing the final month of the regular season and goaltender Marc-Andre Fleury going down with a concussion, opening the door for rookie Matt Murray to backstop the Penguins to a title.
"That team went through so much and they learned so much," Letang said. "So I think they have the experience that we need."
NOTES: Sullivan said he's "optimistic" that Malkin — who hasn't played since March 15 while dealing with an upper-body injury — will be ready for the playoffs. ... F Bryan Rust is day to day with a lower-body injury suffered in a 4-1 win over Columbus on Tuesday.