Letestu emerging as hired gun on Oilers' PP
Somehow, on a unit loaded with Connor McDavid, Leon Draisaitl and Milan Lucic, fourth line centre Mark Letestu has emerged as the hired gun for the Edmonton Oilers' power play.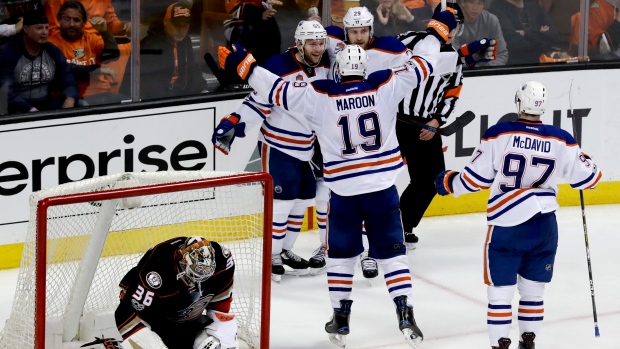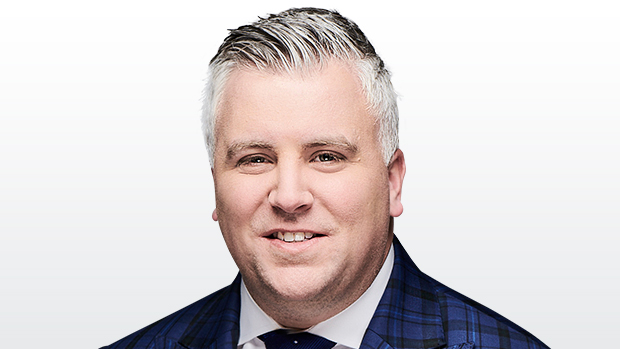 ANAHEIM, Calif. — The official slogan on the sign that welcomes you to Mark Letestu's hometown of Elk Point, Alta., reads: "The Right Place to Be."
Letestu recited it the second he was quizzed on Thursday.
"A little bit of irony, I guess," Letestu said. "That's kind of the story of my two goals in Game 1: right place, right time."
Somehow, on a unit loaded with Connor McDavid, Leon Draisaitl and Milan Lucic, the undrafted free agent centre Letestu has emerged as the hired gun for the Edmonton Oilers' power play.
Letestu made the Ducks pay for undisciplined play when he banged in two rebounds from nearly the same exact spot on the Honda Center ice, helping the Oilers jump out to a one-game lead in their best-of-seven second round series.
Letestu now accounts for three of Edmonton's four power play goals scored this spring. Fourteen of his 19 goals this year have now come with the man advantage, nearly tripling his previous career high.
"This is new territory for me," Letestu said, smiling.
Not bad for a Swiss Army Knife player whose teammates sometimes poke fun of his name even being on the power play lineup chart. On these Oilers, it's almost a game of Which one of these is not like the others?
Letestu matched Evgeni Malkin ($9.5 million), Logan Couture ($6M), Tyler Seguin ($5.75M), Nick Foligno ($5.5M) and Matt Moulson ($5M) in power-play goals in the regular season. Letestu, 32, earned $1.8 million this year.
Return on Investment - PP goals vs. Salary
| Player | PPG | Cap Hit |
| --- | --- | --- |
| Evgeni Malkin | 11 | $9.5M |
| Logan Couture | 11 | $6M |
| Tyler Seguin | 11 | 5.75M |
| Nick Foligno | 11 | $5.5M |
| Matt Moulson | 11 | $5M |
| Mark Letestu | 11 | $1.8M |
"We crack jokes about it all the time," Letestu said. "At times, I feel like I have to defend myself. I feel I'm a good player. I've played the power play every stop I've been. Just this year, the amount of success that's come my way is a little different than it's been.
"People start asking me 'How is a fourth line centre doing it?'"
The answer, Letestu said, is simple. He is paid to pull the trigger, which is surprising in its own right considering his shot isn't the most accurate or the hardest.
"It's just a willingness to shoot the puck," Letestu said. "We've got a lot on that power play that are playmakers: Connor and Leon especially. They are pass-first guys. I know when the puck gets to me - deliver it. There's no trying to place it anywhere. You just try to hit it as hard as you can and hope it gets over his pads."
It's gone over the goaltender's pads at an astounding rate for Letestu. His career ratio of 30 power-play goals to 46 at even strength is virtually unmatched among forwards , according to Hockey-Reference.com, given the relative few goals he's scored in almost 500 career games. You would have to look back to former Oiler specialist Marc-Andre Bergeron as the last defenceman with numbers that tilted toward the power play.
"'Test' doesn't defer to others on that power play," coach Todd McLellan said. "The fact he doesn't makes that work."
Letestu said he learned pretty quickly playing on the power play in Pittsburgh with Sidney Crosby and Evgeni Malkin that every successful unit needs that "certain element" of a shooter.
"It's not in their makeup. It's in their DNA to look for the play all the time," Letestu said. "It's my job to shoot. I'm not going to carry the mail a lot of the time, but I still have to make the play when it comes to me. It's kind of simple for me in the recipe part, but the results aren't that simple."
That adaptation and awareness is what McLellan said he has learned to really appreciate in Letestu.
"If I was going to pick an individual in the locker room that might eventually lead a team somewhere or coach, using his hockey acumen or IQ, it would be Test," McLellan said. "He can make adjustments personally, he can make adjustments with the group, he sees it happening, he sees concepts. He fits that [power play] group well physically and mentally."
Part of his fit is timing and feel. Being in the right place at the right time is no accident. Part of his fit is confidence. Letestu said he expects to score. He knows he is going to get looks playing with who he said was the "best player in the world."
"You just have to make the most of it," Letestu said.
The Alberta boy, the pride of the AJHL's Bonnyville Pontiacs, is doing that. McLellan called Letestu "a great story" on Thursday, but he's quickly becoming the story of the Oilers' playoffs.
"I wasn't a high draft pick. There wasn't a whole lot invested in me," Letestu said. "My job was to win face-offs and be good on the penalty kill. For me, it's just something that I've worked into. It was just the right fit for me at the right time."
Contact Frank Seravalli on Twitter: @frank_seravalli