Lightning to retire Lecavalier's No. 4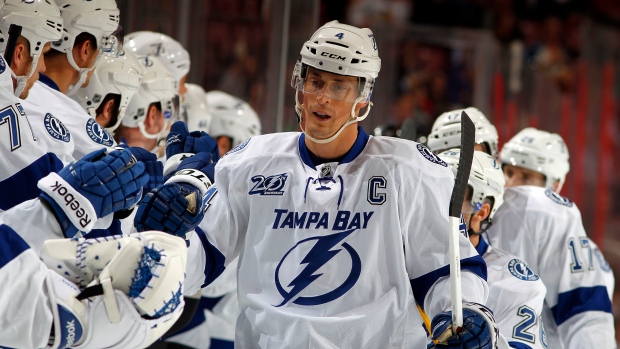 Vincent Lecavalier will become the second player in franchise history to have his number retired by the Tampa Bay Lightning.
The Lightning announced Monday the team would retire Lecavalier's No. 4 in a ceremony on February 10, 2018.
Lecavalier's is the franchise's all-time leading goal scorer and spent 14 years with the team. He was named captain of the team in March of his sophomore season, becoming the youngest captain in NHL history at the time at 19 years old.
"It is a great honor to have my number retired and I'd like to thank the Lightning organization and Jeff Vinik for recognizing me with this achievement," Lecavalier said in a team release. "The Tampa Bay community and our fans have treated me and my family so amazingly that this honor is extra special to share it with everyone. My family and I are very excited for February 10 when we can share so many memories."
Lecavalier, who scored 383 goals and posted 874 points over his 1,037 games with the Lightning, will have his No. 4 join Martin St. Louis' No. 26 in the Amalie Arena rafters.
The 37-year-old won the Stanley Cup with the Lightning in 2004, posting nine goals and 16 points in 23 games. Lecavalier won the Maurice Richard Trophy as the league's leading goal scorer in the 2006-07 season, scoring 52 goals in 82 games.
Lecavalier retired last June after 17 seasons in the NHL. He played his final three years in the league with the Philadelphia Flyers and Los Angeles Kings.
He scored 421 goals and tallied 949 points in 1,212 career games.