Like Carter, Raptors' DeRozan hopes to age gracefully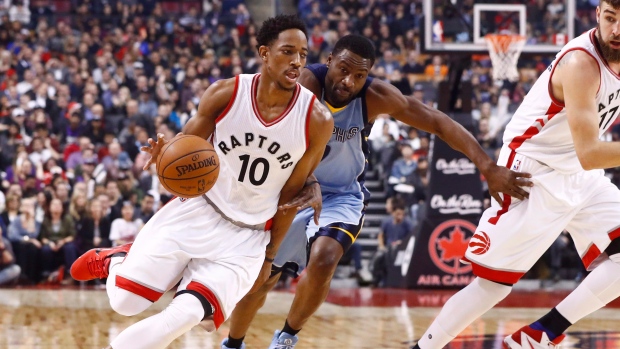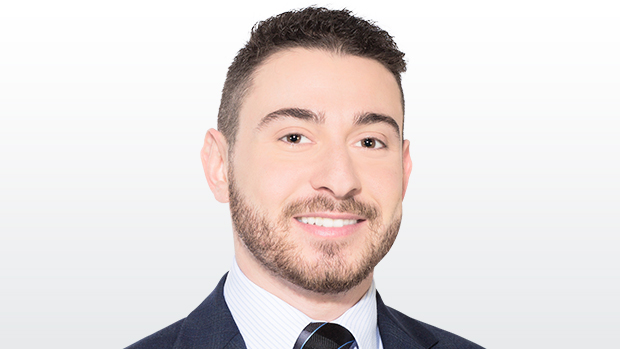 TORONTO - A Lakers-turned-Raptors fan as a kid, DeMar DeRozan remembers waking up early to watch Toronto's Sunday afternoon games at 9:30 AM Pacific Time back home in Los Angeles.
In those days, Vince Carter was the NBA's brightest star - a human highlight reel, Air Canada, Vinsanity. He was must-see TV and DeRozan, like most hoops fans, didn't want to miss the young Raptor's next iconic moment.
"The excitement, the type of player he was," DeRozan said. "He's definitely one of a kind. I remember when they called him Half Man, Half Amazing, and he was that. It was incredible to grow up and become a Raptor fan because of Vince. I think he did that with everybody who watched basketball at that time."
"I was always a Kobe [Bryant] guy, but it was Vince right behind him. I wore [Carter's number] 15 in all the summer camps and I was always torn between wearing [Bryant's number] 8 and 15 because those were my two favourite players growing up."
Bryant's influence on DeRozan's game is undeniable - the high volume, the mid-range step-back, an obsession with perfection and flare for the dramatic. However, as he continues to get older, the two-time all-star is hoping to take a page out of Carter's book - not the chapter that made VC a household name back in the early 2000s, but the one that has allowed him to play into his late 30s and, in a couple of months, at 40.
Carter, now with the Memphis Grizzlies, was a spectator for his team's 120-105 loss to the Raptors on Wednesday, out with a hip injury in what may have been his final visit to Toronto as a player. Still, Carter is having something of a renaissance in this, his 19th NBA season. The league's oldest player, he's logging over 26 minutes per game, more than he's played in six years, and is scoring 26.4 points, more than he's had in three. Although his contract expires at the end of the season, it certainly looks like he has another year or two left in him should he decide he still wants to play.
That kind of longevity is rare in such a mentally and physically taxing business, but what's more impressive is his ability and - perhaps even more importantly - his willingness to adapt to father time.
"It's not like we're talking about an average athlete losing a step, we're talking about the world's greatest athlete losing a step," said Grizzlies head coach David Fizdale. "So you'll still see him go up and dunk on plays that you don't think a 40-year-old is supposed to dunk on, or post-up a guy and shoot on him when you don't think a 40-year-old is supposed to do that. He went from incredible athleticism to being a good athlete, so I think that really provides him time to continue to play."
Carter's game has changed over the years, and so has his role. It's a reality everyone has to come to terms with if they want to extend their careers, even the most prolific athletes: eventually your body just isn't able to do the things it once could. Although he's just 27, that's something DeRozan has already started to consider and apply to his game, which continues to evolve in his eighth season.
DeRozan came into the league as little more than an athlete, a player whose upside was rooted in his ability to out-run and out-jump the competition. Over the years, particularly the last three, he's become something more than a product of his physical gifts. Once a high-flyer, who participated in - and, as he remembers it, got robbed in - two slam dunk contests, DeRozan mostly plays below the rim these days. Through hard work and an unrelenting commitment to his craft, he's blossomed into one of the league's most crafty scorers. He credits the change, at least in part, to the groin injury that cost him 21 games during the 2014-15 campaign.
"You know what it feels like to get up and go dunk and for a couple weeks I couldn't even walk straight," DeRozan said. "Just dealing with that pain and realizing you're not just going to jump back and be the same you, you're going to have to make that adjustment in understanding how you can be a better player but slower in a sense. I tried to be more conscious of that a couple years ago."
Since then he's been remarkably durable but, even though he's not playing above the rim as much, his workload remains substantial. He's routinely among the league leaders in minutes played and usage rate while few guys take as many hits as he does, a function of drawing so many fouls.
In many ways his "old man's game" - as Dwane Casey has called it - seems like one that could age gracefully but, with his mileage piling up, he'll almost certainly have to continue adapting. One thing several players have done as they have gotten older, Carter included, is extended their range. DeRozan has always insisted that he could add the three-point shot as a featured part of his game, if he chose to - though his 28 per cent career mark doesn't reflect that, he did hit two of his three attempts on Wednesday. For him, the drawback is that those extra jump shots would come at the expense of what he does best - attacking the bucket and getting to the free throw line.
DeRozan is in his prime, playing the best basketball of his career and, to his credit, he's doing it his way. For a player with his competitive spirit, the idea of pacing himself would be a tough sell, as it should be. In fact, that's one of the things Carter was criticized for in his final years with the Raptors: holding back, thinking about his future and not enough about the present - dunking less and shooting more threes.
Would DeRozan like to play until he's 40? "God willing," he said. Longevity is important to him, but so is winning. Right now there's hardly a concern in emptying the tank to do so - the Raptors are better for it and, as a result, so is he - but eventually he'll need to find a balance. Father time is undefeated, as they say. The question is: how do you counter it?
"You've got to have the passion to be able to play that long," DeRozan said. "The hunger to still want to get up every single day to practice, compete against the young guys, be a veteran leader, everything that comes with it. It's a challenge. You look up and you're playing against guys that were born in '97. It's crazy just to think about and to see [Carter] playing, being one of the few guys left from the '90s era is incredible."
"I think it'll be an easy transformation for DeMar the older he gets because the game is really slowing down for him now at this part of his career," Casey said. "So once he gets that three-point shot I think it'll be an easy transition but hopefully it's a long, long, many years down the road."