Lindros lends support to Ontario concussion bill
Former NHL star Eric Lindros is lending some high-profile support to an Ontario private member's bill on concussions that has become stalled.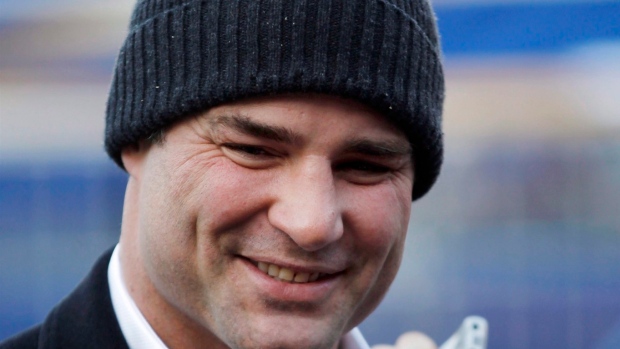 TORONTO - Former NHL star Eric Lindros is lending some high-profile support to an Ontario private member's bill on concussions that has become stalled.
Rowan's Law is named for a 17-year-old girl from the Ottawa area who died after being injured while playing high school rugby.
The bill would establish a committee to get the recommendations that came out of the coroner's inquest into her death implemented within a year, including establishing guidelines to ensure a child is removed from play if a concussion is suspected and that they not return to play until receiving medical clearance.
Lindros, who suffered multiple concussions over his career and missed an entire season after a head injury, says it's important to establish a culture of everyone involved in sport acknowledging the need for caution, even when an athlete is eager to get back out on the ice or field.
"While maybe a ringette game for a 14-year-old doesn't mean the world to you as it would a Game 5 of a Stanley Cup scenario, in their mind it is," he said.
"It's about a philosophy and a culture that is open with one another, both player, organization, officiating, parents, being open about this, saying, 'You know what, we know you want to play, but let's just pull back a bit.'"
Rowan Stringer died in 2013 from multiple concussions and her father, Gordon, said he learned during the coroner's inquest that she actually Googled concussion.
"Being the captain of the rugby team, I think there probably was some feeling of responsibility with that too," he said. "There are pressures there that you won't ever know. I can only speculate."
Progressive Conservative MPP Lisa MacLeod, who introduced the bill, which is co-sponsored by Liberal John Fraser and New Democrat Catherine Fife, said even though it has all-party support it is stalled. It passed second reading on Dec. 10 and has not yet been brought to committee.
"We need to be at a point where the young athlete that Eric was talking about, the 14 year old, goes to the coach or goes to a friend and says, I think I've got a concussion," she said. "We need to create a culture, I believe, that allows this child or even a professional athlete to take themselves out of play until such time that they are healed."
A study last year from Toronto's York University and the Institute for Clinical Evaluative Sciences found that the number of children and youth treated for concussions in both emergency departments and doctors' offices in Ontario has risen significantly.
Between 2003 and 2011, almost 89,000 pediatric concussions were treated in either an emergency department or a physician's office. The rate of concussions jumped to 754 from 466 per 100,000 for boys, and to 440 from 208 per 100,000 for girls.