Lions can lean on impressive receiving corps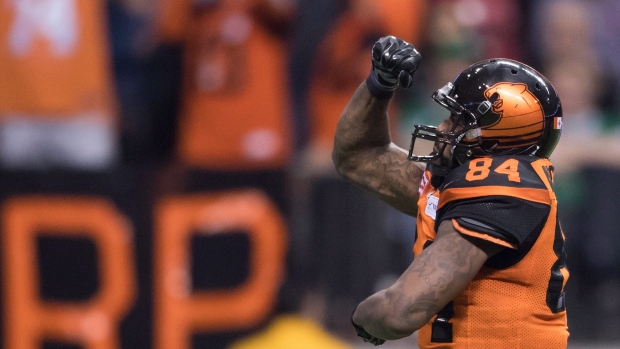 Football is a passing game; it's been trending that way since the 90s. And even more so than its counterpart south of the border, the CFL is played through the air. Last year in the CFL 67 per cent of offensive plays were throws. Better have a good receiving corps.
The BC Lions already had a good one last year. They boasted two of the top receivers in the game in Manny Arceneaux and Bryan Burnham, third and fourth respectively in receiving yards last season, and a capable supporting cast behind them.
But that alone may not have been enough to lay claim to the title of league's best receiving corps. Enter Chris Williams, he of 1,246 receiving yards in just 14 games last season, and the Lions are definitely on a very short list for that honour.
"We're excited to have (Williams) in here," Arceneaux told TSN's Farhan Lalji. "He's made explosive plays throughout his whole career, whether it was in Hamilton or with the Ottawa Redblacks."
"I couldn't believe it,"Lions quarterback Jonathon Jennings told Lalji, recalling BC's signing of the four-time Division All-Star. "I heard we were inquiring about him and I got really excited. I remember watching him last year and I thought, this is the most electrifying player in the league right now."
The concern with all that firepower lining up in the Lions' receiving corps becomes if there will be enough balls to go around to keep all the receivers happy.
Arceneaux led the Lions in receiving targets last year with 154, Burnham second with 106, and Shawn Gore third with 90. Williams had 117 targets in 14 games with the Redblacks last season. Even if all Gore's targets are now bookmarked for Williams, there still appears to be a shortage of available balls for the three.
Jennings said it's on him to make sure each star receiver is well-fed, but it's a problem he's more than happy to take on.
"It doesn't seem like pressure to me," Jennings told Lalji. "I love it. Those guys are going to get the balls in their hand. I'm going to do everything in my power to get it to them."
Jennings added Williams fits the offence well because his talents are complementary to Arceneaux's and Burnham's, rather than redundant.
"We have a great dynamic with Manny and Burnham, guys that fit that big receiver mode. And then Williams brings that second-tier dynamic with speed and the ability to make explosive plays. That's the biggest thing with Chris – even if he's not taking you down the field and we're not getting behind the defence, we're stretching the defence to get some of the underneath stuff. He just brings so much stuff to us."
"There are more than enough footballs to go around, there are more than enough plays to be made," Williams said. "It's all about what we do with our opportunities and how we affect the game."
---
The ultra-talented receiving corps is a major asset for the Lions in itself, but will also be helpful in – and perhaps responsible for – getting Jennings to that next level as a quarterback.
Jennings was impressive last year in his first full season as a starter, finishing with 5,226 passing yards and 27 touchdowns to 15 interceptions. But in a division that also features Bo Levi Mitchell and Mike Reilly, there is plenty of room to grow.
"It's good to be in my third year right now and to have learned so much. I feel more comfortable," Jennings told Lalji. "I feel like I understand some things a little better and that's the biggest thing coming into this year."
"The biggest thing is I want to continue to push the ball down the field but you have to know when to do that and when not to do that. And when I can develop that sense of, 'OK, I have my easy throws now.' Get the defence to jump up and then take the one-on-one shots. That's where my game is going to jump to the next level."
Jennings has the right attitude and the right receiving corps to get to where he wants to go.
"I want to be the best. If you're not out here to be the best then I don't know what you're doing. I don't want to be considered a young, rising star. I want to be considered the best quarterback in the CFL."
Led by their terrific receiving corps and exciting young quarterback, it's all roses for the Lions' offence ahead of the season. But there are eight other teams across the country where the narratives are positive ahead of Week 1 as well. The Lions know they need to translate the optimism to the field.
"I think it's all about us putting the pieces together," Williams said. "Everybody's saying how good we look on paper but the game isn't won on paper."
"You have to be able to compete and perform week in and week out. I think we have the guys to do that. Manny and Bryan, they showed last year that they're elite-level receivers and I think I was doing that as well before the injury. It has all the potential in the world, it's just about how hard we work and put it all together."