Lions re-up Coleman through 2019
Fresh off of being named a West Division All-Star, Davon Coleman has himself a new deal. The BC Lions announced an extension for the internal defensive lineman through the 2019 season on Wednesday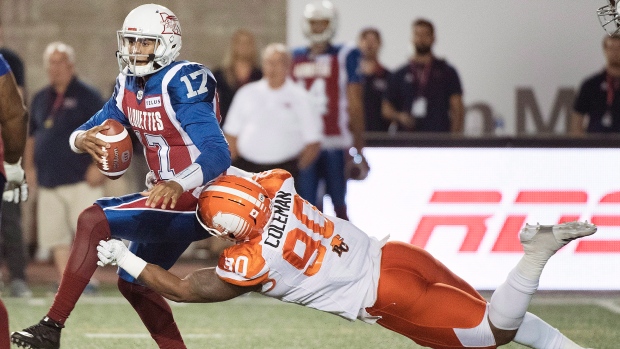 Fresh off of being named a West Division All-Star, Davon Coleman has himself a new deal.
The BC Lions announced an extension for the internal defensive lineman through the 2019 season on Wednesday.
In 18 games this season, the 27-year-old Cleveland native had 57 defensive stops, two interceptions and eight sacks. Coleman is the Lions' nominee for Outstanding Defensive Player this season.
"Davon has been everything we felt he could be and more," said Lions general manager Ed Hervey said in a release. "Dominant play along the line of scrimmage is often where games are won and lost and Davon has been a very significant part of our defensive success this season. It's great to have him returning in 2019."
A product of Arizona State, Coleman was acquired by the club from the Hamilton Tiger-Cats during training camp.
Prior to a season spent with the Ticats last year, Coleman played four NFL games with the Dallas Cowboys in 2014 and 2015 and appeared on the practice squads of Chicago Bears, Tampa Bay Buccaneers and New York Giants.