Lions sign back-up QB Fajardo, four others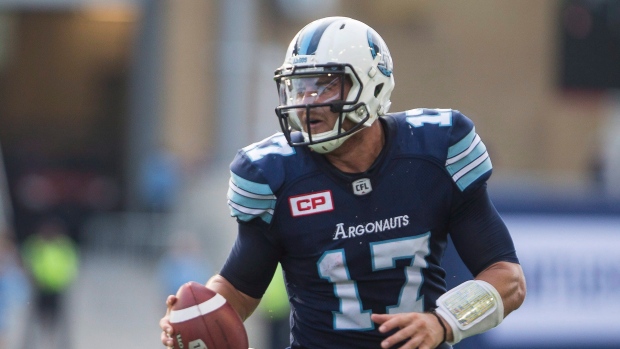 VANCOUVER — The B.C. Lions made four more moves in the CFL free agency Thursday including the signing of quarterback Cody Fajardo, who served as a back-up for the Grey Cup-winning Toronto Argonauts last season.
The Lions also signed defensive backs Cauchy Muamba, Keelan Johnson, and Mike Dubuisson, and defensive lineman Edward Godin.
The six-foot-five, 215 pound Fajardo dressed for all 18 games last season, and has completed 29 of 48 passes for 261 yards and four touchdowns in his career.
"Adding Cody to our stable of quarterbacks is a big signing for us and we're very pleased he's elected to come here after receiving a number of offers from other clubs," said Lions general manager Ed Hervey. "He has a lot of outstanding qualities and he'll be an asset heading into training camp."
Fajardo's signing came later in the day after the team announced they were signing Muamba, Dubuisson and Godin in the afternoon.
Muamba, who stands at five-foot-eleven and 195 pounds, will be entering his ninth season after originally entering the league with the BC Lions in the 2010 draft. The two-time Grey Cup champion spent the last four years with the Edmonton Eskimos. He's racked up 147 tackles and 10 interceptions in 108 regular season games.
Johnson was with the Ottawa Redblacks last season and finished with a league-high 29 special teams tackles.
The six-foot-three, 220 pound Dubuisson is joining the team after playing two games with the Saskatchewan Roughriders in 2017. He's tallied four defensive stops, 14 special teams tackles and an interception in 55 regular season games.
Godin will compete for a spot in the lineup during his second training camp session with the team after being drafted in 2017.