A solution for the Methot/Phaneuf trade market issue
If the Senators had it their way, Marc Methot would still be on their blueline and Dion Phaneuf would be playing for another organization. Travis Yost says a three-team trade is the best way to make it happen.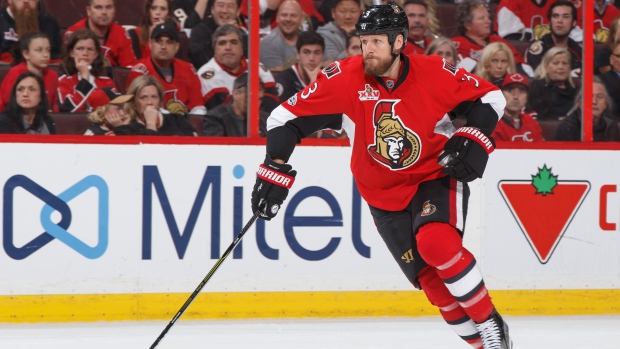 If the Ottawa Senators had it their way, Marc Methot would still be on their blueline and Dion Phaneuf would be playing for another organization.
Ever since Phaneuf decided not to waive his no-movement clause, Ottawa had to run the risk of exposing Methot in the expansion draft. As soon as they did, the Vegas Golden Knights jumped at the opportunity. Methot, of course, has little long-term future in Vegas – general manager George McPhee sees the steady veteran defender as an asset he can flip for real value, and likely has been testing the market since the minute Methot was selected.
But Vegas haven't had any success yet. Maybe the market's cooled on Methot. Maybe Vegas values him significantly more than most teams. Maybe Methot's limited no-trade list – which includes every Canadian team except for Ottawa – has limited McPhee's options. Whatever the case may be, Vegas is now "stuck" with a player they don't really have long-term plans for.
This peculiar scenario has forced me to consider the expansion draft rules in more detail. As far as I can tell, there are only two types of explicit guidance regarding what can happen with a player moved because of the expansion draft.
Rule #1: "To prevent a team from "hiding" a player on another, teams cannot reacquire players they trade after Jan. 1, 2017 prior to Jan. 1, 2018."
Rule #2: "The Golden Knights are allowed to deal any player selected in the expansion draft. However, they can't return such a player to the team from which he was selected until Jan. 1, 2018."
To me, both rules are pretty self-explanatory. Anyone traded since New Year's Day of 2017 cannot be reacquired by the trading team in any capacity. And if the Golden Knights select a player in the expansion draft, they simply can't trade that player back to his original team until New Year's Day of 2018.
TSN's Pierre LeBrun reached out to NHL deputy commissioner Bill Daly on Monday and evidently there's been a revision to the second rule or we weren't interpreting it correctly. Regardless, Daly has opined that teams actually can trade back for the assets they lost by way of the expansion draft prior to Jan. 1. So Ottawa and Vegas could conduct business directly.
But the simplest option to resolve the pain points for Ottawa and Vegas may be to conduct business through a third party. Vegas is not a realistic landing spot for Phaneuf – a veteran player who has a limited no-trade clause. They need to bring in a third team to deal through – to send Methot back to Ottawa, Phaneuf to another contender and to reward Vegas with additional picks/prospects.
It would create some really interesting trade scenarios. Let's say, hypothetically, Edmonton is the third team in this trade. (I say Edmonton because we know that, as recently as last year, the Oilers were on the "yes" list for Phaneuf's limited trade list. I could also say Montreal, another team in the market for a defender, for the same reason.) Each team would have an obvious interest in participating: Vegas would get their market for Methot, Edmonton would get a top-four defenceman (that they can't get because of Methot's no-trade clause), and Ottawa would both get Methot back into the system and offload Phaneuf's contract.
The trade map could look something like this:
Now, things on the right side of this equation would have to get sorted out. The Edmonton piece of what they're sending to Vegas to get Methot would need to be "made whole" by Ottawa in the subsequent trade. Ottawa needs to figure out what it's worth to them to not only get Methot back, but also dump Phaneuf's contract – something they've been aggressively trying to do for the last couple of weeks.
None of these strike me as particularly troublesome hurdles, because teams like Edmonton and Montreal have some cap space to work in a Phaneuf deal. And, even if the third party was reasonably cap constrained, there's always the chance Ottawa offers to retain some salary.
This is exactly the type of trade I'd really be looking at if I were Ottawa GM Pierre Dorion, McPhee, and any other team whose window is now and sees value in adding a veteran defender like Phaneuf. It could be a win-win-win for every team involved in the trade carousel – so long as the NHL doesn't deem it circumvention. Based on today's feedback, it doesn't seem like that would be the case.