Dorion reveals the extent of Sens' injuries
Ottawa general manager started his season-ending press conference by rhyming off 15 injuries his team had suffered over the course of reaching the seventh game of the Eastern Conference final.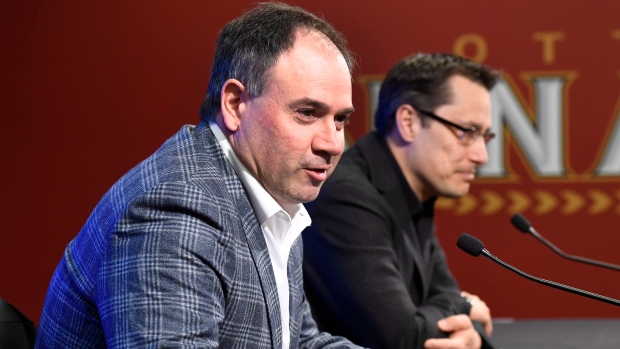 For weeks, general manager Pierre Dorion said that the media would be surprised when he finally was able to unveil the extent of the injuries that members of the Ottawa Senators were playing through during the Stanley Cup playoffs.
On Monday, Dorion started his season-ending press conference by rhyming off 15 injuries that his team had suffered over the course of reaching the seventh game of the Eastern Conference final. Reading off a list that he confirmed with head athletic therapist Gerry Townend earlier in the morning, Dorion spoke for two minutes straight, revealing each injury on an individual basis.
He started by confirming that Erik Karlsson not only played with two cracks in his left foot, but the superstar defenceman also battled through muscle issues in his ankle throughout the playoffs. "For him to play at the level that he did this year was really something quite spectacular," Dorion said of Karlsson's postseason performance.
Dorion said that fellow defenceman Cody Ceci played with a broken finger that had been re-injured several times during the course of the playoffs. "I think he had his finger broken 17 times," Dorion said half-jokingly – though he acknowledged there was nothing funny about Ceci having the finger reset during the Rangers series and frozen before every game.
Also during that Rangers series, goaltender Craig Anderson's back "was in terrible shape" according to Dorion. But the netminder was certainly not alone in the infirmary unit inside the Senators dressing room. Forwards Zack Smith and Viktor Stalberg played through rib and abdominal issues that made it difficult from them to breathe, let alone play, in gruelling playoff games.
Mark Borowiecki and Alex Burrows suffered high-ankle sprains, while Dion Phaneuf gutted out the playoffs with a wrist injury. Two of Ottawa's most talented forwards – Derick Brassard and Mark Stone – were at less than 100 per cent with shoulder and leg injuries respectively. After scoring the game-tying goal in the third period of Game 7 against the Penguins, Ryan Dzingel suffered a wrist injury that likely would have sidelined him for the Stanley Cup final.
The injuries were so widespread and significant that even if the Senators had advanced to the Stanley Cup against Nashville, head coach Guy Boucher wasn't sure what kind of fight his team would have been able to put up against the Predators.
"How would we have looked in the final? I don't know because we were really, really banged up. The lemon was squeezed to its max," Boucher told TSN 1200 radio on Monday afternoon.
Dorion added an anecdote about an unnamed Senators player, who was in tears inside the Senators dressing room during an intermission as he was trying to play through an injury.
"He was crying in agony and pain in between periods. But he wanted to go back out there. So that tells you how much they care," said Dorion.
Boucher said that his decision to skip practices throughout the playoffs was based largely on how banged up his group was over the past two months. While he took ample criticism from some fans and media for not using practice days, Boucher feels like the laundry list of injuries that was made public on Monday has exonerated his decision to keep his players off the ice as much as possible.
"When you listen to Pierre talking about all of the injuries, I think that's when someone from the fans and media can realize how difficult it is and how dead tired and banged up they are," added Boucher. "The minute you add on to that, you're asking for trouble. I think that's where we were pretty smart. We avoided a lot more injuries and that's one thing I can say we managed well."
Dorion and Boucher held exit meetings with the players on Saturday afternoon, a process that took longer than they initially planned. Dorion had allotted about four hours for the meetings, but they took closer to seven because the players had so much to say to management after a long playoff run.
"A few players felt like this was the greatest group of guys. And a few of the players who were here in the past said it was the biggest culture change we've ever had," added Dorion. "But they took it up on themselves to change. The players are the ones who really made the difference."